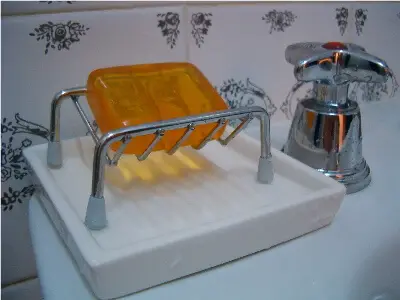 I shave after showering, but even so I wash my beard at the sink before I shave. I use a pre-shave soap, rinse partially with a splash, and the apply lather (from a shaving soap or shaving cream) to my wet, slightly soapy beard.
I have experimented with various pre-shave bars. I used Baxter Vitamin E-D-A Cleansing Bars
for quite a while, but then I came across Musgo Real Glyce Lime Oil soap
(MR GLO), which made a noticeable difference (for me) in the quality of my shave. Through some combination of greater lubricity in the lather and the beard-softening properties of the soap's ingredients, I really did get better shaves: this one handily survived the "week with, week without, another week with" test that I use for pre-shaves.

As a result, I stopped looking. I use the bar and just my hands to wash my beard: work up a lather with the soap, scrub beard a bit, "rinse" with just a splash, and lather. Naturally enough, different shavers use different techniques: some use a washcloth with the soap, another uses the soap somewhat like a shave stick (not to create lather for shaving, but as a way to scrub his beard), and some use an old brush with the soap, but again only to scrub the beard, not to build a lather: it's a pre-shave soap, not a shaving soap. With my method—soap and hands only, no washcloth or brush—a bar of the soap lasts three months.
We recently hit a MR GLO drought with almost every source out of stock (temporarily, as it turned out), and that drove home to me that I should really have a good list of alternatives. My first discovery was Proraso's Sul Filo Del Rasoio pre-shave soap. This lacks the lime oil that MR GLO contains, but that's a definite benefit if you happen to be one of the guys whose skin is sensitive to lime oil.
Proraso's soap, like MR GLO, is high in glycerin, which seems to help the shave—and I recall that Dr. Chris Moss of ShaveMyFace.com found that Geo. F. Trumper's Coral Skin Food made a good every-pass pre-shave, and on looking at the ingredients, decided that it must be the glycerin and found that he got the same benefit from simply using a dab of glycerin before each pass.
The thought that a high-glycerin face soap will make a good pre-shave soap suggested Neutrogrena Facial Cleansing Bar and Pears Transparent Face Soap, and both do a good job. Another excellent pre-shave soap is the Dr. Bronner line of soaps, liquid or bar. (Zach even uses Dr. Bronner's for a shave soap.)
Another shaver has recommended QED's own cleansing bars, and they are next up, but I'm realizing that the universe of high-quality high-glycerin facial soaps is vast indeed. Although I continue to find MR GLO supreme (and I bet it's the lime oil), I am more comfortable knowing I have a stable of good fallbacks.
UPDATE: I have recently discovered Whole Foods 365 brand glycerin soaps, which are excellent—and less than $2/bar. Highly recommended. I would place these right after MR GLO.