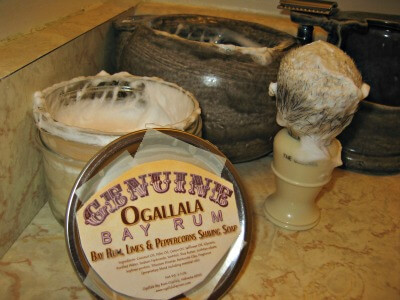 The first thing to say about this
Ogallala Bay Rum, Limes, and Peppercorns shaving soap
is that it produces a lot of lather. We're talking some serious volume here. And what lather is does produce is about as thick as you want it.
If thinner is more your style, just add water. Which you're probably going to want to do, to get sufficient glide to your shave, which might have otherwise been lacking had you kept it as a super-thick lather. Still, I fairly easily able to find a good balance between cushion and slickness. As well, spots where it was left on for a while (over a minute) did start to sting, although I can't say that it left my face irritated after it was washed off.
The scent is quite pleasant. The bay rum really stands out (which shouldn't be surprising from a company that specializes in bay rum), with the peppercorns giving it a nice kick, although I can't say I had much luck picking up much of the supposed lime scent. Over-powered by the other ingredients I suppose. Strength-wise it's pretty spot on. It comes on strong enough, without fading much, while a the same time not being over-powering, or lingering after the shave.
7/10 Scent Pleasantness
10/10 Scent Strength
7/10 Lather Quality
The full puck (4.5 oz / 127g) set me back $7.75. After the fact, I discovered that Ogallala also offers a sample pack of all 6 of their scents on their website, about 1 ounce of each goes for $6.25.
Overall, I'd say it's a 7/10. I'd recommend at least giving it a shot, via the sample pack (especially if you're a big fan of the Bay Rum scent). As well, I've heard reports that it's especially good for those folks who have hard water, and might otherwise have trouble getting a good lather out of some other shaving soaps.
Ingredients: Coconut Oil, Palm Oil, Castor Oil, Safflower Oil, Glycerin, Purified Water, Sodium Hydroxide, Sorbitol, Shea Butter, Sorbitan Oleate, Soybean Protein, Titanium Dioxide, Bentonite Clay, & Fragrance