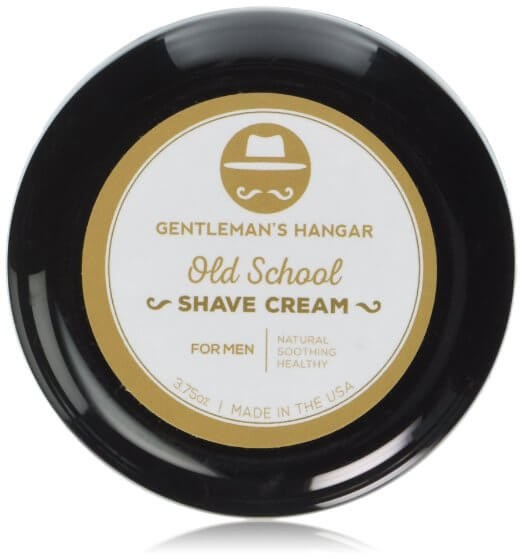 Gentleman's Hangar Old School Sandalwood shave cream is one of those "under the radar" products I found while looking for something else on Amazon.  It piqued my interest so I picked up a jar.  And I'm glad I did.

Gentleman's Hangar?
Their website says "Gentleman's Hangar pays homage to the days of the iconic barbershop where our fathers and grandfathers would gather to relax and enjoy an honest-to-goodness shave."
I hadn't heard of these guys before–and I thought I knew about most every shaving artisan under the sun. 🙂  A quick search engine query indicates that there hasn't been much "buzz" in the forums either.  Which is more the pity…because for me it's been some pretty good stuff.
Sandalwood
As mentioned previously on Sharpologist (HERE and HERE particularly), Sandalwood can be one of those amorphous scents, depending on which version you get and whom you ask.  Gentleman's Hangar sandalwood is a blend of essential oil and fragrance to create a sandalwood scent that is a little "brighter" and "cleaner" to my nose–less "woody" than other sandalwoods, though still definitely in the ballpark.  To me it's an unusual mix that I rather like.
An interesting scent does no good if the product doesn't perform however.  Luckily, Gentleman's Hangar Old School Sandalwood shave cream performs very well for me, even in my hard water.  It does seem to take a little more time to lather  than some other creams I have, but when it gets going it builds up voluminously! Cushioning and lubrication are top-notch for me, and unlike some other "sandalwood" shaving lathers I've tried, I have not had one hint of skin irritation from Gentleman's Hangar.
Ingredients: Water, potassium myristate, potassium stearate, sodium myristate, sodium stearate, glycerin, carthamus tinctorius (hybrid safflower) seed oil, sandalwood essential oil & fragrance, aloe barbadensis leaf juice*, betaglucan, symphytum officinale (comfrey), calendula officinalis, camellia oleifera (green tea) hydrastis Canadensis (golden seal) root extracts; tocopheryl (vitamin E) acetate, cholecalciferol (vitamin D), retinyl (vitamin A) palmitate, zea mays (corn) oil, hydroxyethylcellulose, sorbic acid. *Certified organic ingredient.
They also offer a shaving set that includes pre-shave oil, shaving cream, synthetic brush, lathering bowl, and aftershave lotion.
Give Gentleman's Hangar a try and leave a comment below!