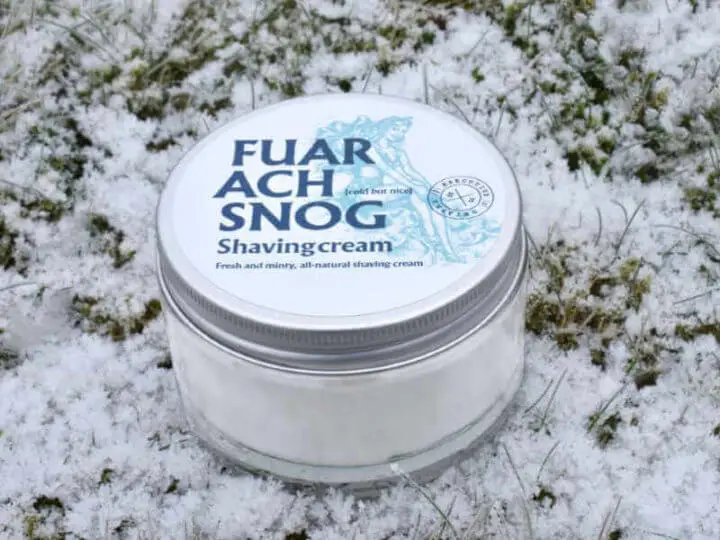 A few months back Executive Shaving in the UK launched their Fuar Ach Snog ("Cold But Nice") shave cream (oddly, in the middle of the North American winter months).  Executive Shaving was kind enough to send along a sample for me to try.
Fuar Ach Snog: "Cold But Nice"
From Executive Shaving's website:
"Fuar Ach Snog is The Executive Shaving Company premium shaving cream. We have invested heavily in this shaving cream, we want it to be known as the very best mint shaving cream in the world. It delivers a rich, creamy lather that moisturises the skin while you shave.
Fuar Ach Snog is Scottish Gaelic for 'Cold But Nice' and that's exactly how this luxury shaving cream feels when applied, cool and ever so refreshing."
Ingredients: Aqua (Water), Stearic Acid, Myristic Acid, Potassium Hydroxide, Glycerin, Coconut Acid, Butyrospermum Parkii (Shea) Butter, Mentha Piperita (Peppermint) Oil, Triethanolamine, Phenoxyethanol, Menthyl Pca, Sucrose Cocoate, Caprylyl Glycol, Menthol, Sodium Hydroxide, Polyacrylamide, Limonene, Dipropylene Glycol.
Sharpologist has covered mentholated shaving products in the past and it's clear there is quite a range of "freeziness" to them.  While I find Fuar Ach Snog shave cream excellent from performance perspective–it lathers easily and voluminously even in my hard water, and the lubrication and cushion are top-notch–from the "freeziness" perspective it is not extreme.  "Menthol heads" looking for an eye-watering, Antarctic experience will probably be disappointed, at least from using just the shave cream.
But for the extremists in the bunch there is also a Fuar Ach Snog Pre-Shave Oil and a Fuar Ach Snog Aftershave Balm.  Interestingly, Executive Shaving recommends following up with Fine Accoutrements Snake Bite Aftershave Splash for a "full-on face freeze experience."
For most of us though I think Far Ach Snog shave cream would be a pleasantly refreshing experience during the hot Summer months.