Fine Accoutrements launched their aluminum slant-bar razor this week.  I've been using a pre-launch sample over the past couple of weeks so I thought I would share my experiences.

The Fine Accoutrements Aluminum Slant
Let's start with what Fine Accoutrements has to say about their new Aluminum slant bar razor: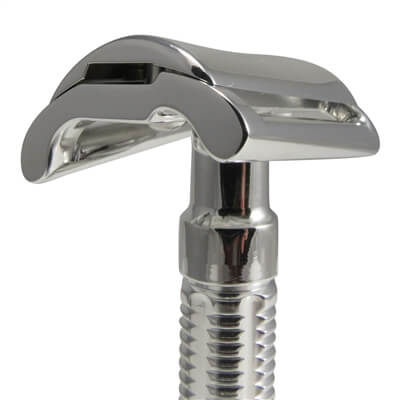 "The Fine Slant Razor has been uncompromisingly designed and built to deliver on the dream of the maximized shaving performance that a torqued blade razor might provide. Everything from the lightweight aluminum material and highly polished surfaces, to the precision CNC machining utilized to shape each piece, were chosen specifically to benefit the comfort and efficiency of the resulting shave.
"Due to the highly efficient slicing action that the slanted and torqued blade generates, for best results the Fine Slant Razor should be used with a mild blade, and with little to no pressure applied to your skin. Lightly glide the razor over your face once with the grain of your beard, once across the grain, and once against the grain (adding lather before each pass), for the closest and most comfortable shave a safety razor can provide. If experiencing irritation, try using cold water throughout your shave."
Weight: 1.1 oz (32 g)
Height: 3 3/16″ (80 mm)
The Experience
My experience with the razor reflects both Fine's suggestions above and others who have used late prototypes and early production samples (such as the comments "Leisureguy" wrote on Reddit): my best shaves with it came from a using very light touch and a less-than-super-efficient blade. It's not insanely aggressive, nor is it difficult to maneuver in tight spots, like some slant razors.
Others have commented on their preference for the Fine Slant's lighter weight.  But in my opinion, it's not the weight…it's the balance that stands out.  I think the razor's balance is well optimized for its material and construction.  Too often in my experience very lightweight razors tend to "skip" on the face.  That never happened to me with the Fine Slant.
The Price
While not in the same level as some other luxury-priced razors, the Fine Aluminum Slant razor's price–$125–has raised some eyebrows. I asked Todd at Fine Accoutrements about it and this was his response:
"I would have loved to have been able to produce a much less expensive razor with the same performance if I could have.  In fact, that was my original intention!  However, it became very clear during prototyping that CNC machining was the only manufacturing process that could provide the precision necessary to torque the blade exactly as necessary.  This development was frustrating to me precisely because CNC machining is so expensive, and, as I said, I had set out to make an affordable razor.  But ultimately, I simply decided that shaving performance was a higher priority than the manufacturing cost for this project, and to let the market decide if that cost is worth, what I believe to be, the apex in slant razor design and performance."
The Bottom Line
The price/value ratio may give some wet shavers pause.  Others may be concerned about the possible long-term durability of an aluminum razor.  But from the performance perspective, I like the new Fine Accoutrements aluminum slant razor. I think it might also work well as a travel razor (as long as blades weren't a packing/TSA concern) too.  I think the combination of its light weight and good balance make it more maneuverable and easier to work with than other slant razors.