Recently there have been a few posts on the shaving forums (like this one) about "old school" shaving products appearing at brick and mortar deep discount stores like TJ Maxx.  This type of thing seems to happen in cycles, so I thought it might be a good time to discuss the in's and out's of finding great deals.

Then
My own experience with finding deals goes back to over ten years ago, when the few wet shaving forums that were around at the time (mainly on the old MSN platform) were all a-buzz for a month or so about Arran Aromatics vetiver shaving cream being found at TJ Maxx stores in the US.  That product was being discontinued but at the time it was widely regarded as a shaving cream every bit as good as "the three T's" (Trumper, Taylor, Truefitt) at a fraction of the price.
Since then I try to keep tabs on the deep discount chain stores for over-stocks and close-outs of premium shaving merchandise, occasionally scoring an incredible deal for myself.
Now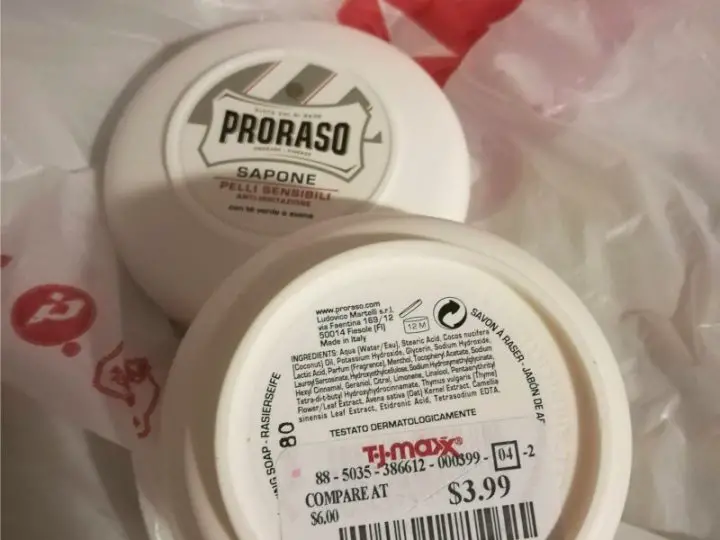 The latest "find" is apparently Proraso, again at TJ Maxx.  After reading some forum postings I went over to the TJ Maxx store near where I live and, while I did not find Proraso shave cream or soap, I did find Proraso pre-shave cream and The Art Of Shaving aftershave: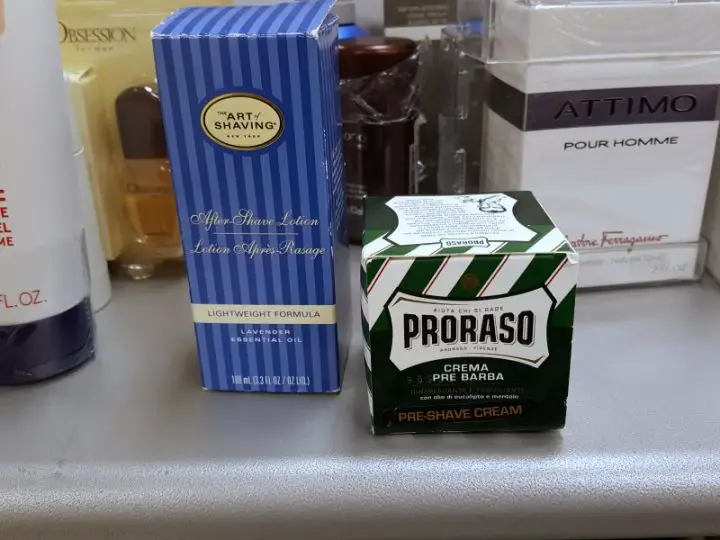 How
So how do you find those good deals locally?  I haven't found a consistent, reliable source–but do I have some recommendations on how you might be more likely to find something:
Know The Most Likely Outlets
Over the years, both reading the forums and with my own experience, you are most likely to find something interesting at TJ Maxx (TK Maxx in the UK), Marshalls (which is owned by the same corporation), Steinmart, and Shoppers Drug Mart (in Canada).  I have yet to find anything at a Ross or a Big Lots.
Within each store it is also useful to know where items might be located on the shelves.  I've spotted products in the men's section of the store but I have also seen them in the cosmetics area and even the travel products shelf.  It almost seems up to the whim of the store employee stocking the items.
Know The Most Likely Times
Actually, there aren't any reliable indicators of when you might find something: it's heavily dependent on over-stocks, close-outs, franchise store closings, and other vagaries of the market.  However over the years I have noticed a slight up-tick in availability just before Christmas and just before Father's Day.  Admittedly that's a very subjective observation, though.  It might be useful for you to simply visit a local deep discount store periodically until you get a feel for how the inventory cycles.  Then revisit when new products are usually stocked.  In my own case I check the local places about once per calendar quarter.  If you live in a larger metropolitan area it might be more often.
Keep An Eye On The Buzz
One of the best ways of finding a deal locally is to keep an eye on what others are finding in their own local market.  The shave forums can be a goldmine of information if you can dig through all the information.  Sharpologist's "Latest Discussions" data feed can help filter out the noise.
Have you found any incredible deals at local stores?  Leave a comment below!