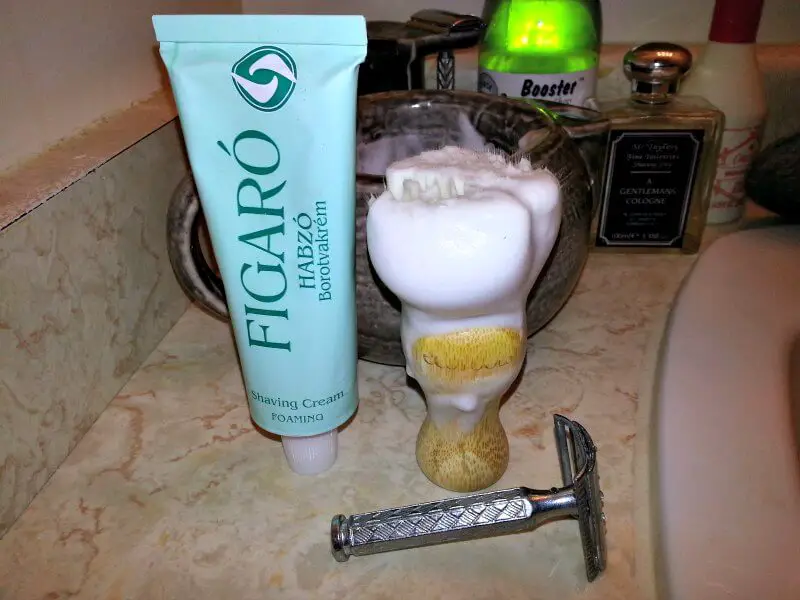 Figaró Habzó Borotvakrém, or Figaro Foaming Shaving Cream for those who don't speak Hungarian, is a rather decent product for a really good price. Not to be confused with the Italian almond-scented Figaro Crema de Barba. Which I haven't tried but might also be a decent product for a really good price.

Looks could be deceiving with the lather; with just a damp brush, it lathers up into something that looks like it could be quite usable, and well, it was usable. It was nice and thick, but was lacking a bit on the glide, and wasn't all that stable (I did have to re-apply on the first pass). Which illustrates why it's important to experiment with water content when trying a new shaving soap or cream, as a fair bit more water managed to amp up the glide a lot, fix the stability problems, and did so with only a minor decrease in the thickness. So, play with it a bit and find a balance that you'll like, it seems to have a nice wide sweet spot. It gave a good shave, although didn't seem to have much in the way going for it moisturization-wize.
The scent is a fairly pleasant one, I suppose I'd say that it's predominately herbal, with what I think is a bit of a floral note as well and some oakmoss to back it all up. The strength wasn't too bad, at least initially, however it did drop off fairly quickly.
8/10 Scent Pleasantness
7/10 Scent Strength
8/10 Lather Quality
I found this 85 mL tube of shaving cream for $3.89. All in all, I'd say it's a quite good value for that price. 7/10 overall
Ingredients: Aqua, Stearic Acid, Pamitic Acid, Myristic Acid, Glycerin, Potassium Hydroxide, Sodium Silicate, Sorbitol, Parfum, Boric Acid, Coumarin, Citronellol, Geraniol, Evernia Prunastri Extract.