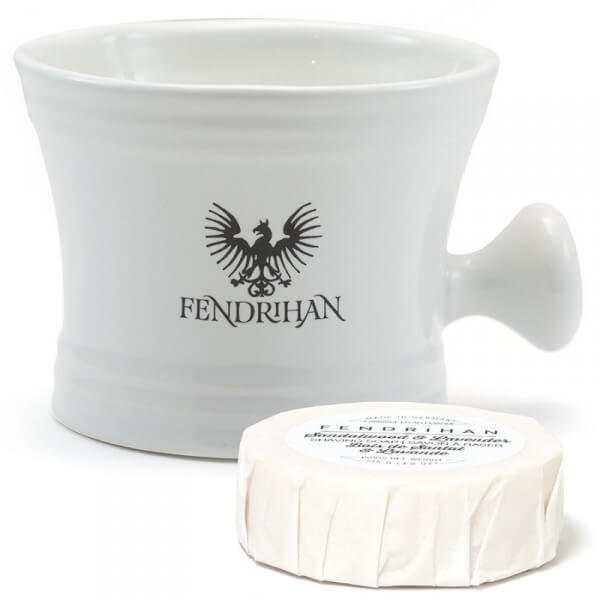 Fendrihan recently partnered with an artisan soap maker to come up with their own line of shaving soap.  I got my hands on a few pucks to check it out.
Fendrihan shaving Soaps
There are four varieties of Fendrihan shaving soap: sandalwood & lavender, coconut & vanilla, lime & ginger, and "unscented" (with aloe & avocado).  Alfred at Fendrihan told me that the sandalwood & lavender version was their best seller and I can see why.  Even to my notoriously insensitive nose I get a really nice balance of scents and I find it quite masculine-smelling, even with the lavender.
The coconut & vanilla smells primarily of coconut to my nose, though the vanilla aspect is definitely in there as well.
Similarly, the lime & ginger smells primarily of ginger to me, with a subtle lime note in the background.  I'm a big fan of lime so I wish this was turned around but YMMV of course.  🙂
Primary ingredients include: potassium palmate, sodium palmate, potassium stearate, potasium palm kernalate, sodium stearate, sodium palm kernalate, glycerin, water, palm kernal acid, plus a few other minor ingredients and scent components.
But how do they perform?  Very well!  All the varieties I tried lathered quickly and luxuriously, even in my hard water.  The scents tended to "soften" a bit in lather mode but they lingered throughout the shave.  Lubrication and cushion is excellent for me.
Another thing I really appreciate in the Fendrihan shaving soaps is that they're available in two sizes, 65g and 135g.  That gives you a way of trying a variety without breaking the bank (or maybe helping to keep that shave den down to a manageable size).
Have you tried the Fendrihan shaving soap?  What do you think?  Leave a comment below!