Definitely not getting political, trust me. This is about beating the summer heat. I live in Kansas and anyone who tells you that it's the humidity that makes you feel hot hasn't suffered through the sandblasting feel of 30 mile per hour wind and 110 degree heat. At that point humidity would be insult to injury. Plus my motto is: it's not the heat, it's the warmth.  So, how can you beat the heat when you step outside? Well, when it's hotter than the hinges of hell, and no one has figured out how to put air conditioning inside one of those bubbles that the kid from the 70's movie walked around in, I turn to menthol.
The Story
When I started wet shaving five years ago, one of my first shaving cream purchases was C.O. Bigelow's shave cream. The smell of it was unknown to me and I enjoyed the hint of menthol coolness it provided. Never mind that the first tube of Proraso smelled exactly the same (hmm, seems they're the same product. Guess I should have read the fine print!), I wanted something cooler. Not Fonzie cool, but something to give me some relief when the mercury went north. I found a shop downtown that sold all sorts of scents, compounds and soaps, so I asked her if she sold menthol. She said that she could make me a glycerin compound with a high menthol content that might work. When I got this concoction, I immediately tried to see if I could freeze my face off. While it did amp up and cool down my shaving cream, it never gave me a cold feeling and sadly, didn't help me fight the heat very well.
Menthol
Then, on one of my hours-long OCD perusals of the internets, I came across Queen Charlotte Soap. They have a product called Vostok that they claim is colder than an ex's heart. Just kidding! They just say it's named after the coldest place on earth. So I decided I had to try it.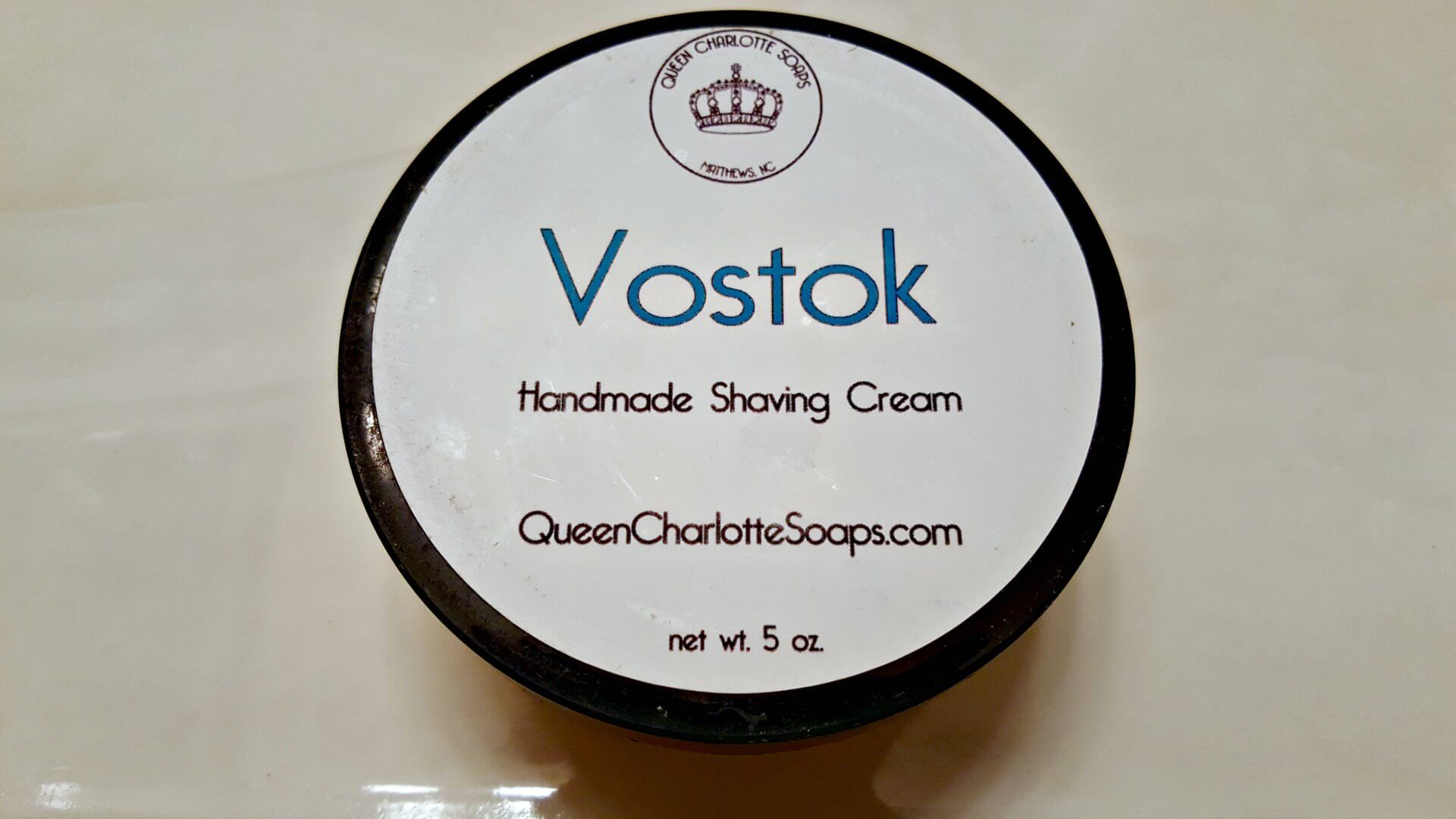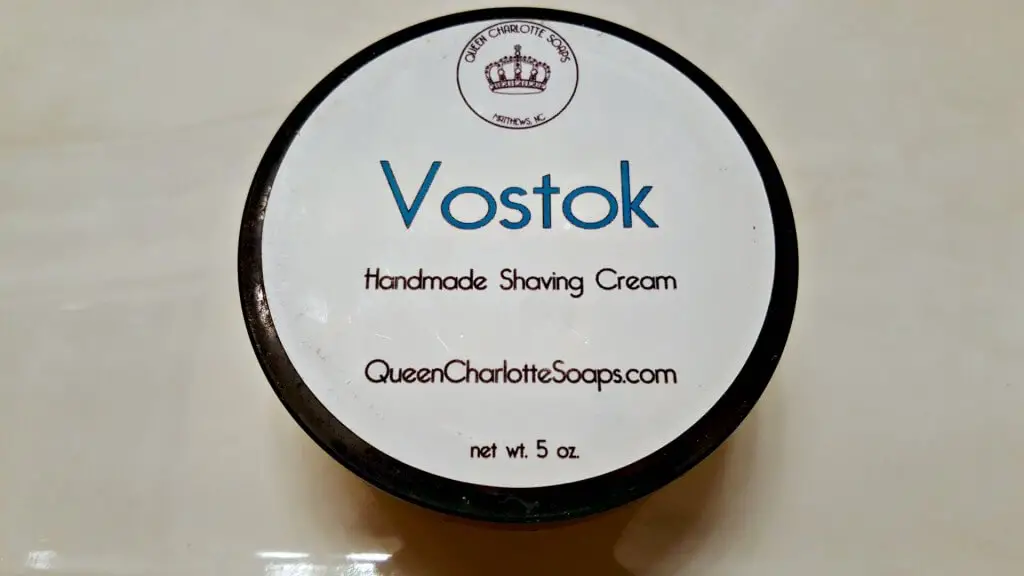 I think this was one of my first soaps, because I had already decided that I liked shaving creams better. But I had watched videos of Mark from Sharpologist, so I knew how to load a brush. Honestly, is there anyone better to learn by? (shameless fawning on my part!) Anyway, after getting some good lather together, I gave the brush a sniff and I could feel my eyes start to water just a bit. What the heck had I gotten myself into? Undeterred (not really) I lathered my face and soon after felt that coldness that comes from splashing your face with icy cold water to try and remember just the in the hell you did last night…and where are your clothes and your car?
Anyway, as I shaved with my Fatboy, I could feel an icy tingle all over my face and after my four-pass shave, I did splash cold water on my face to rinse off the lather and hoo-eee! That was some serious cold. I don't remember if I put any aftershave on but I do remember that it was in the mid 90's outside and that my face and actually the rest of my head seemed to stay cool for at least an hour afterwards. Man, I had found my own personal AC!
(Ingredients: Saponified tallow; water; saponified castor oil and shea butter; glycerin; saponified stearic acid, cocoa butter, and coconut oil; essential oil; saponified avocado oil, palm oil, and olive oil; aloe vera extract; kaolin clay; lanolin; vitamin E )
I made it a point to shave with Vostok when the weather got hot. Not only did it cool down my face, it also created a great, thick and slick lather. What more could a hot-blooded guy ask for? That's when QCS delivered. They created Iced Key Lime.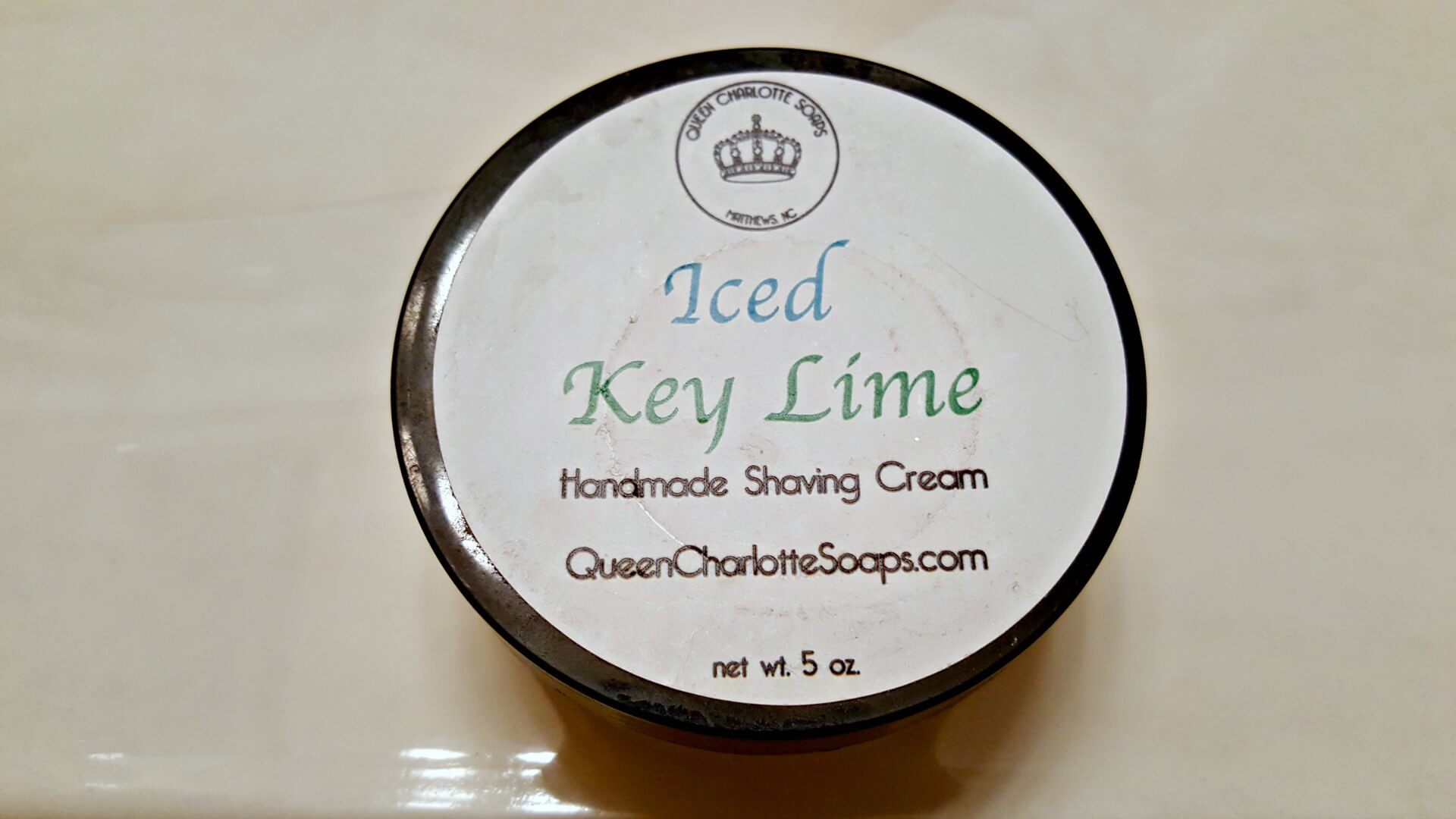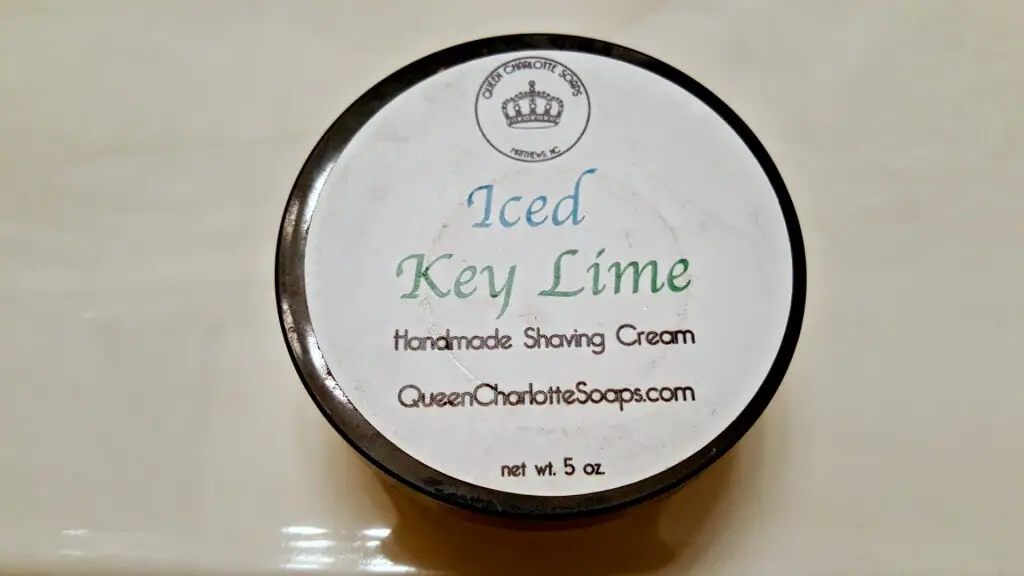 Whaaa? I had already started to expand my collection of lime shaving creams and was excited at the prospect of having a soap that could bring me that wonderful scent. But could it do the job of freezing my face like my beloved Vostok? I shouldn't have worried!
It certainly did the job of cooling down my mug and had a great scent as well. I used these two products a lot more during the summer months and once or twice would gird myself to shave with Vostok on a windy, cold day. Man! Talk about making your eyes water. I actually feared I was getting frostbite!
(Ingredients: Saponified tallow; water; saponified castor oil and shea butter; glycerin; saponified stearic acid, cocoa butter, and coconut oil; essential oil; menthol; saponified avocado oil, palm oil, and olive oil; aloe vera extract; kaolin clay; lanolin; vitamin E )
All was right with the world for many, many moons. Then late last year I was cruising FB and looking at a shaving page when something caught my eye. "Too much menthol!" What the heck? I read further. A company called Chiseled Face had put up for sale 4 oz tubs of croap, which is like a cross between a cream and a soap. The ad said that the owner had put in too much menthol and it made the consistency different. Nothing I love more than a challenge! I plunked down my cash and a week later the package arrived.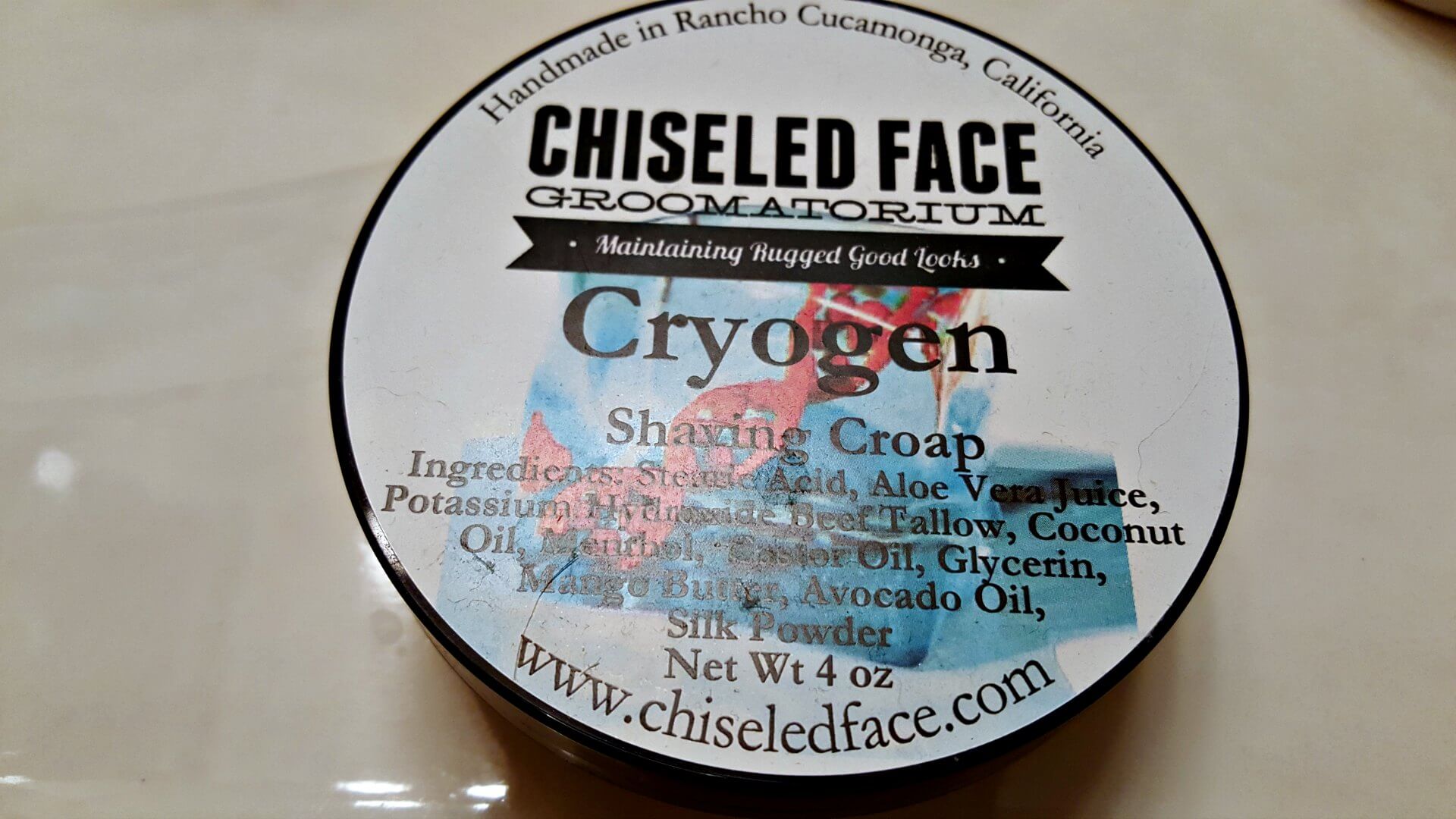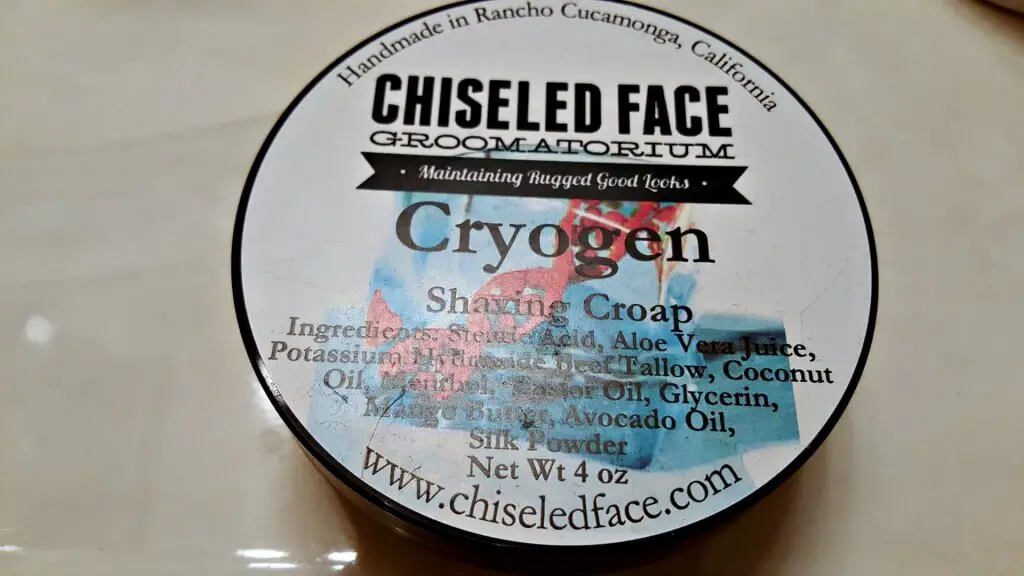 Called Cryogen, it has a softer consistency than the Queen Charlotte Soap. But it was the added menthol that blew me away. My eyes were watering like crazy as I lathered it up. And the cold sensation that it gave my skin was even stronger than QCS. It is a good shaving product, with great slickness and ample protection. And since it gives basically freezer burn, that's the bonus plan! I contacted the owner and he said that he actually found a way to dry it down so it wouldn't have the croap consistency, was able to firm it up a bit but didn't back down on the menthol. More is always better in my book!
(Ingredients: Stearic Acid, Aloe Vera Juice, Beef Tallow, Coconut Oil, Menthol, Castor Oil, Glycerin, Mango Butter, Avocado Oil, Silk Powder)
If you're diving into the shaving world or already gone off the deep end, odds are you have some menthol cream or soap in your den. So when the temps break into the triple digits or you live where the humidity makes it feel like you're breathing water, I'd recommend getting any of these three or research the usual wet shaving suspects to see what else is out there that will freeze your face and leaving you feeling cool all day.
Related Posts:
5 Face Freezers
How to Freeze (Almost) Anything!
Menthol – How It Works To Cool The Skin
What is your favorite cooling shave product?  Leave a comment below!