Feather shaving products have a bit of a schizophrenic feel [EDIT: maybe 'multiple personalities' would be a more appropriate description].  They have products at both ends of the scale: very high-end, precisely-engineered products and products that are economical, but nothing in between.  Let me show you what I mean.

Feather Blades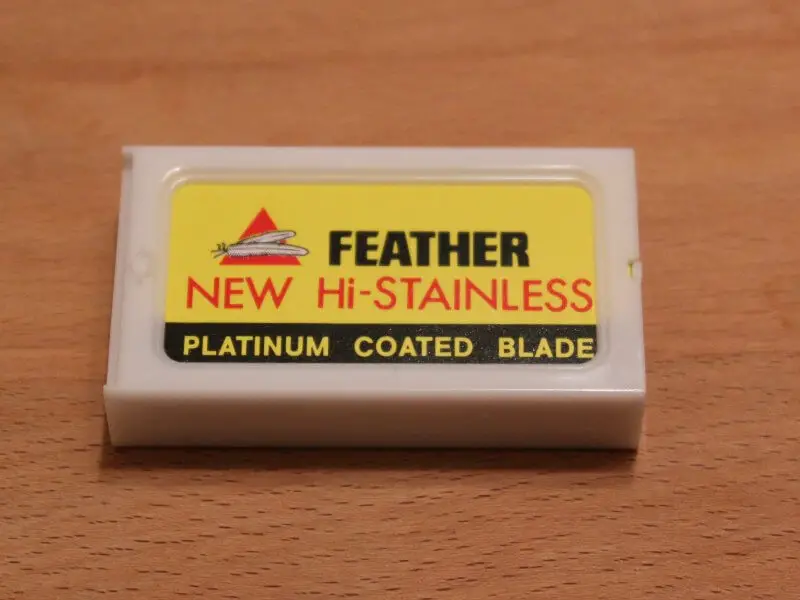 Arguably the best known Feather product (for wet shavers anyway) is the legendary Feather "New Hi Stainless" razor blade.  It is known far-and-wide in the wet shaving world as one of the "sharpest" (if not THE sharpest) double edge (DE) razor blades for shaving on the market.  Using Leisurguy's proposed terminology this extremely "efficient" (though some would also say somewhat "harsh" depending on the razor it's used with) blade demands respect from the shaver.  A lapse of attention will almost certainly result in a nick or cut and I generally recommend that new shavers get a handle on their technique before trying this blade.
There is some confusion about the different types of containers Feather DE blades are found in.  There is the "yellow" pack and the less common "black" pack.  While there is some evidence to suggest they were made to (slightly) different specifications a few years ago, they are now the same blade.  The only difference is the number of blades per pack: "yellow" packs contain ten blades, while "black" packs contain five blades.  Feather DE blades are at the upper-end of the price range compared to other DE blades (though still far less expensive than most multi-blade razor cartridges on the market).
Feather "Professional Series" blades may be a little less well-known: they're made for "no-sharpen straight razors" that use replaceable blades (more on those razors below) and in Classic Shaving's "Cobra" razor line.  These blades also have an interesting little quirk: if one end is cut down slightly they work well in vintage Schick Injector-style razors.  Back in the day it was quite the rage but interest has largely faded away.
Feather Razors
[Note: Amazon links are affiliate.]
All Stainless (AS-D2)

I think the Feather "All Stainless" razor was the first "high dollar" razor, at least in the contemporary sense.  There are a number of all-stainless steel razors now (Above The Tie, Tradere, iKon, etc.) but Feather paved the way.  When the Feather All Stainless was released there was a "sticker shock" reaction from much of the traditional wet shaving community (myself included) but high-end razors have carved out a niche' for themselves with their reputation for better engineering and manufacturing, and the "luxury" cache' it brings.
The Feather All Stainless is in it's second generation now (model AS-D2).  I got my sample from Merz/Smallflower (thanks AQ!) but of course there are a number of other vendors (West Coast Shaving, Classic Shaving, Straight Razor Designs, and even Amazon).  You may find a range of prices for the AS-D2.  This is partly because there are slight variations in the "kit"–some include a custom stand or a special gift package for example–so be sure you're comparing applies-to-apples when shopping.
As for the shave, the Feather All Stainless has a reputation for being a very gentle razor.  I agree with that view: getting the best possible shave using the "typical" DE blade will take more work than usual.  However I have found it matches perfectly with a Feather Hi Stainless blade!  The combination of the razor's small blade gap and the blade's highly efficient edge gives me the feeling that I'm hardly shaving at all–it's probably the most "comfortable" shave I have ever had.  But the results are excellent for me: a near "baby's butt smooth" shave with very little effort.
Popular (and Portable)
At the other end of the scale is the Feather Popular DE razor.  This lightweight, plastic-and-metal razor goes for under $20 (U.S.).  Honestly, I don't think there is much to distinguish this razor other than it's low cost though–it is pretty representative of inexpensive razors in most respects  It has a more typical blade gap and is usable with a wider variety of blade brands but it may not be as comfortable to shave with compared to other razors in the price range.
A Feather razor that has been discontinued but I think deserves a mention anyway is the Feather Portable razor.  Here is a forum post from a few years ago that has some good pictures of it.  This little three piece all-metal razor had it's fans, who praised it for it's construction, decent shaving characteristics, and reasonable price.  One will occasionally pop up on the buy/sell/trade areas of shaving forums and internet auction sites.  I think they are worth a look if the price is right.
Artist Club Series
Swinging back up to the higher end of the price scale is the Feather Artist Club series.  Artist Club razors look like straight razors but use replaceable blades (sometimes you'll see these kinds of razors generically referred to as a "Shavette").  They are available in the traditional Western folding style or the traditional Eastern "Kamisori" style.  I think Artist Club razors behave more closely to a real straight razor than Shavette's that use DE blades cut in half because the blades are longer and stiffer.  Prices for Artist Club razors rival regular straight razors.
Other Feather Products
Feather makes other types of blade-related products, including beauty shop, medical and industrial applications.
Availability
Feather products are pretty widely available.
Related Posts:
Four Facts For Feather Fans
Five Essential Websites For Japenese Wetshavers
Classic Shaving's King Cobra Razor
Do you use Feather products?  What do you think of them?  Comment below!