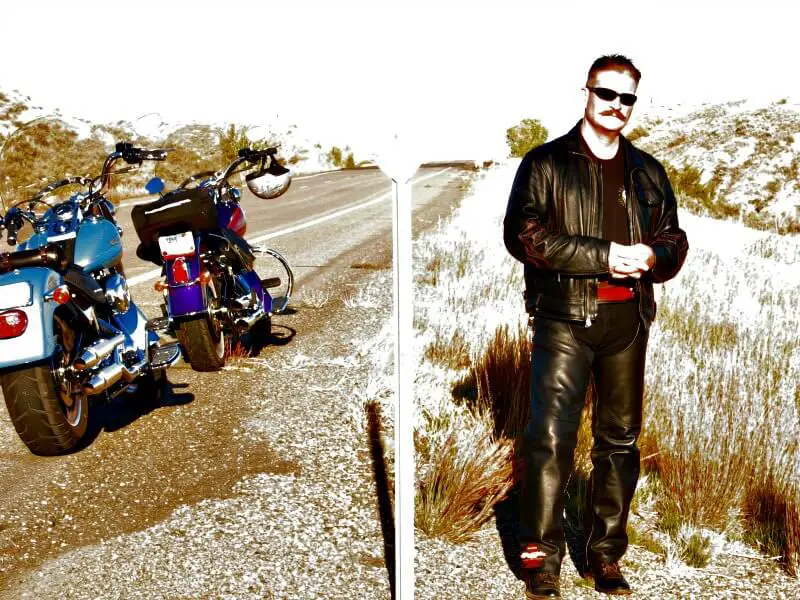 Who says fall fashion is only for women? Guys are known for loving their gadgets and fast cars, but what guy doesn't want to look cool when he's iPhoning on his new 5S or tooling in his Bugatti? Ok, so the Bugatti is a stretch, but you get the idea. Most men would rather be watching football than leafing through the perfumed pages of Vogue's September issue looking for the perfect fall wardrobe. Fair enough. That's why guys need a cheat sheet, a quick an easy study guide to what's in for Fall 2013.

The Motorcycle Jacket
The motorcycle jacket is as timeless as it is cutting edge. Just ask Marlon Brando, James Dean, and every lead singer who's ever trashed a hotel room after a gig. The longevity of the motorcycle style is attributed to a great functional design and the ability to adapt to modern trends without losing the original concept. Whether you're a Harley lover shopping for leather and on the prowl for motorcycle helmets for sale, or an office guy who wants to look Indie cool or vintage outlaw on Friday night, a motorcycle jacket is a must for Fall 2013.
The Vesatility of Boots
While most men aren't as fetishistic about their footwear as, say, Carrie Bradshaw, what you decide to put on your feet can make or break an outfit. Boots, however, can go with anything. Whether you're wearing suit pants, jeans, or khakis, boots give the look a classic sensibility. Leather and suede are the popular materials for Fall 2013, and black, gray, and brown are the colors of choice. Dress boots, military-style boots, and desert boots are big. Versace combined leather boots and leather jackets on the fall runway, illustrating that the vintage "Wild One" look never goes out of style.
Channeling the French New Wave
The French have scarves down to a fine art (Hermes, anyone?), but America is finally catching up this fall. Los Angeles Fashion named "statement scarves" the number one men's Fall 2013 trend. Why are they called statement scarves? It's all about cultural expectations, guys. It seems that by wearing a scarf a man subverts a gender stereotype, as scarves are thought to be female-centric accessories. Statement or no statement, whether you twist it around the neck a few times and loosely knot it or wear it wide like a blanket, a scarf is going to keep you warm on a cool autumn night. The real takeaway statement: You will look as urban cool as Belmondo in Jean-Luc Godard's classic New Wave Film, "Breathless."
Flannel and Camo
When was the last time you wore flannel? Maybe it was that weekend trip to the New Hampsire woods when you had to layer up because of the cold, or maybe it was that Nirvana concert in 1992. In the world of fashion, all that's old is one day new again, and plaid is once again rad. However, if you still think flannel is too Grizzly Adams or Kurt Cobain, then opt for camo instead. Camoflauge has been popular on runways for a while, but it has finally made its way to the streets. From bright greens to olive tones, camo comes in many interpretations.