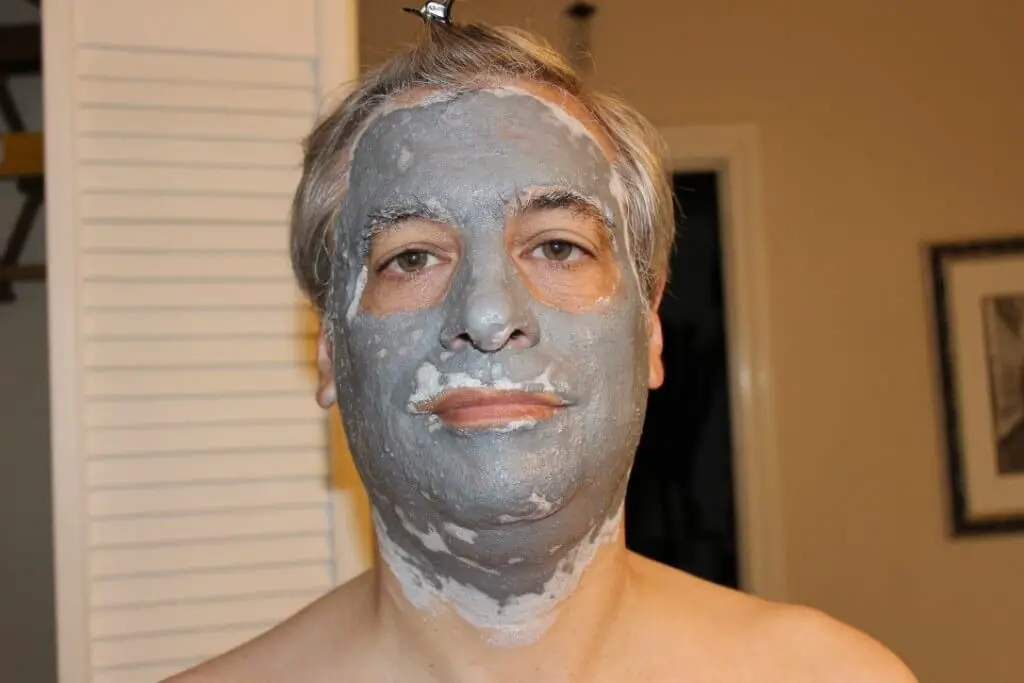 Men's facial masks deeply clean skin, purifying and clearing the complexion.  They are supposed to act like sponges to draw out impurities from the skin while essential minerals within the clay are released and the skin absorbs them. Some may act as a bactericide, hindering the worsening of infection and stimulate circulation, removing dead skin cells, absorbing impurities & fats, and toning connective tissues to leave skin healthier.


Different Types Of Masks
There are two general types of cleansing masks, the "mud" type and the "peel-off" type.  The mud type is most common and seems to be most useful to me for clearing the complexion and moisturizing the face.  The peel-off type works better for me at dealing with black heads and–if I do it right–is more convenient to remove after it has done its job.  According to the manufacturers the ingredients of some of the products below have been subtly tweaked to be more appropriate for a man's skin; the others are uni-sex.
General Instructions On How To Use A Cleansing Mask
Before using any cleansing mask for the first time test it on a small patch of skin for irritations or reactions.
Pull back hair from face and forehead with a headband or hair clips.
Before applying wash face normally and gently pat dry but leave face moist.
Dispense mask into bowl or palm of non-dominant hand.
Use the tips of the fingers of the dominant hand to pick up and apply mask to the face in a thin coat using patting (vs. wiping or rubbing) motions, avoiding the areas  around the eyes (stop around the top of the cheekbone) and lips.
Wait for the mask to fully dry (no longer tacky or wet-feeling) unless directions say otherwise.
For a "mud" mask, rinse and wipe clean with a wet wash cloth (a shower afterward works well too).  For a "peel-off" mask start at the base of the neck and (carefully, slowly) peel upward, removing as much of the mask at once as possible.
Do not use a mask treatment more than once per week–over-use could actually "rebound" and dry out the skin too much.
Some Masks I Have Tried
Anthony Logistics for Men Deep Pore Cleansing Clay
If you are sensitive to mint or eucalyptus products the Anthony clay is probably not for you.  I'm not particularly sensitive to either but it does come on kind of strong, with a scent and tingling sensation that you may not like.  However the sensations fade for me as the clay dries.  It dries reasonably quickly and leaves my complexion in pretty good shape.

Ingredients: Water, Kaolin, Glycerin, Glyceryl Stearate, Peg-100 Stearate, Bentonite, Wheat Protein, Apricot Kernel Oil, Methylparaben, Aloe Leaf Juice, Azulene, Vitamins C, E and A, Calendula Extract, Wintergreen Leaf Extract, Tafette Oil, Thyme Oil, Basil Oil, Rosemary Leaf Oil, Lime Oil, Mandarin Oil, Grapefruit Peel Oil, Bergamot Oil, Canaga Flower Oil, Methylparaben, Propylparaben.
Baxter of California Clay Mask
I was kind of disappointed with the Baxter mask.  On the one hand it took the shortest amount of time to dry compared to the others I tried, about 10 minutes.  On the other there was a very mild redness on my skin after washing it off (didn't last very long though) hand while it worked well enough to clear up my complexion the effects didn't last as long as most of the other products I tried.
Ingredients: Water (Aqua), Kaolin (CI 77004), Bentonite (CI 77004), Glycerin, Glyceryl Stearate SE, Stearic Acid, Aloe Barbadensis Leaf Juice, Polysorbate 20, Persea Gratissima (Avocado) Oil, Allantoin, Butylene Glycol, Calendula Officinalis Flower Extract, Hamamelis Virginiana (Witch Hazel) Extract, Hydrastis Canadensis (Golden Seal) Extract, Propylene Glycol, Symphytum Officinale Leaf Extract, Triethanolamine, DMDM Hydantoin, Iodopropynyl Butylcarbamate, Methylparaben, Propylparaben, Titanium Dioxide (CI 77891).
Montagne Jeunesse (7th Heaven)

Dead Sea Rescue Mud Mask

I'm told this mask is sold in single-use packs at Walmart stores (though only one of the stores around me have them) and I think it's good for someone who wants to try using a cleansing mask conveniently and without spending a lot of money up front. I could only find a 12 pack on Amazon*.  No scent that I could detect.

As this product comes in single-use packs it was the easiest for me to try: squeeze the stuff out into the palm of one hand and use the fingertips of the other hand to apply.  It actually worked pretty well for me.  My complexion was noticeably clearer for a number of days after using the mud mask.  The pack says to wait 15-20 minutes but it was a full 30 minutes before it dried fully.

Ingredients: Aqua (Purified Water), Kaolin (Natural Clay), Glycerin (Plant Origin), Bentonite (Natural Clay), Citrus aurantium dulcis (Orange) peel, Phenoxyethanol, Limonene, Silt (Dead Sea Mud), Citrus aurantium dulcis (Orange) peel oil, Propylene glycol,  Citrus aurantium dulcis (Orange) oil, Caprylyl glycol, Parfum (fragrance), Maris sal (Dead Sea Salt), Xanthan gum (Natural Thickener), Tocopheryl (Vitamin E) acetate, Ascorbic acid (Vitamin C), Hexyl cinnamal (Citra),  Cl77499 (Iron oxides)
Montagne Jeunesse (7th Heaven) Deep Pore Cleansing Peel Off Face Masque for Men
Amazon Link*
Again, this mask is apparently sold in single-use packs at Walmart stores (though only one of the stores around me have them) and I think it's good for someone who wants to try using cleansing masks conveniently and without spending a lot of money up front.  The peel-off mask seems to work better at getting rid of black heads compared to the mud mask, at least for me.  Appropriate for normal-to-oily skin.  Very mild mint scent.
Ingredients: Aqua (Purified Water), Alcohol Denat., Polyvinyl Alcohol, Propylene Glycol, Mentha Viridis (Spearmint) Leaf Oil, Sea Salt (Dead Sea Salt), PVP, Acrylate Steareth-20 Methacrylate Copolymer, Dichlorobenzyl Alcohol, Benzyl Alcohol, Limonene, CI 42090 (Blue 1).
QEDman Deep Cleansing French Green Clay
QEDman Deep Cleansing French Green Clay is a traditional, classic product and can by used with any skin type.  It really is clay from France, without any additional ingredients.  From QED's site:
"Sun-dried French Green Clay has been extracted from quarries in France by a specialist company for over 50 years. The chosen sites are pollution-free and selected for their high mineral content. Drying is carried out exclusively by the sun and the clay is produced without preservatives and inspected according to the meticulous standards of the International Standards Organization (I.S.O). This guarantees clay of the highest purity & quality."
You mix it up yourself into a paste.  And QED makes a good case for doing it that way:
"What about French Green Clay masks that come pre-mixed?
Though pre-mixed French Green Clay masks sound very convenient they are usually laden with oils and other additives which are absorbed by the clay and consequently reduce the clay's drawing power. Since the main reason for using French Green Clay is its drawing power (to literally suck the impurities out of your pores) making the mask fresh with a light weight substance like water or a hydrosol will give better drawing power."
Mixing directions are provided and are straight-forward.  This product was initially difficult to use for me, taking a few tries to get the water/clay ratio right and taking the longest to dry (one time at almost 45 minutes but to be fair, that time the weather was very hot and muggy which may have had something to do with it).  On the other hand once I got it right I was rewarded with the best post-application face feel and the results lasted longer than the other products I tried.
You buy this stuff by the pound and it should last a number of months of use.
The Art Of Shaving After Shave Mask
The Art Of Shaving After Shave Mask
According to The Art of Shaving: Ideal for sensitive skin, this unique blend of 100% botanical ingredients provides relief from razor burn, ingrown hairs, nicks, cuts and skin irritations, while replenishing necessary nutrients lost during the shaving process. After-Shave Mask can be used not only after shaving, but at any time to leave your skin with a bright, matte complexion.
How to Use: Cleanse face and neck with Facial Wash, pat dry. Apply After-Shave Mask to skin with fingertips avoiding eye area. Leave on for 3 to 5 minutes. Remove with warm water, pat dry. Apply After-Shave Balm or Moisturizer.
I'm not sure this counts as a "mask" in the context of this article but I wanted to include it.  It's inferred (but never said explicitly) that you can use this product any time after shaving.  I'm not sure you would want to though, as it is $60 for eight single-use vials, so I would play it safe and not use it more than once a week like other masks.
It is explicitly said that you only leave it on for 3-5 minutes, so it doesn't really dry on your face like the other products here.  If feels nice though and leaves my skin pleasantly soft, but the effect doesn't last nearly as long as the other products on this list.  However it's kind of a case of "apples and oranges" where the product seems to be skirting several different categories.
Ingredients: Water/Aqua, Kaolin, Glycerin, Simmondsia Chinensis (Jojoba) Seed Oil, Prunus Amygdalus Dulcis (Sweet Almond) Oil, Calendula Officinalis Flower Extract, Rosa Damascena Flower Water, Lavandula Angustifolia (Lavender) Oil, Helichrysum Italicum Flower Oil, Anthemis Nobilis Flower Oil, Chamomilla Recutita (Matricaria) Flower Oil, Rosa Damascena Flower Extract, Xanthan Gum, Disodium Edta, Peg-4 Dilaurate, Peg-4 Laurate, Sodium Hydroxide, Peg-4, Talc, Benzyl Alcohol, Imidazolidinyl Urea, Phenoxyethanol, Iodopropynyl Butylcarbamate, Dehydroacetic Acid , Caramel, Iron Oxides (Ci 77491/Ci 77492/Ci 77499), Linalool
* Denotes an affiliate link, where Sharpologist gets a small fee if the product is purchased through the link.
Do you use a cleansing mask?  How well does it work for you?  Leave a comment below!