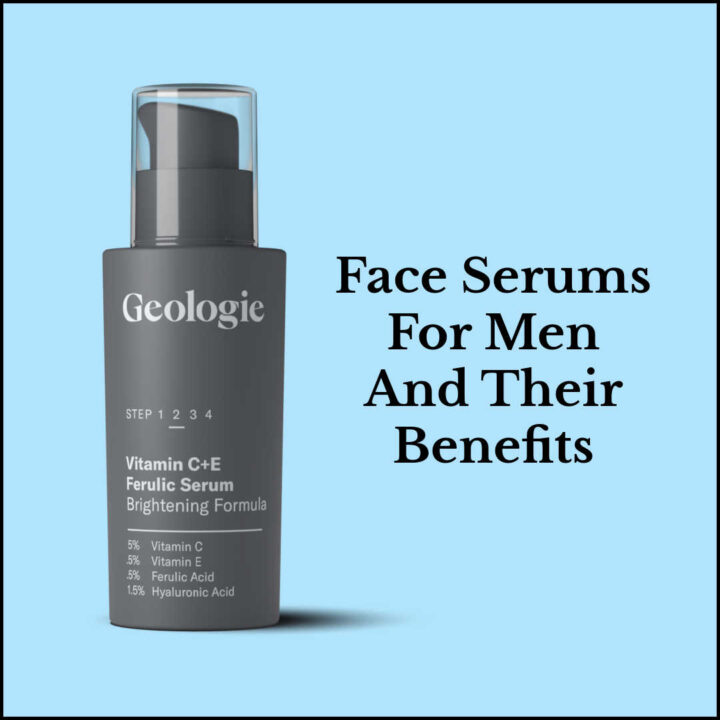 As a man, taking care of your skin is important and one of the best ways to do that is by using the right serums. Face serums for men can deliver a wide range of benefits, from reducing wrinkles to targeting specific skin concerns. It is important to first determine your skin type, skin tone and skin concerns so that you can choose the best face serum for you. 
What Is A Skin Serum?
A face serum is a type of skincare product that is typically used after cleansing and toning, but before moisturizing. Serums are designed to deliver a high concentration of active ingredients to the skin, and they are typically lighter and more easily absorbed than other skincare products, such as moisturizers. 
Because of their concentrated formulas, serums are often used to target specific skincare concerns, such as fine lines and wrinkles, uneven skin tone, and dryness. Serums can contain a variety of different active ingredients, depending on the intended purpose of the product. 
There are many different types of skin serums available, and they can be tailored to target a wide range of skincare concerns. Some common types of skin serums include:
Anti-aging serums. These serums work to reduce the signs of aging, such as wrinkles, age spots, and sun damage. They usually contain antioxidants, retinol, and other active ingredients that help stimulate collagen production and reduce inflammation. Anti-aging serums are particularly beneficial for men who are beginning to show signs of aging.
Hydrating serums. These serums are designed to provide the skin with extra moisture and hydration. They often contain hyaluronic acid, which helps to attract and retain moisture in the skin. Hydrating serums are great for men who have dry or dehydrated skin.
Brightening serums. These serums help to improve the appearance of dull or discolored skin. They usually contain ingredients such as vitamin C and niacinamide, which help to reduce hyperpigmentation and dark spots. Brightening serums are beneficial for men who want to even out their complexion and get rid of dark circles under their eyes.
Calming serums. These serums are designed to soothe irritated or inflamed skin. They often contain ingredients such as aloe vera and chamomile, which help to reduce redness and discomfort. Calming serums are great for men who suffer from conditions such as rosacea or acne.
Firming serums. These serums are designed to help tone and tighten the skin. They usually contain peptides, which help to stimulate collagen production and firm the skin. Firming serums are beneficial for men who want to reduce the appearance of wrinkles and fine lines.
Acne-fighting serums. These serums help treat and prevent acne breakouts.  They often contain ingredients like salicylic acid, benzoyl peroxide, and retinol.
Combination Serums
There are other types of skin serums that are available, with some combining elements of other serums. 
A common "combo" serum is an antioxidant serum combining elements from an anti-aging serum and elements from a brightening serum.
High concentrations of antioxidants can help protect the skin from damage caused by free radicals. Free radicals are molecules that are produced by the body as a result of exposure to things like UV radiation, pollution, and other environmental stressors. These molecules can damage the skin and contribute to the signs of aging, such as fine lines and wrinkles. 
Antioxidants work by neutralizing free radicals, which can help to prevent and reduce this type of damage. In addition to their protective effects, antioxidants can also help to improve the overall appearance of the skin by enhancing collagen production and reducing the appearance of dark spots.
My Own Serum Journey
I've written about my own use of skin care products and specifically serums before.  For the past couple of years I have been using OneBlade's excellent "Restore" serum with good results.
But as I discovered that there were other types of serums for different (or multiple) concerns I started researching whether there was something that was more appropriate for my situation.  One thing I found was that a "combo" antioxidant face serum (mentioned above) might give me some additional benefits.
One popular antioxidant face serum is a Vitamin C+E Ferulic serum. It typically contains a combination of vitamin C, vitamin E, and ferulic acid, which are all antioxidants that can help protect the skin from damage and improve its overall appearance. In addition to their antioxidant properties, these ingredients enhance collagen production and may also help to improve the skin's texture, tone, and clarity.
Probably the most well-known is the Vitamin C+E Ferulic Serums from Skinceuticals.  But at US $170 I wasn't about to try it out just out of curiosity!
But about a month ago Geologie, whose products I've used before and written about here on Sharpologist, launched a "dupe" of the Skinceuticals product at a much lower price point–like, under US $50!
Geologie's Vitamin C+E Ferulic Serum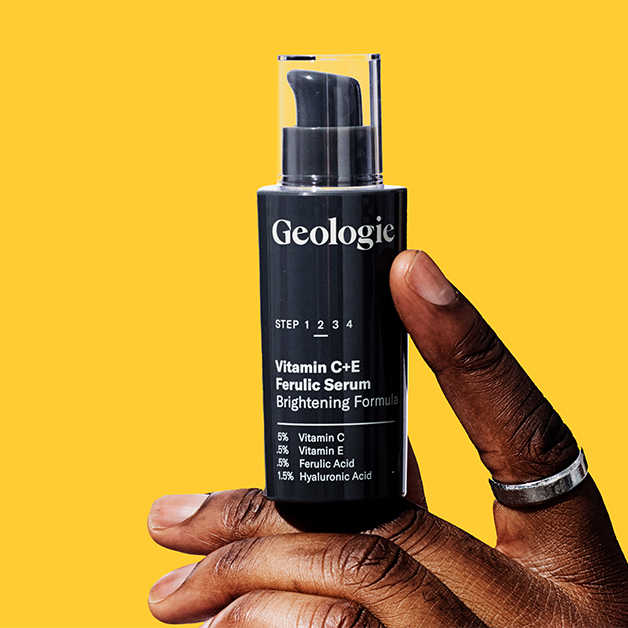 "The Dupe That Everyone Has Been Waiting For! The affordable alternative to Skinceuticals' Vitamin C+E Ferulic Acid serum
Geologie's Brand New Vitamin C+E Ferulic Serum is everything you want in a Vitamin C serum at an affordable price compared to Skinceuticals Vitamin C+E Ferulic Acid serum"
Ingredients and benefits:
Anti-aging and antioxidant benefits 
Skin brightening formula 
Highly stable form of Vitamin C 
Vitamin E 
Ferulic Acid 
Hyaluronic Acid
Suitable for all skin types + everyday use 
Efficacious formula + affordable price 
Geologie's Vitamin C+E Ferulic Serum comes in an opaque airless bottle. Why is that important? Vitamin C in see-through bottles or droppers risks degrading over time by overexposure to light and oxygen. 
And as I have mentioned before, Geologie provides help with using the right products. You click the link provided; you take a 30-seconds diagnostic quiz, and with a few clicks, tell them about your skin and goals, and their team of dermatologists will design a regimen just for you.
Click/tap here to take the quiz and purchase Geologie products.  Use coupon code BESTSKIN10 for 10% off sitewide.
How Long Does It Take For A Man To Start To See The Benefits Of Using A Face Serum?
It usually takes around 4 weeks before you will start to notice visible results. While results will vary depending on individual skin types, regular and consistent use is key to experiencing the maximum benefits.
How To Apply Serum
Be sure to read the directions on the specific product you're using.  But, generally, to get the most out of your face serum, it's best to apply it twice daily – once in the morning after cleansing your face and again at night before bed. Gently massage a pea-sized amount into the skin and allow 30 seconds before applying moisturizer over the top to form a barrier on the skin, locking in key ingredients.
Is There A Best Age For A Man To Start Using A Vitamin C+E Ferulic Serum?
As a man, the best age to start using a Vitamin C+E Ferulic Serum is about 30. Levels of CoQ10 in the skin rise from childhood into adulthood, peaking at 20 to 30 years old and then start gradually declining. 
Conclusion
As a 60 year old man, I understand the importance of having a better skin care routine. While I may not have the same needs as someone in their 20s or 30s, I still need to make sure my skin is getting the care it needs. To that end, I have incorporated Geologie's Vitamin C+E Ferulic face serum into my daily routine.