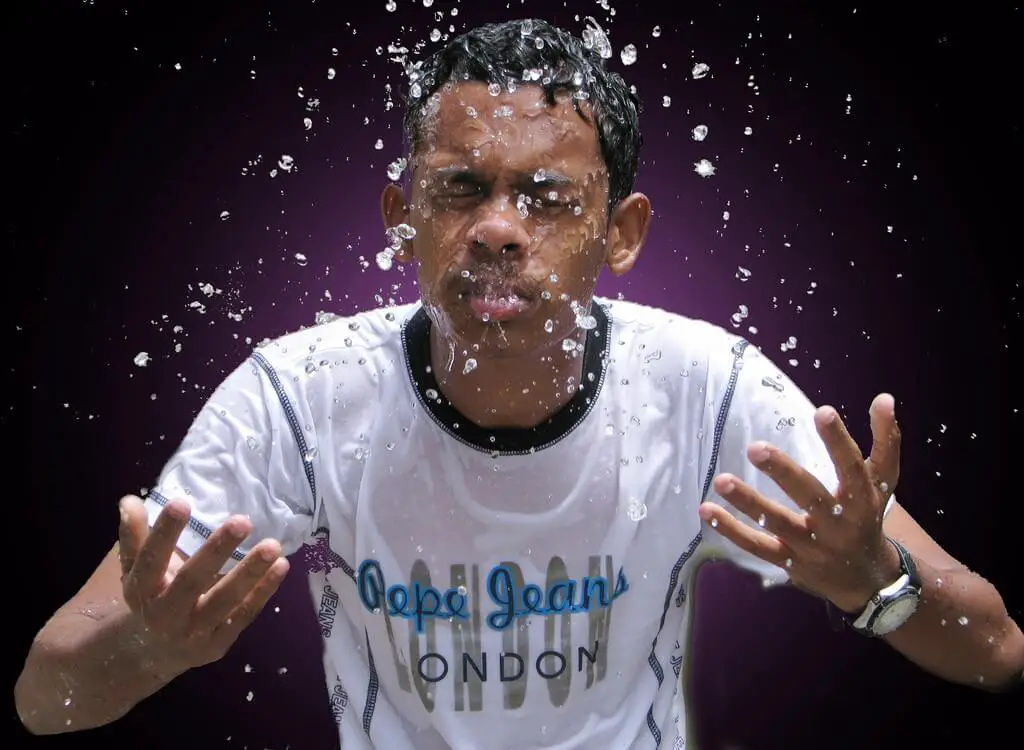 [Updated June, 2020] Personally, I think a good, thorough cleaning is more effective than any pre-shave oil or "treatment" before a shave.  The skin gets cleaner so the blade edge works more efficiently, the skin is sufficiently hydrated, and the stubble gets softened.  But can a face cleaning "tool" do a better job compared to just using your fingers?

I tried a selection of products to find out.
Clarisonic (And Clones)
Clarisonic is considered the "original" powered cleaning brush product (or at least the brand the popularized the concept).  According to their website:
"Clarisonic sonic cleansing is more effective than traditional superficial cleansing, yet gentle on your skin. It not only cleanses the skin, but also helps reduce dry patches, blemishes, and the appearance of fine lines and wrinkles."
The men's version includes the Clarisonic Mia Men cleaning brush.  Clarisonic brushes "oscillate:"
"The Clarisonic brush head does not rotate or spin. The inside brush head bristles oscillate 10 degrees in either direction working at 300 movements per second, cleansing six times better than your hands alone.
The oscillation is so fast it looks like a blur. The outside rows of bristles remain still."
Clarisonic says using their tool will clean six times better than using fingers alone.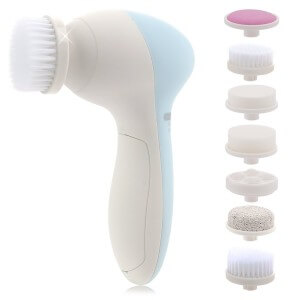 But the Clarisonic is pretty pricey–I looked at one in a store but didn't buy.  There are a bunch of "clones" on the market so I decided to give one a try.  It soon became apparent why the clones cost so much less than the genuine article.  The brush head spins instead of oscillates but more importantly the motor is far weaker, with much lower torque–the clone I tried bogged down easily.
Foreo Luna 2 For Men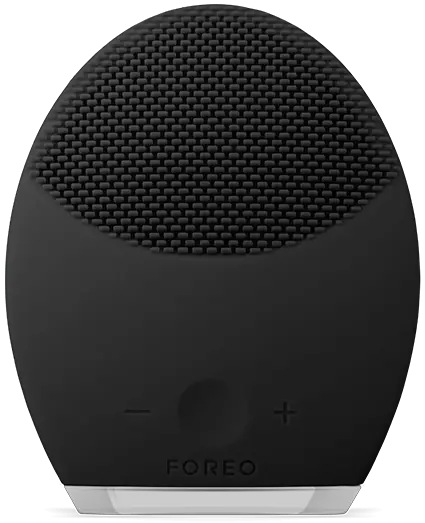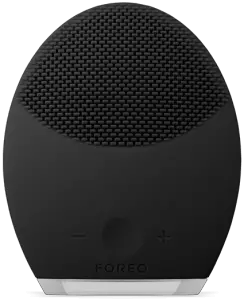 Having learned my lesson with the Clarisonic clone I tried the Foreo Luna 2 "device" (as they call it).  The Luna 2's price is competitive with the brand-name Clarisonic.  Foreo products take a slightly different approach–they also use an "oscillation" but instead of a brush they use a textured silicone surface.  According to the manual:
"The LUNA 2 for MEN's Cleansing Mode directs T-Sonic™ pulsations through silicone touch-points to remove impurities while cleansing deeply in a way that protects the skin's moisture barrier. Not only does this refresh the look and feel of your skin, it also conditions the face for a more comfortable shave. " 
Foreo says men using the Luna 2 experienced "97% more refreshed skin, 97% smoother shave, 91% more toned skin."  I guess that mean's that about nine out of ten guys who used it felt they got a better experience than what they were doing before.
While the other powered brushes may have a couple different speeds, the Luna 2 has 12 oscillation strengths.  The Luna 2 also has an "anti aging mode" that produces different types of pulses than the cleaning mode.
The Art of Shaving Cleansing Brush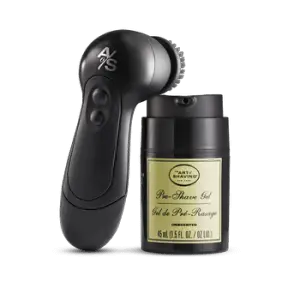 The Art Of Shaving "Power Brush" is similar in look to the Clarisonic clones, with a spinning brush.  However the AoS brush's three-speed motor is much better, with more torque.  And the price point is surprisingly good when compared to the better "powered" tools.
Interestingly, AoS targets its brush less as a cleaner and more as a razor bump/ingrown solution:
"The Art of Shaving Power Brush is an innovative device for those suffering from in-grown hairs and razor bumps, preparing you for an outstanding shave. The Power Brush reduces the occurrence of ingrown hairs and razor bumps significantly within the first month…and delivers up to a 69% reduction in the occurrence of razor bumps…. Use the Power Brush with The Art of Shaving Pre-Shave Gel for a gentle exfoliation and massage to the skin. Together it helps increase the release of ingrown hair by up to 85% over the course of 12 weeks. This dual-purpose brush can also be used with a cleanser to deliver daily or deep cleaning and exfoliation."
AOS Preshave Gel
"How to Use: Before Shaving Moisten face and brush head with water, then massage Pre-Shave Gel onto area to be shaved. Turn on the brush device, choosing your desired speed, and gently move over facial hair for approximately 1-2 minutes, avoiding the eye area. Leave on gel and lather up with Shaving Cream as usual. After shaving, rinse face and brush head, then moisturize for optimal results.
"How to Use: For cleansing Moisten face and brush head with water, then massage cleanser onto face and facial hair. Follow above directions to cleanse entire face (avoiding eyes) with brush, then thoroughly rinse face, beard, and brush head."
Ingredients: water, glycerin, dimethicone, laureth-23, petrolatum, polyacrylamide, isopropyl palmitate, phenoxyethanol, hydroxythycellulose, benzyl alcoho, peg-23M, fragrance, c13-14 isoparaffin, disodium edta, laureth-7, iodopropynyl butylcarbamate, shea butter
Manual Brushes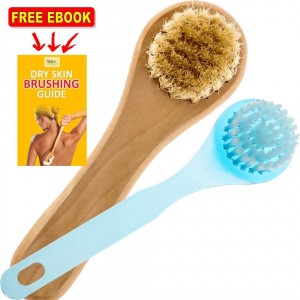 Then there are the manual, unpowered tools.  These can be readily found in "megamarts," department stores, drugstores, etc.  I got THIS one from Amazon because it included a "dry" brush as well for exfoliation and "polishing."  The bristles are very similar to the powered brushes.
How To Use A Face Cleaning Tool
All these tools suggest using them in about the same way:
Clean the chin, neck and cheek using circular movements, repeating on each side.
Starting from the center, clean the forehead with gentle outward circular strokes.
Clean the nose by gliding up and down one side, then the other.
Carefully clean the under-eye region using outward strokes.  If the tool has multiple speeds you will probably want to use a lower speed.
It's also important that you do not use an exfoliating scrub with them–it would be far too irritating to the skin. Just use a nice, gentle face soap or wash (LIKE THESE – except for the Neutrogena Razor Defense).
Some may also want to avoid "oil free" cleansers.  Some people find they strip away too much of the skin's natural oils needed for a comfortable shave.
My Experiences Using These Tools
I used each of these products before a shave for at least a couple of weeks, alternating using the tool then just using my fingers, by the day with ACH Brito Glyce Lime Pre-Shaving Soap soap (my favorite pre-shave soap).
Bottom line: yes, there is an improvement, at least subjectively for me, using these products over just finger-massaging the cleansing lather.  However there were some differences.
The spin-brush clone was the least effective product: as I mentioned above the poor motor did not have enough torque and the brush just slowed down unless I used very little pressure.  In the end it worked, just not particularly well.  I should've bought the Clarisonic.  🙂
The Foreo Luna 2 was interesting.  For the first couple of uses it seemed like a gimmick more than anything else…the soap lather just disappeared and I didn't feel any obvious benefit.  Then I started playing with the oscillation settings and discovered the lower end worked much better for me than the higher settings (YMMV).   Though it didn't make my shave dramatically better compared to the other tools, after I found the right setting for me I think the Luna 2 did the best job of cleaning my skin.
The "anti-aging" mode didn't do a lot for me: there was a temporary improvement of the fine lines of my face but it didn't last very long.  To be fair though, I did not use it on a consistent basis so maybe that's the key.
Using the Art of Shaving brush and pre-shave gel was interesting too but in a different way.  As background let me mention that because I try so many different shaving products (razors, blades, brushes, creams/soaps, etc.) I'm somewhat susceptible to ingrown hairs–I get about one per month.  I used the AoS power brush and gel long enough to determine whether it made a difference…and yes, it seemed to.  I didn't get any ingrowns for the time I was using it.  Not conclusive evidence of course, but an interesting observation.
The gel had the additional benefit of working much like Trumper Skin Food, providing some extra protection to the skin under shaving lather.  I was pleasantly surprised.
The manual brush worked fine (and the results were better when used with the dry brush).  But as you might guess it took a little longer to use for a thorough job.  The price is right though.
What About A Plain Ol' Washcloth?
Don't want to spend the coin for any of these tools?  I found even using a regular washcloth will help vs. fingers alone.  Maybe not the "six times better" claim that the powered products have but definitely an improvement over splashing some hot water on your face.
So for a better shave start out with a cleaner face!
Do you use any tools to clean your face before a shave?  Leave a comment here with your experiences.