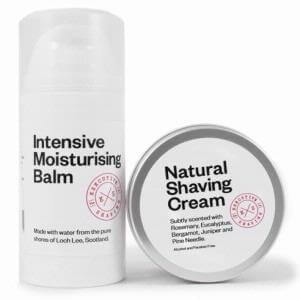 Some wet shaving artisans get a lot of buzz these days…and generally with good reason: they're making exceptional products at reasonably prices.  But some of them aren't getting as much attention.  One of the brands that seem to be "flying under the radar" is Executive Shaving in the UK.  An online shaving store, Executive Shaving also make their own products.  I have previously written about their Braveheart razor.  They also have their own shaving cream and moisturizer.

Shaving Cream
Executive Shaving's Natural Shaving Cream is actually one of the newer additions to their house product line.  The scent is described as "Rosemary, Eucalyptus, Bergamot, Juniper and Pine Needle" and is "suitable for all skin types."  My poorly-trained nose just says it's a mild, "woody" scent.
Performance-wise though I really like this shaving cream.  I find it works very well and has an exceptional "cushion" for me.  The lather is really luxurious.  Post-shave feel is also nice–I don't get any drying or irritation.
Ingredients: Potassium palmitate, potassium stearate, aqua, potassium cocoabutterate, potassium sheabutterate, sodium palmitate, sodium stearate, sodium cocoabutterate, potassium cocoate, potassium castorate, sodium sheabutterate, sodium cocoate, sodium castorate, glycerine (vegetable), Kaolin, Essential oil blend, linalool, citral, limonene, geraniol.
Intensive Moisturizer
Exectuive Shaving says their Intensive Moisturizing Balm is made in the "Highlands of Scotland using water drawn from the pure shores of Loch Lee."  Being a Yank I'm not sure what the significance of that is.  🙂  But I do know that it works well as an aftershave balm for me, leaving a really nice matte finish and a soft feel to the skin without getting greasy.  There isn't a scent that I can detect.
Ingredients: Aqua, Prunus dulois, Stearic acid, Gylcerin, Oetyl alcohol, Glycerly stearate, PEG-100 stearate, Theobroma cacao, Aloe barbadensis, Triethanolamine, Parfum, Allantoin, Oinnamomum canphora, Phenoxyethanol, Methylparaben, Ethylparaben, Propylparaben, Butylparaben.
You can buy these items by themselves or save a bit of money by buying both items together.  Take a look at what Executive Shaving has to offer, especially if you live in the UK.