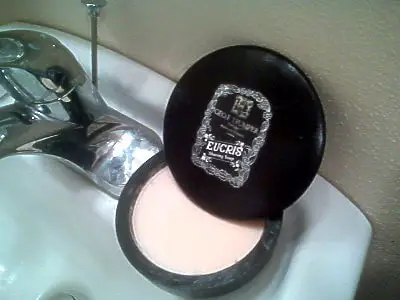 Trumper's Eucris shaving soap was hotly anticipated when it was announced a year or so ago.  Trumper's first addition to it's shaving soap line in years, it was expected to match the quality and performance of their other fine shaving soaps.  But when it reached the hands of consumers who compared it with other high-end shaving soaps…it fell flat.  Unlike previous Trumper's shaving soaps, Eucris was glycerin-based rather than tallow-based.  That isn't necessarily a bad thing–there are many fine glycerin shaving soaps–but many people (myself included) just could not get a decent lather going and those that could got a decidedly lower quality shave from it.
Scent
From Trumper's website: "…sandalwood, musk and moss is enhanced by a heart of rich, honey-like jasmine and exquisite muguet. Rousing, peppery top notes of cumin and coriander radiate with the fullness of plump blackcurrants."  Basenotes.net comments seem to agree it is a very complex scent profile.  I think some of the complexity is toned-down for the shave soap (or maybe some of it just gets lost in other ingredients of the soap mix).  I get mostly the sandalwood and peppery notes from my large but untrained nose.
Lather
Many people who try to lather Eucris like they lather their other soaps will probably be disappointed with its lather.  Thin and weak, it can be difficult to get enough for even one shaving pass.  Then I happened upon THIS post on Leisureguy's blog and THIS thread on B&B.  After some additional research I discovered that a combination of things really improved the lather:
A relatively dry brush (soaked but well-shaken);
A completely dry puck of soap (no water at all);
An extended brush loading (a solid 30 seconds in my hard water);
Slowly adding water during the mixing/lather-building period (whether bowl or face).
Performance
As you might expect, performance using the "classic" methods for producing lather was comparatively poor: adequate for the first pass but reduced effectiveness for successive passes.  Performance improved significantly when I created lather by the method above!  Certainly competitive with other good glycerin soaps and perhaps even approaching that of high-end tallow-based shave soaps.
Value
However, even with the improved performance I consider Eucris' value on the low end.  At the $40 mark with bowl (refills run about $20) there are better products at better prices.
The Bottom Line
For many Eucris is a disappointment and Trumper's reputation took a bit of a "hit."  It can be made to work, and work well, but I think the damage has been done.
Ingredients: Sodium Palmate, Potassium Stearate, Sodium Cocoate, Sodium Stearate, water, Potassium Cocoate, Glycerin, fragrance, Tetrasodium EDTA, Sodium Chloride, Isopropyl Myristate, Tetrasodium Etidronate, Evernia Furfuracea, BHT, Coumarin CI 77891.