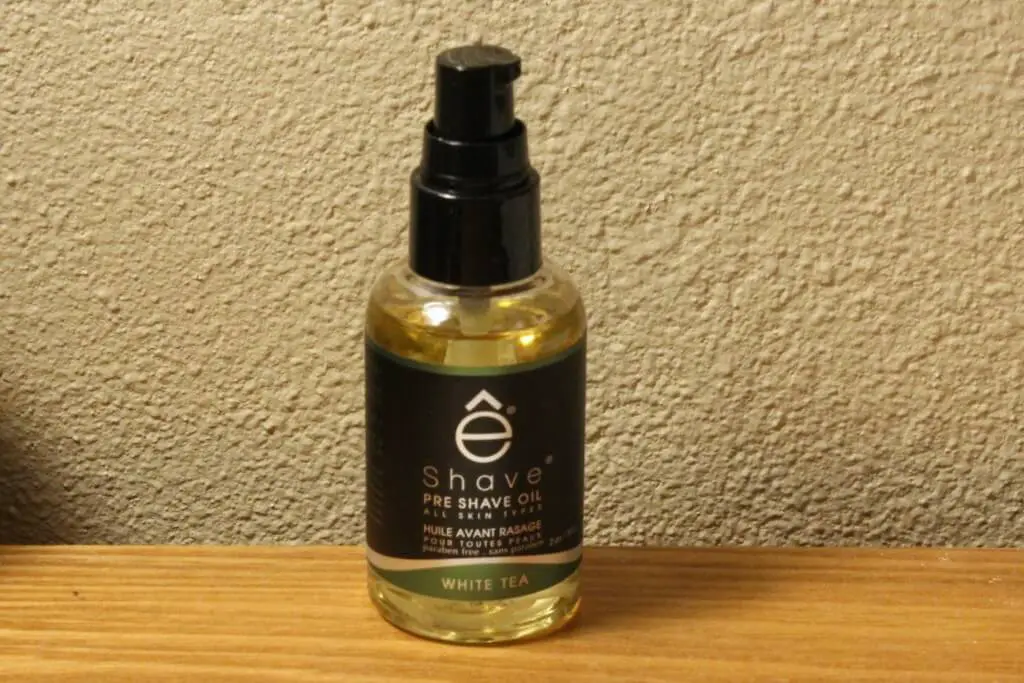 I got an email from a PR group the other day extolling the virtues of a reformulated pre-shave oil from eShave.  I admit I'm not a huge fan of pre-shave oils but they can have their place and the email piqued my interest so I got a bottle to try.

eShave Pre-Shave Oil
The eShave web page describes their pre-shave oil as:
"…[O]ur first paraben free and peanut free oil. it is renown around the world as an effective light weight oil and is the first step to efficiently prepare your skin for shaving.
Protect your skin by creating a layer of oil over the skin
Coat and soften your hair to allow the razor to glide easily
Relieve shaving irritation by avoiding the direct contact between the skin and the blade
Eliminate dryness by moisturizing while preparing skin for shaving"
It's available in 4 scents: Orange Sandalwood, Verbena Lime and White Tea (for all skin types); and Cucumber for sensitive-to-normal skin.
I'm actually a fan of their White Tea shaving cream (I really like the scent and the cream performs really well for me) so I got the pre-shave oil in that scent too.
But what's the reformulation?
NEW Ingredients: Cottonseed Oil (Gossypium Herbaceum Seed Oil), Sweet Almond Oil (Prunus amygdalus dulcis), Castor Oil (Ricinus communis),  Safflower Oil (Carthamus tinctorius), Grape Seed Oil (Vitis vinifera), Fragrance (parfum), phenoxyethanol, Ethylhexylglicerin, Vitamin E  (Tocopherol), Vitamin A (Retinol palmitate), Limonene, Linalool, Benzyl Benzoate.
Checking with archive.org's "Wayback Machine" I found an older web page and looked up the ingredient list:
OLD Ingredients: Peanut Oil (Arachis Hypogaea), Sweet Almond Oil (Prunus Amygdalus Dulcis), Castor Oil (Ricinus Communis), Safflower Oil  (Carthamus Tinctorius), Grape Seed Oil (Vitis Vinifera), Essential Oils, Vitamin E (Tocopherol), Vitamin A (Retinol Palmitate), Limonene, Linalool, Benzyl Benzoate
So, mainly, they've gone from a peanut oil base to a cottonseed oil base.  I guess that's good news if you have a peanut allergy!  It also looks like they moved from using essential oils to "parfum" fragrances.  And assuming white tea (Camellia sinensis) was part of the "essential oils" mix, I think they may have mooted it's benefits by transitioning to a "parfum" fragrance.
Interestingly, I don't see a paraben ingredient listed in the old formula.  Maybe it was part of another ingredient.
How Does It Perform?
But how well does eShave's pre-shave oil work? As I mentioned earlier, I'm not a big fan of pre-shave oils generally–I think if you properly prepare the area to be shaved beforehand, and use a good quality shaving product, a pre-shave oil may not be necessary.  But if you need to occasionally "cut corners" on your shave routine a pre-shave oil can help.
eShave's pre-shave did it's job: it added a little more lubrication to the shaving lather and didn't clog up my razor.  It's lubrication benefits varied depending on the quality of the shave lather I was using: I noticed a bigger difference with a brushless lather and less of a difference with a traditional lather.  But in all cases there was a better lubrication quality.  The white tea scent was quite noticeable and pleasant to me (YMMV).
eShave's pre-shave oil can also be sued as a beard and/or skin moisturizer as well.
So if you use pre-shave oils, eShave's product is certainly worth your consideration.
Have you tried eShave products?  What do you think of them?  Leave a comment below!