Eshave now has a DE razor with a very long handle!  If you are an experienced shaver pining for a razor that's good for big hands, this one may be for you….

This razor has the longest handle I have seen: 4.75 inches.  To give you an idea just how long the eShave long handle DE, here it is lined up with some other common DE razors: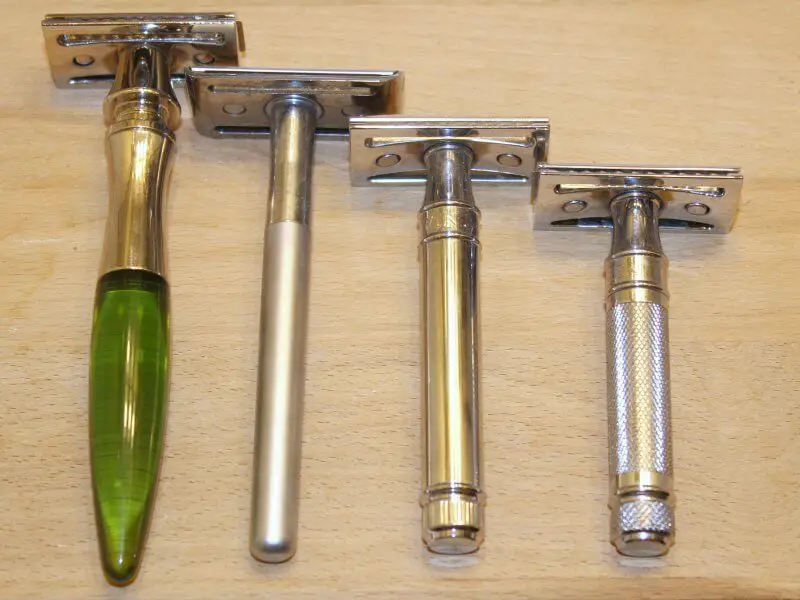 This is how it stacks up against a Bevel razor (known for it's longer handle), a typical Edwin Jagger DE89, and the short-handle Edwin Jagger Kelvin razor.
It is also nicely weighted, at 2.9oz (84mg).  The resin part of the handle is light though, so it is balanced more towards the head…a feature I like very much.  I have always thought the balance of any razor should be higher towards the head than many are.  By the way, though the resin handle I have is green, it is also available in blue, back, or clear.
The razor head is a scalloped safety-bar style, similar to popular Edwin Jagger and Merkur razors.
How's The Shave?
This eShave razor is pretty aggressive in my opinion, with tons of blade exposure.  Much more aggressive than, say, an Edwin Jagger DE89 or a Merkur heavy Duty.  I think it's suitable for an experience DE shaver but not really for a beginner.