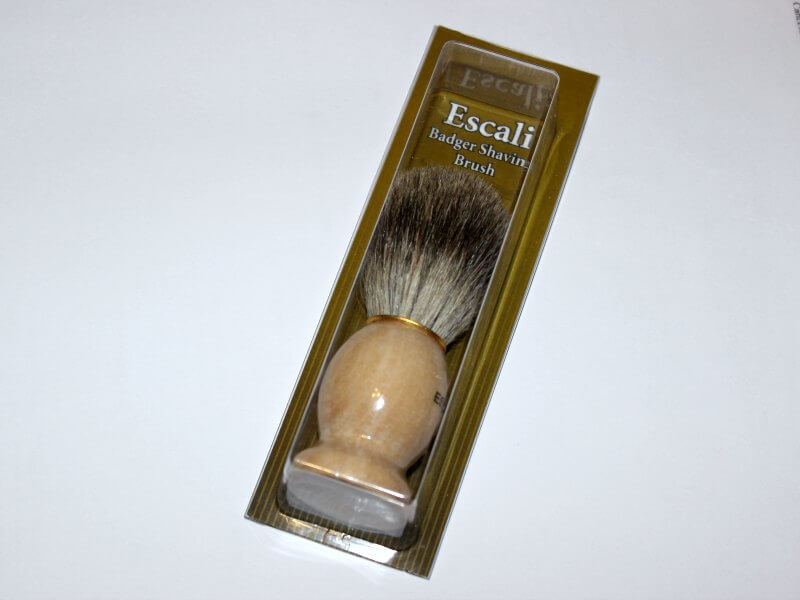 The Escali badger hair shaving brush is consistently one of the most popular products of new wet shavers considering upgrading their routine.  I see it on Sharpologist's own "Popular Products" list and on Amazon's "Frequently Bought Together" lists.  I get it.  I really do: you hear the praises of shaving with a badger hair brush but you don't want to spend the kind of money most of them go for without a "proof of concept."  However are you really getting a true representation of the performance of a badger hair shaving brush?
My First Badger Brush
My first badger hair brush was a Tweezerman, at about US $10 the low-end leader of the time (about 10 years ago now).  And I admit, it was an epiphany: it held more water and made a better lather and stayed warmer and felt better on the skin than the other inexpensive boar hair brushes I had at the time.  I knew it was not going to hold up for a long time (it smelled terrible at first and shed hairs) but it was the entre' into the luxurious-feeling experience that traditional wet shaving could be.
A lot of other people have gone down that same road over the years.
But Tweezerman has since "upped their game" with their new G.E.A.R. line badger brush and the original has been discontinued.  So, naturally, shoppers look for equivalently-priced alternatives and see the Escali (along with their clones, possibly all made in the same facility).  But do you get the same experience?
I used to think so, but not anymore.
It looks like over the past year even more corners have been cut in the manufacturing process.  I bought a recent example of the Escali brush off Amazon and while it does look similar to the previous low-end generation, it differs in one important aspect: the hair knot is very loosely "packed," resulting in poor water retention and therefore poor lather creation and release.
Escali Alternatives?
You will often see the Perfecto and the Simply Beautiful badger brushes together with the Escali on Amazon searches, at a similar price point.  I have tried both and they are slightly better than the Escali in my opinion, but not by much.  Wouldn't you rather want something that performs reasonably well and holds up better?  That way in the meantime you can save up for a brush that truly gives you that luxurious experience.  Here are a few suggestions:
The Omega PRO 48 (or PRO 49): yes it's boar hair but with higher lofts for better water retention and an acrylic handle that will hold up with use.  Boar brushes like these take a while to break in but after they do they're very pleasingly soft and perform well, almost like a badger hair brush.  And they're less expensive to boot.
The Omega 11047 "Mixed Mighty Midget" is a small brush that used both boar and badger hair.  Don't let the small size fool you though, it performs very well and can give somewhat of a luxurious experience.  And although it is small and slightly more expensive than the Escali and it's ilk, this one is worth it in my opinion.
Do you have an Escali?  Is it your only brush or have you upgraded?  What do you think?  Leave a comment below!