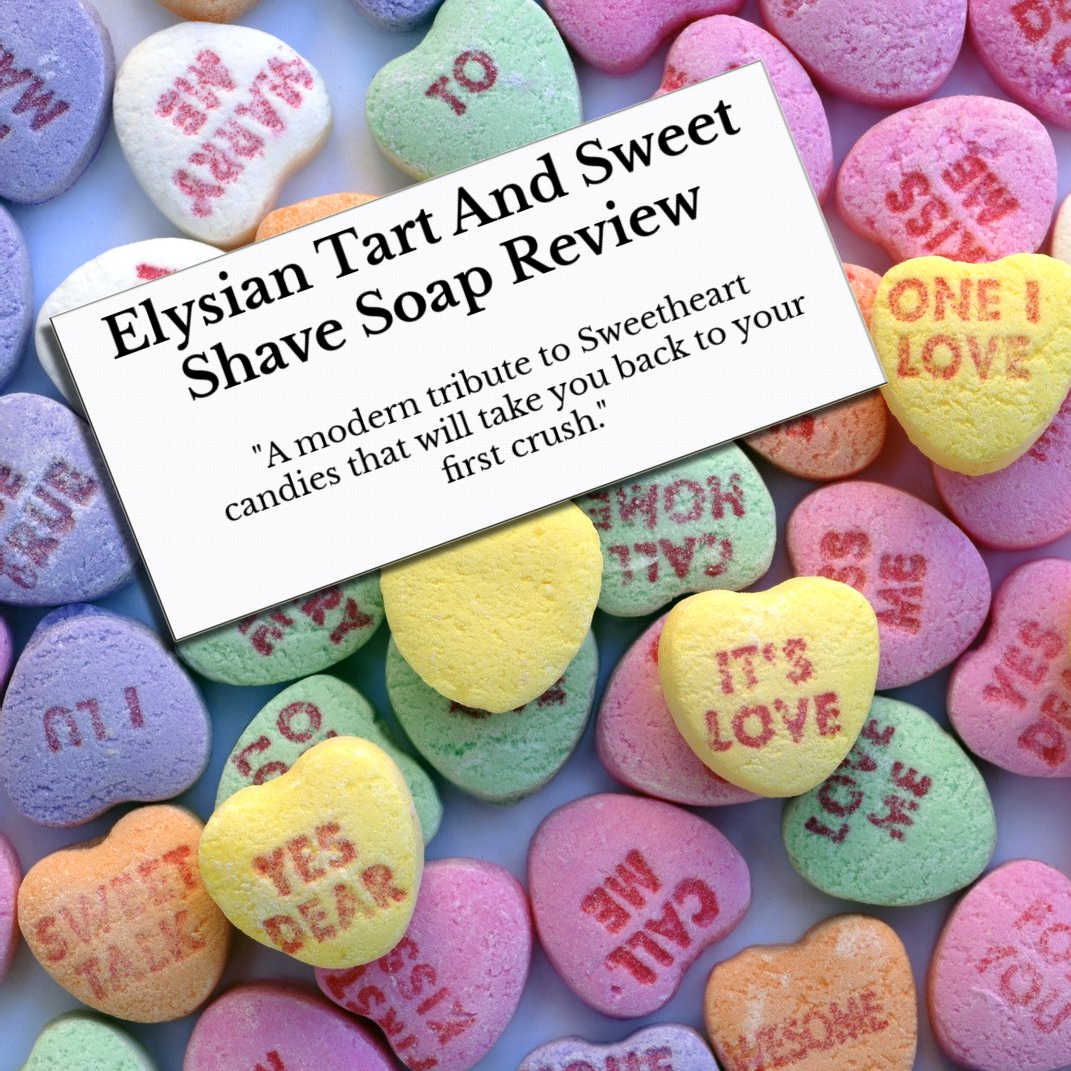 Elysian Tart And Sweet shave soap promises that it's a "modern tribute to Sweetheart candies that will take you back to your first crush." Does it live up to its promise? I picked up a jar to find out.
Elysian
Elysian's scent profiles seem to gravitate mostly toward gourmand scents ("Grapefruit Mousse," "Cocoa Orange Truffle," etc., though there are some scents that are more classic too, plus unscented. Elysian has been around for a little while now and is pretty active on Instagram. I picked up "Tart And Sweet."
From the Elysian Soap Shop website:
Premium Quality Men's Shaving Soap with Tallow and Shea Butter in a juicy Tart and Sweet scent. A modern tribute to Sweetheart candies that will take you back to your first crush.
TART AND SWEET FRAGRANCE: A proprietary blend of phthalate free fragrance oil and distilled essential oils. A modern tribute to Sweetheart candies that will take you back to your first crush. Tart and Sweet opens with juicy Key Lime, White Grapefruit, and Green Apple Candy, followed by hints of Blue Tansy, Jasmine, and Magnolia, with a lingering touch of Cypress and Amber.
The goal was to create a shaving soap from the most simple high quality ingredients that also has tons of creamy, stable lather. Our soaps are made in small batches with only the finest ingredients. We specifically created a well balanced formula designed for all skin types (Normal, Oily, or Sensitive Skin) with no artificial colors, no Parabens, no Sodium Lauryl Sulfates, and no Palm Oil or Phthalates when at all possible.
INGREDIENTS: Distilled Water, Grass Fed Beef Tallow, Stearic Acid, Coconut Oil, Castor Oil, Shea Butter, Glycerin, Kaolin Clay, Tussah Silk, Xanthan Gum, Essential Oil, Fragrance Oil, Micah.
My Experience With Elysian Soap Shop Tart And Sweet Shave Soap
Presentation
This shave soap comes in a standard plastic tub containing about 4 oz of shaving soap. The jar is obviously hand-packed and I could describe the product look as "rustic."
There is a label on the top and on the side, a convenience for those who stack their soap jars in different positions.
Scent
I think "Sweet and tart" is an accurate description! From the jar I get a quite strong sweet and tangy citrus primary note, with a powdery/effervescent element, even to my notoriously insensitive nose. Because of that nose I enjoy strong scents so this is right up my ally. Lathered on my face the strength softens a bit but is still quite pronounced. The persistence of the scent dropped off noticeably near the end of my shave so it probably won't interfere with after shave scents you might apply later.
Lather
This shave soap's ingredient mix looks to me a fairly standard tallow recipe (despite the "grass fed" mention) so lathering up is what I expect from a good artisan soap–it lathers reasonably quickly and without drama. It may not be quite as thick as some other shave soaps but I find it certainly adequate. The consistency for me is somewhere between a meringue and a yogurt.
Performance
As mentioned earlier the lather thickness may not be quite up to some other artisans but it's certainly sufficient. Again, like most other premium, artisan-made shave soaps on the market, Elysian Tart And Sweet performs well for me, with both lubrication/glide and cushion/protection in the 'excellent' category.
Summing Up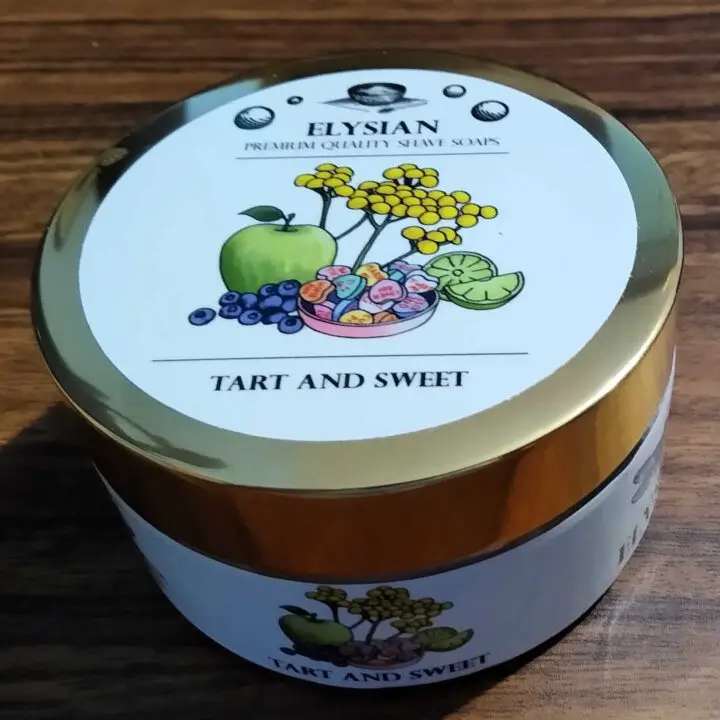 It's getting harder and harder for me to keep up with all the wet shaving soap artisans on the market–they're all pretty good–and choosing the best has become an exercise in defining subtleties.
But I'm enjoying Elysian Tart And Sweet shave soap. You can find Elysian shave soaps on their website and these vendors.