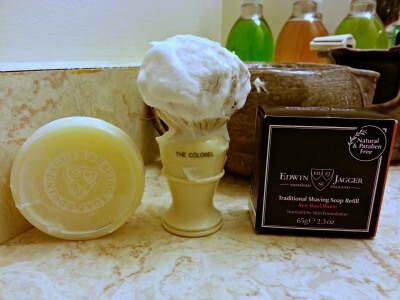 Since I'd been using their razor for quite a while, I figured it was about time to get around to a review of some of Edwin Jagger's shaving soap. First up, the Sea Buckthorn scent.
The soap lathered up very very easily, into a nice thick froth that provided plenty of cushion, while still managing to be plenty slick. It shaved like a dream, and left the face feeling great. I'll happily call this a damned fine shave.
Having no actual idea what a Sea Buckthorn (a bright orange / yellow berry, resistant to salt spray) smells like, I can only assume that this is reasonably accurate. It is a bit of a tart and slightly sweet scent. All in all, it's rather nice.
As is often the case, the smells of the soap itself only kind of transferred to the lather. There was still a bit of a mildly-sweet scent discernible, but only just so, and you definitely lost most of the details of what the sea buckthorn actually smells like.
8/10 Scent Pleasantness
6/10 Scent Strength
9/10 Lather Quality
The 65g refill puck was bought for $9.00, although it should be noted that there's also a three-pack available of all Edwin Jagger soaps (this, the Sandalwood, and the Aloe Vera) for $24.
Overall, I'm giving this one a 7/10. It's a fine shave, but the scent does little to enhance the shaving experience.
Ingredients: Potassium Palmate, Sodium Palmate, Potassium Stearate, Potassium Palm Kernelate, Sodium Stearate, Sodium Palm Kernelate, Glycerin, Water, Palm Kernel Acid, Fragrance, Hexyl Cinnamal Hippophae Rhamnoides (Seabuckthorn) Fruit Extract, Limonene, Linalool, Pentasodium Pentetate, Tetrasodium Etidronate.