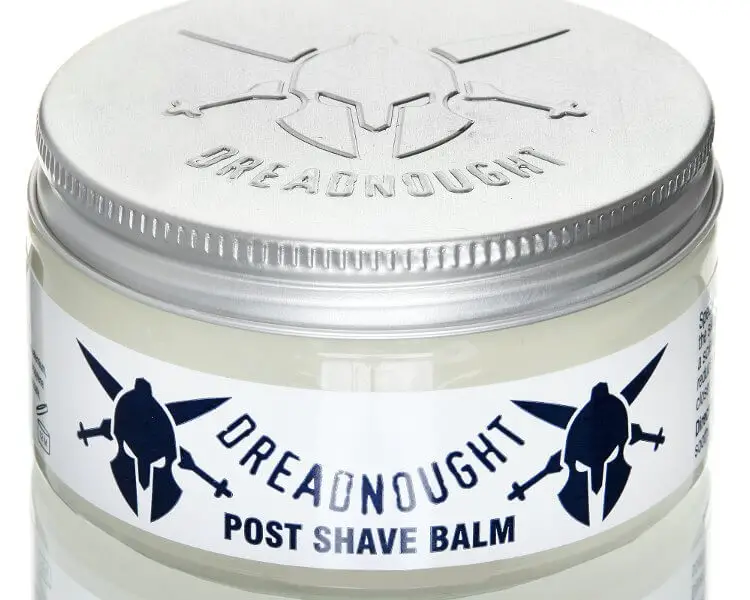 A little bit of Dreadnought Post Shave Balm definitely goes a long way! To use the often utilized vernacular… The scent of it is very fresh citrus with spice tones and fairly strong initially, as most synthetically based scents tend to be but faded to the background for the most part after 4-5 hours. I have sensitive skin so often tend to react strongly to products with overly strong scents or a lot of chemicals. This product did not elicit much of a skin reaction. Aside from a bit of redness on my skin if used immediately after a shave which faded after a couple of hours, there was no adverse skin reaction.

Dreadnought Post Shave Balm
The moisturizing capabilities are decent though not as good as some other top shelf balms I have such as Neumann's and Razorock after shave wax to name a couple. However, it was fairly light on the skin meaning that it would be suitable for mid summer use in my opinion whereas one would have to more careful with the higher moisturizing balms, especially if your skin tends towards oiliness as mine does.
The ingredient list although not the worst I have seen for having a lot of chemicals is definitely not the best.
List of ingredients: Hamamelis Virginania, Agua, Aloe Barbedensis (Aloe Vera) Leaf Extract, Carbomer, Trietholamine, GLycerin, Lauryl Isoquinolinium Bromide, Psedoalteromonas Ferment Extract, Polyquaternium, Disodium EDTA, Isopropyl Alcohol, Sodium Sorbate, Sodium Benzate, Glucose, Caprylyl Glycol, Propylene Glycol, Pug40 Hydrogenated Caster Oil, Allantoin, Phenoxyethanol, (Parfum Contains: Benzyl Benzoate, Coumarin, Hydroxyisohexyl 3-Cyclohexene Carboxaldehyde, Limonene, Linalool)
There are some good natural skin care ingredients in there as well and not just a huge list of chemicals, so I have to applaud the manufacturer for that. I am a firm believer in using more natural products on ourselves as much as possible. Though I will and occasionally do use products that aren't all natural, there are plenty of good products with natural ingredients that have proven to be top performers without any questionable ingredients.
Overall I feel that this is a good quality product that I do enjoy using on occasion. Would I replace the item once used up? I am not sure of that, since I have so many good natural products that are the equivalent in performance and some that are even better. If, however you like the Dreadnought shaving cream and use it on any regular basis,  Dreadnought Post Shave Balm would be the perfect match for it. Also, if the ingredient list is not a concern for you at all it is definitely worth giving it a try. Certainly one of the better higher end reasonably priced post shave balms out there.
Purely subjective-
Scent: 8/10
Moisturizing: 7/10
Value 8/10
Ingredients* 6/10
*Based on my personal aversion to artificial chemical ingredients. Otherwise does contain some good quality natural skin care ingredients also.
Author, Attila Szamoskozi: I discovered the world of wetshaving about 3 years ago thanks to online mentors like Mark Hero (Mantic as he is known online) and GeoFatboy. Since then I progressed from using various DE razors to exclusively using Straight razors. One of the great joys in our hobby is trying different products and tools and with the great selection of items now available to us there is no reason to ever be bored with our routine of shaving! In fact, shaving is something I still look forward to every time.