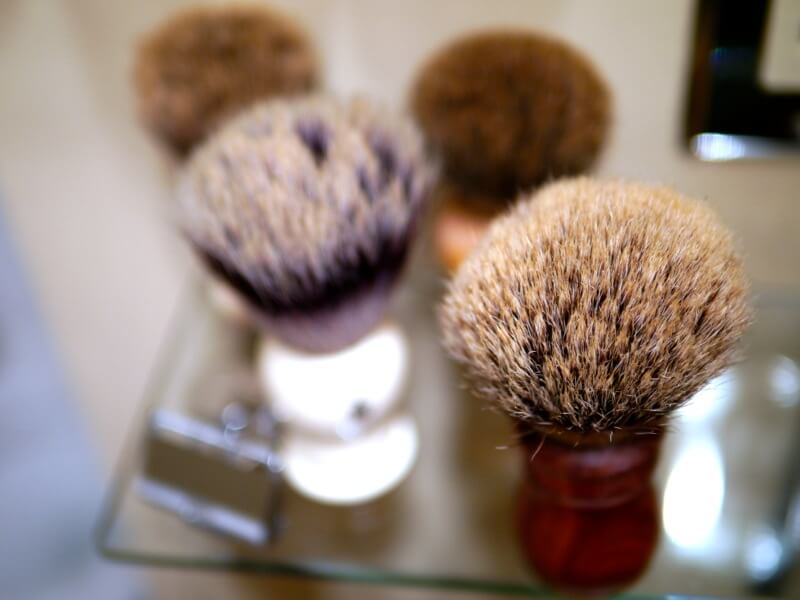 If you asked me three months ago if the type of shaving brush makes an appreciable difference in the quality of my shave, I'd probably have said no.  For the dozens of shaving soaps, creams, after shave balms and splashes – not to mention razors and blades – that I've tried since I began this wet shaving journey in 2011, I had only used five shaving brushes until Mantic and I had a chat about this very topic.

The Brush In The Beginning
When I began – before I met Mark and before we launched Sharpologist – I bought the cheapest Omega synthetic brush I could find. For about $10, it was terrible in every way. My next two brushes were a Rooney and an Edwin Jagger. I could barely tell the difference between the two, but the Edwin Jagger was a little softer. I PIFed the Rooney to a co-worker and used the former brush for a good two years.
Eventually, though, I wondered what else was out there. I bought a very long Omega boar brush
on Mantic's advice. I liked its scrubbiness, but it didn't seem to change the outcome of my shave. I found that it didn't hold a lather as well as a badger hair brush, so I eventually PIFed it to another co-worker.
Finally, this year, Mark McGregor sent me his badger brush to review. I found it softer and certainly prettier than the the Edwin Jagger, and because I knew it was handmade, I began to use it exclusively. I relegated my regular brush to my travel dopp kit.
And that's where things stood until I talked to Mark about all of this; he had recently reviewed the McGregor brush, and he wasn't quite as moved as I was. Apparently, he had experienced much better, and to prove his point, he mailed me three brushes for comparison.
I can now admit that in some ways, shaving brushes do matter. The first brush Mark sent me was a Vie-Long Horse Hair Shaving Brush
, and I hated it. Beyond the revolting smell, it seemed to irritate my face.
The second brush was a now discontinued Shaveplace silvertip badger brush. It was a gigantic leap beyond what I had experienced to date. It's hard to describe, but I simply couldn't feel the bristles. I felt like I was rubbing one of those finishing shammies that you dry your car with, all over my face. It did not retain the heat of the lather like Mantic told me it would (probably user error), and again, it didn't seem to affect the quality of the shave. But it certainly made it a lot more pleasant. It felt luxurious and so appropriate for this manly ritual.
The final brush was a Synthetic
model from Muhle, and if I didn't know it wasn't real badger hair, I wouldn't have believed it. Not only was it hands-down superior to that first cheap synthetic brush, it performed better than every other brush but the silvertip – although it made better lather with cream than with soap.
But here's the thing: my normally pesky razor burn has been diminished by using the synthetic brush almost exclusively these days. In retrospect, I can't believe I didn't think of this earlier. Maybe I'm a little allergic to rubbing a badger's hair all over my face and neck. It's become my go-to hardware, and I only occasionally mix it up with the other brushes.
So, does the brush really matter? Yes and no. Finer brushes certainly lead to a more pleasant shave for me, although with a few exceptions, they don't affect its quality. The Muhle synthetic, however, strikes a balance between quality and performance, and less neck irritation was one of the main reasons I got into wet shaving in the first place.

What do you think? I'd love to hear your opinions in the comment section below.