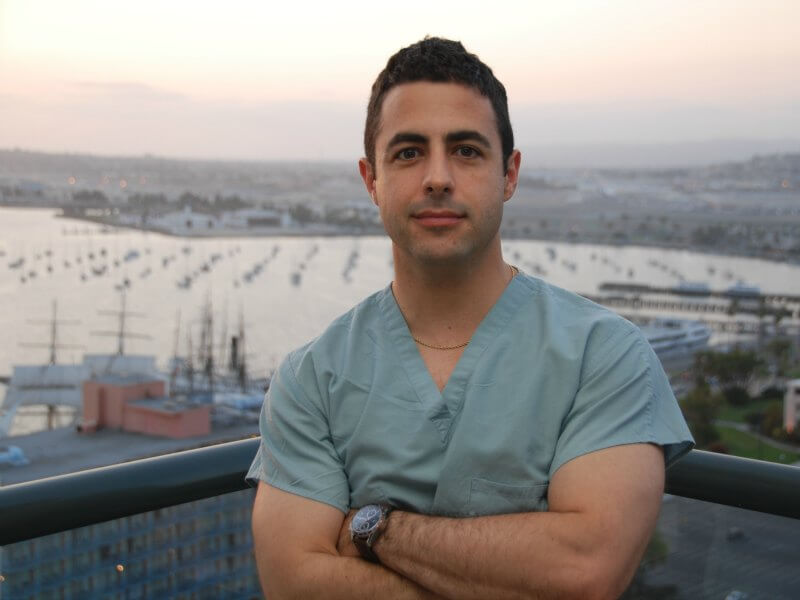 Through the courtesy of Dove Men+Care I was given an opportunity to interview San Diego-based dermatologist Dr. Jeff Benabio.  With the help of some Sharpologist (and forum) readers we came up with some questions to ask him.
•         First, how do you shave yourself?  What kinds of products and techniques do you use, both when you have some leisure time for shaving and for times you're in a hurry?
For a close, comfortable shave, you don't need 5 blades; you need good technique:
Warm your face with water. Shaving after showering is a good idea. Massage Dove Men+Care shave gel and let set for 1-2 minutes before you start.
Shave it the first time – one stroke. Rinse your blade between every swipe.
Sharp blades cut without pulling hairs; change your blade often.
Pull the skin taut for a closer shave, let it relax for a more comfortable shave.
Always shave with the grain of the hair.
When you're done shaving, rinse your face and apply Dove Men+Care post shave balm to relieve irritation and moisturize skin after shaving
Plan ahead so you have enough time. If you don't have enough time, then don't shave.
I recommend 1-2 blades over 3-5.
•         Does "sensitive skin" really exists or is just a marketing creation?  It seems like every other bloke thinks they have sensitive skin.
Yes, sensitive skin exists. Sometimes it's allergic or irritant dermatitis from products. Sometimes it's from bad shaving habits. Sometimes it's from inherited conditions such as eczema. Products designed specifically for sensitive skin, such as Dove Men +Care sensitive shave gel, is gentler and tolerated better by men with sensitive skin.
•         Shaving preparation: what exactly are we trying to accomplish at this stage?  Warming the skin? Softening the whiskers? Something else? What preparatory steps would you recommend for those times when a full-on hot shower is not practical?
I recommend warming your face with water if shaving after showering is not practical. Then massage Dove Men+Care shave gel and let set for 1-2 minutes before you start.
•         Pores–do they really "open" with hot water and "close" with cold water?
To some extent, yes. For example, unclogging pores works best after showering since the skin is soft and the pores are more opened.
•         What is your professional opinion is on the single blade vs multi blade debate?
Sometimes multi-blades can be too good, meaning that they shave too closely, which can lead to razor bumps and ingrown hairs. I personally prefer a two-blade razor.
•         Is there is a difference in what you should pay attention to while shaving in either summer or winter?
Wintertime poses more problems for most men because their skin is dry. Using post shave balms, such as Dove Men +Care's hydrate+ Post Shave Balm helps moisturize and protect, leaving skin soft and comfortable.
•         With all the areas for detritus to build up in a cartridge head, how often would you recommend changing the head in order to avoid infection?
Once a week.
•         What about the use of alum (Potassium Alum) in general, and particular after shaving. How exactly does it work? Who should definitely avoid it? Which patients should use it or avoid it? Rinse it off or leave it?  What about styptic pencils (Aluminum Sulphate)?
Alum bars and styptic pencils both help stop bleeding. You can also simply dab some deodorant on the nick to stop the bleeding. You can leave it on the skin.
•         What soap/balm/aftershave ingredients (particularly fragrances) are known to cause skin irritation and should be avoided?  What about your opinion on parabens?
Regular soap is notorious for causing dry skin. You have to use a moisturizing wash such as Dove Men +Care Hydrate+ Face Wash, which is both cleansing and moisturizing. You want to avoid products high in alcohol that can cause dryness and irritation. The level of parabens in over the counter products are safe; harmful doses are generally a hundred times higher in concentration.
•         What should people should do when they notice an adverse reactions to shaving?
It depends on the adverse reaction. If it's intense itching, then they might consider trying a different shave gel. If it's razor bumps or ingrown hairs, then they should consider using a razor with fewer blades. If it's burning after shaving, then consider using a skin-calming balm such as Dove Men +Care hydrate+ Post Shave Balm.
•         What is the effect of layering (using several products sequentially, particularly aftershave products)?  How good is it to combine a bunch of products in your routine–can the positive effects of individual products be canceled out when used together?
Using more than one product doesn't necessarily negate the effects of the others. However, it significantly reduces the likelihood that people will adhere to the regimen. Also, the product that you apply first to your skin will have the most effect. Whatever is layered above that is unlikely to penetrate and won't be as effective.
•         Can you give us some insight of the meaning of the word "natural" in shaving products?  Ingredients like Witch Hazel, tea tree oil, and Aloe Vera seem to be considered "magical" by some but are they really "better" than synthesized products?
Nope, they're not better. In fact, some products labeled as "natural" can be more irritating than the products that are designed specifically for our skin. Tea tree oil is closely related to turpentine, after all.
•         Finally, would you rather fight 100 duck size horses, or 1 horse sized duck.
1 Horse-sized duck. 100 duck-size horses equals 400 duck-size legs that can administer 400 duck-size kicks which can hurt like hell. So, I'll take my chances with the big, bad duck.