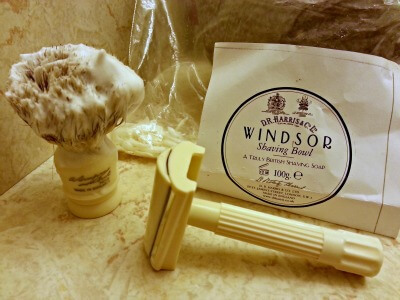 D.R. Harris & Co., by Royal Warrant pharmacists to Her Majesty the Queen, have recently come up with Windsor, a shaving soap with a nice citrusy, leathery scent with a bit of pepper and vetyver, and patchouli. A nice "cologne-y" scent, the pepper provides a good bit of zing to the aroma. At least when you're sniffing the soap directly.
As happens far too often, the scent is too weak. It's essentially undetectable when lathered up, being
completely
over-powered by the smell of my (admittedly new) brush. I can't really say I'm surprised, however, I've been quite disappointed so far with the strength of every hard soap I've tried from any of the British soap-makers. The creams have been far better in that regard, although certainly not always (I'm looking at you TOBS Eton College).
As for the shave quality, it was nice. Nothing to write home about, but certainly of the quality you'd expect from one of the big boys. It lathered up thickly and easily, with what seemed to be a fairly wide "sweet spot" for amount of water that would produce both an acceptable thickness of lather as well as good glide.
8/10 Scent Pleasantness
3/10 Scent Strength
8/10 Quality of Lather
It can be found for $29.50 in a mahogany bowl, or for $15 for just the refill. Being a new scent, it's seems like it's still not carried by all that many places. The sample I used, however, was $4 at Garry's Sample Shop.
Overall, I'm giving it a 6/10. Again, with the usual caveat that if you're not all that concerned about the scent while shaving that it might be worth a shot, but even in that case there's better soaps that give better shaves out there.
Ingredients: Potassium palmate, Sodium tallowate, Sodium palmate, Sodium palm kernelate, Aqua, Potassium palm kernelate, Glycerin, Parfum, Sodium Chloride, Petrolatum, Palm Kernel acid, Orthotolyl biguanide, Linalool, Limonene, Farnesol, Citral Tetrasodium etidronate, Pentasodium pentetate, Tetrasodium EDTA, Cl 77891.