There are some interesting (for different reasons) crowdfunding campaigns going on.

Omnishaver

 
"The only shaver that self-cleans and polishes its' blade edges during use. "
The Omnishaver campaign only has a few days left before its deadline so you have some time to get in on it if you want.  It's been a successful campaign, raising over 1000% of its goal (which is no guarantee that it will actually appear on the market, of course).
The Heated Razor By Gillette Labs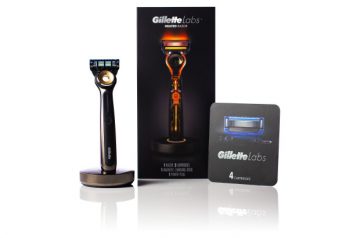 Gillette just started a crowdfunding project (though I suspect more for publicity reasons that actually needing to raise the cash…) for a heated razor, "thoughtfully crafted to deliver the comfort of a hot towel with every stroke. Featuring warming technology that heats in less than a second to provide continuous soothing warmth on your skin."
Interestingly to me, their crowdfunding page talks about the "ritual" of shaving and even includes an image of someone whipping up some lather with a shave brush.
Pereira Shavery

Finally, Pereira Shavery is getting ready to launch a crowdfunding campaign for "The Holy Grail Shaving Bowl."  According to the pre-announcement email I received:
"For the man who loves luxury but has everything:
A limited edition, personalised with engraving of your name or initials,  luxury lathering bowl shaped like the Grail in golden anodized aluminium;  The bowl is suited for everyday use as for display.

Along with the Holy Grail shaving bowl, we will include a limited edition of the Pereira Shavery's bespoke shaving soap with with 23k gold particles. The soap will come in a handmade aluminium soap dish with a lid, likewise anodized to a gold colour. The shaving soap, based on a century old recipe, contains activated charcoal and has received high praise from shavers across the world.

In addition you will be given the choice of  a brass safety razor, a gold plated shavette with finger ring for full DE blades, and a limited edition gold plated metal handled shaving brush set with a badger hair knot of the finest quality.

To complete your luxury shaving setup, we are also offering an embossed shaving towel measuring 30 by 50 cm in thick, quality cotton."
I'll be sure to pass along more information when the campaign starts.
Related Post: Pereira Shavery Shave Soap Achieves What Mitchell's Wool Fat Aspires To