I'm not that much of a face lotion kind of guy. Even when the humidity hits lows rarely seen outside Death Valley, I'm not too worried about my face drying out. Funny how changes like that can sneak up on you! It wasn't too many months ago that I started noticing that my face felt…dry. I know that doesn't quite sum up how it felt, but it felt like an over-the-hill actress's face must feel like after too many facelifts. It felt stretched out, dry and tight. I'm hoping that gives you an idea. It didn't hurt, but I knew that something had to be done. I started using my wife's facial cream and I realized that I was now on the other end of the spectrum. My face felt greasy to my touch and when I woke up in the morning, my face had more oil on it. Gee, I sound like a catch, don't I?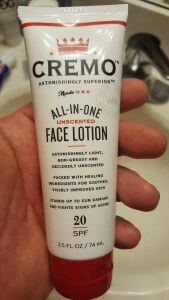 When Sharpologist sent me a box of samples to try, included was a 2.5 oz. tube of Cremo's all-in-one face lotion. I have to admit that I'm not a fan of their shave cream. It had a smell that I just didn't like and since I was stocked up to the gills with shaving creams and soaps, I didn't give it another thought. Until the box from Sharpologist arrived. I grabbed it one day after shaving and decided to see what it did to my skin after putting on some aftershave.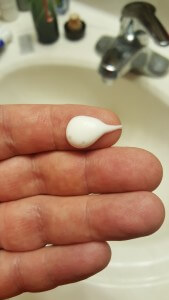 I put a small dollop on my finger and decided to give it a tentative sniff. I could detect just the faintest note of mint, but that was it. It didn't feel greasy so I worked it in from my forehead, into my cheeks and my goatee. Funny, but I never thought I'd deal with beard-ruff. I'd had dandruff, but never from my goatee. But wearing a black t-shirt one day convinced me of two things. #1, it was real and #2, I had it. My wife's lotion did help but my hands would get greasy from it and I'm not a beard-oil kinda guy. So I continued to use and I found that over the coming days, my skin didn't feel as tight and dry. I also noticed that it didn't interfere with my aftershave. I could dab some on after a splash and it didn't complete with the smell or cause some funky reaction. The tube claims it's 20 SPF, which is good because I like to spend a lot of time outdoors with a frosty, adult beverage.
I checked online and the price from the Cremo site  $7.99 for a 2.5 oz. tube (Amazon* price). And seeing as how you don't need to put this stuff on with a putty knife, it'll last a decent while. Trust me, I've got some acreage when it comes to my face and I don't feel like I've put a dent in the tube.
So if you're looking for a face lotion that won't make your face feel greasy or that you're a walking oil slick, I recommend Cremo face lotion. It's a definite deal.  
(Ingredients: Water (Aqua), Carthamus Tinctorius (Safflower), Oleosomes, Neopentyl Glycol Diheptanoate, Persea Gratissima (Avocado) Oil, Jojoba Esters, Hydroxethyl Urea, Pentylene Glycol, Titanium Dioxide, Chlorella Pyrenoidosa (Algae) Extract, Artemisa Vulgaris (Mugwort) Extract, Aloe Barbadensis Leaf Juice, Polysorbate 20, Caprylhydoxamic Acid, Phenoxyethanol, Methylpropanediol.)