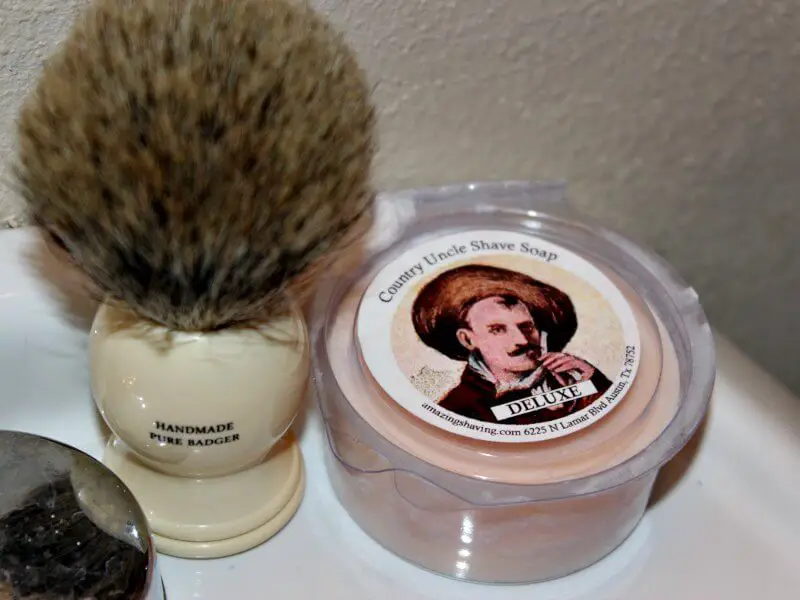 Country Uncle shave soap is the "house brand" of AmazingShaving.com, a wet shaving retailer in Texas.  I got a puck if their Deluxe shave soap a while back and noticed that it kind of looked familiar.  Looking at the container I saw the familiar Van Der Hagen (VDH) logo on the bottom.

The Country Uncle – Van Der Hagen Connection?
I contacted Amazing Shaving and asked them about it.  Brian with Amazing Shaving replied that yes, Country Uncle Deluxe shave soap is made for them by VDH.  However it has a slightly different "recipe" than VDH Deluxe, including lanolin and aloe vera.
Subjectively I can say that the two do appear to be different to me.  Country Uncle Deluxe lathers more quickly and luxuriously in my hard water than VDH Deluxe.  The scent is a bit different too: extremely mild (almost non-existent to my notoriously poor sense of smell) with a sort of powdery/soapy note.  It is also hypoallergenic.
Performance of Country Uncle Deluxe is very good for me.  As I mentioned earlier the lather is not only luxurious but it also gives me fine lubrication and cushioning as well.  All in all, quite a good value at under $4 per puck!
Shaving Soap – Country Uncle Deluxe
Amazing Shaving also carries a number of value-priced products for the wet shaver including razors, brushes, and toiletries.