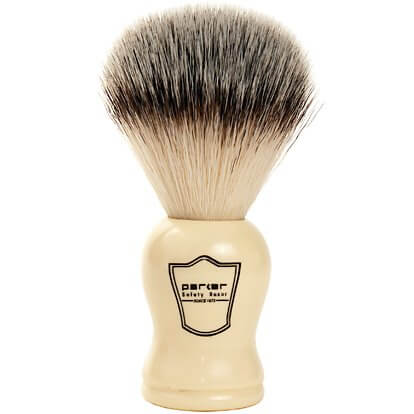 I do not have a shave den. Nor do I have rows of razors, brushes, blades creams and soaps, some of which are in my rotation and others vying for inclusion. I, by DE shaving blog standards, am rather boring: I have one razor (Feather AS-D2), one brush (some flavor of Parker badger brush), one stack of the same blades, one cream and one soap – I superlather. To round out my "ordinary" (boring?) credentials, I have only one after shave product in my cupboard. Yes, variety is the spice of life, but on the other hand, if something is not broke, why fix it?

The Beginning Of My Wet Shaving Career
I have been wet shaving my whole shaving career. I was born during the "end" of the Eisenhower administration – hey it's the difference between being in my mid-fifties vs early sixties. Regardless, I've been shaving for a non-trivial span of time. As a DE shaver, one might say I've come full circle. As a teenager, I recall removing adolescent facial fluff with my Father's DE razor – a gold plated TTO model, no doubt long ago delegated to a land fill. I then spent a long time wandering in the desert of cartridge razors.
My, fortunately less than 40 years of wandering, took me from the Gillette Atra, to the Sensor, the Mach3, and finally the Fusion. I think my favorite was the Sensor. This is probably due more to my discovery of Noxema's brushless shave cream than the razor. Noxema used to sell a brushless shave cream in a big blue tub. Sometime in the early 1990s, it was discontinued. I recall contacting all the drug stores in Ithaca, NY where I lived trying to track down all the extant stock in the county. I even called Noxema in a futile attempt to purchase any remaining stock they had. Because I currently live in Cincinnati, OH, I get to blame Proctor & Gamble for all my consumer-oriented woes. P&G acquired Noxema in 1989 and discontinued their brushless shave cream in a tub a couple years later. To me, P&G represented the evil empire with respect to shaving long before they acquired Gillette and the Art of Shaving.
The Next Ten Years
The next ten years or so seem lost in the fog of a shaving mirror. Maybe this was due to my changing jobs, relocating, and starting a family, or maybe it was my dissatisfaction with my shaving options: Mach3 razor with Kiss My Face shave cream, or a Fusion razor with Cremo? I also recall a multi-year flirtation with shaving oil. Regardless, my personal experience with redemption began during a stint living in Italy. You think Gillette cartridges are expensive, try buying them overseas. An Italian friend/work colleague confided that no self respecting Italian male would ever shave with a cartridge razor. Evidently, in the land of Proraso the DE razor was still king.
After returning to the USA, this friend sent me a facial care package: a Merkur razor (the same model he used – a razor passed down to him when his father died), a brush, and a tube of Proraso – green I believe. I am please to report that I have been cartridge-free, except for travel, for over ten years. I have gone longer stretches between using a cartridge razor than carcinoma removals in my dermatologist's office.
Shower Shaving

The attentive reader will observe that I confessed to owning a Feather razor, not a Merkur.  I shower-shave; I dropped it, it broke. Evidently, plated zinc alloy is not all that strong – who knew? I replaced the Merkur with a Muhle R89. Nice razor, milder than my open comb Merkur. One day, in the shower, I dropped it, it broke. So I invested in a stainless steel job – the Feather AS-D2. I have yet to drop it. It was expensive, so I figure I am just being too cheap not to take extra care when handling it.
Yes, I know that shower shaving is both environmentally wasteful and expensive. Sometimes this even bothers me enough to migrate my shaving back out to the sink, post-shower. Shave quality is sooooo much better/superior in the shower, it is worth it to me. It's warm and steamy in the shower; who wouldn't want to linger there, especially in the winter. Odd factoid: During my cartridge days I shower shaved without a mirror; touch and habit were sufficient. With a DE razor, I lack the confidence to go mirror-free; even after 10+ years of 6 days a week of 2-pass DE shaving. Talk about being a wimp.
I hate experimenting with creams, soaps, and blades. Mathematically speaking, the state space is too large and the frequency of experimentation too infrequent. Furthermore, the quality brands are not cheap. For me, after one (ok, maybe three) shaves I know if I am happy with the purchase or not. Simply put, if the new product is not superior, or at least close to equal of my previous best/favorite, I see no reason to continue using it.  I know others enjoy shaving research for its own sake, and I am very happy to be the beneficiary of their tireless good work, but personally my goal is to optimize my shave; nothing more.
What should one do with a product, if after two shaves you know you don't want to keep using it? Throw it away – too expensive. Give it away – to whom? (and also expensive unless reciprocated) Sell it on eBay/Craigslist – now that is just creepy. I know there are some shaving-related on-line communities that have active "used" cream and soap markets. I, however, am not a sufficiently active participant in those communities to be allowed to sell/buy. Translation: I will read reviews, but have never posted anything.
So, I buy a cream or soap only after multiple shaving gods (those tireless shave product researchers who hopefully don't use their own $$ to acquire samples) declare it the best stuff they've ever used. I don't pay much attention to scent. To my sense of smell, after 5 seconds or so, the sent is gone.  (I don't know who this Greg fellow is, but he must have one heck of a nose.) Hence, I focus solely on lather quality – fortunately Greg (and others) also report on this as well. The shaving gods seem pretty parsimonious with 10s, so any cream/soap with a lather quality of 10 is one I am willing to consider.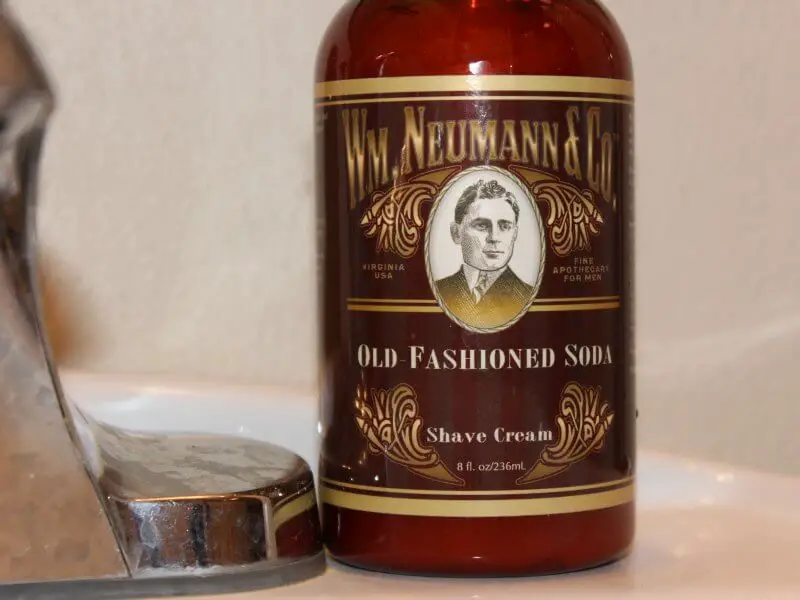 If it all smells the same after 5 seconds, and lather quality is all that matters, what is the point of having multiple creams/soaps at a time in your non-shave den? Use the product until it is just about empty and then re-order. For the cream end of my superlathering I have been using Wm. Nuemann's Old Fashioned Soda. I am confident their other scents are just fine, but this is the one I read the great reviews for. I also have enjoyed Al's products, but prefer Nuemann's pump dispenser – more convenient, especially in a shower setting. For the soap end, I've been using Mike's Natural Shave Soap. I am quite confident that when one or the other needs replacing, I'll just reorder. What can I say, as a boring shaver, it's not about choice, it's about repeatedly having the best shave I am aware of getting.
The same is true for my post shave balm: it's all about quality. Village Barber is what I've been stocking and restocking for some time now. I do recall reading somewhere that Lab Series Razor Burn Relief Ultra (who comes up with these names?) was one of the only aftershave products that had no face irritating ingredients. But if I am completely happy with my current product, why spend more for a different product just to run the experiment?
Blades have never presented the same conundrum. Once upon a time I watched a YouTube video about some guy's opinion of the five smoothest blades. While I may be missing out on some amazing blades from Lower East Uzbekistan, I have limited my experimentation to these five. I learned that, for me, while the Astra worked best in the Muhle, Personna med-preps get the nod for the Feather.
Conclusion
So to summarize what I've learned on my journey: It's ok to use the same razor, brush, cream/soap, blade, and aftershave each day. It's not about variety or staving off boredom, it's about consistent quality. After all, like most people, I also use the same toothpaste and deodorant every day. (The deodorant is one of those crystal rocks – I've had the same rock for over a decade. Yep you guessed right, purchased while living in Italy.) A little EV olive oil in the winter before exiting the shower goes a long way. No aftershave can correct what poor technique has wrought – if you keep searching for a better/more effective aftershave, the aftershave is not the problem. Finally, the fewer "products" you apply daily the better; the law of unintended consequences will surely catch up with us all.
About The Author:
Michael Goldweber: I make my living as a Professor of Computer Science at Xavier University in Cincinnati, OH. My primary goals in life are to spend as much time as possible cycling (bicycle touring to be most precise) and living overseas; though outside of Canada, I have yet to bicycle tour overseas. I am fortunate in that my wife and only child share these two passions. So, please wave or say HI to the next immaculately shaved cyclist you see in southwestern Ohio, it will hopefully be me.