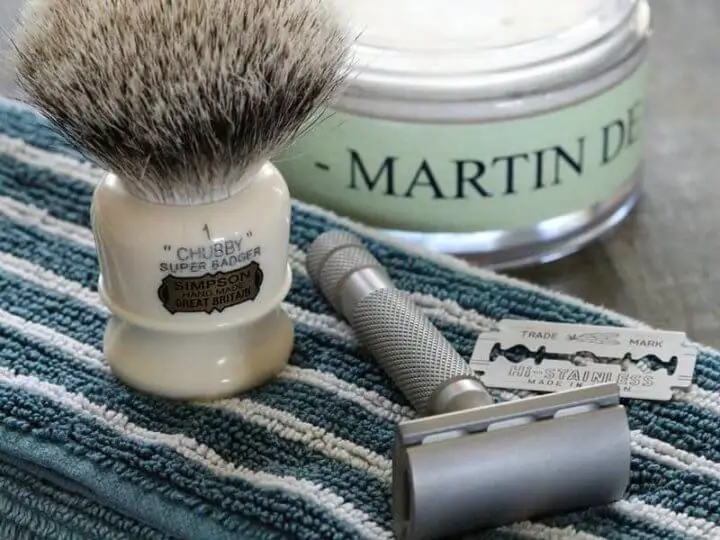 I have a confession. I only use a safety razor blade once and then recycle it. Yes once. I know the thought of this many of you seems wasteful and borderline crazy. I feel a bit sheepish confessing this because I know most people get an average of 3-5 shaves per DE blade. In some rare cases there are various shave of the day posts and videos of people proclaiming 10+ shaves on the same blade. I feel awkward about this because searching for a low cost alternative to conventional shaving cartridges is what let me to wet shaving. It feels a bit weird to be so frivolous with blades, but let me explain.

Like many reading this right now, I have spent countless hours practicing and honing my wet shaving skills, from lathering various soaps, to mastering each safety razor and brush in my collection. I have even spent lots of time testing and taking detailed notes on various safety razor blades to determine my number one blade of choice.
In all of my practice, I have mastered the art of the perfect shave and have been enjoying this shave bliss for a few years now. I get a perfect shave, no matter how much growth, every time. Most of this success is attributed to using one razor (a Rockwell 6S), one blade (a Feather blade), one brush (a Simpsons Chubby 1 in Super Badger), a few carefully curated soaps, Alum always, and a scent free moisturizer as a post shave product (Amazon and Rockwell links are Sharpologist affiliates).
I would also say that deliberate practice of repeating the process over and over helped as well, a process discussed in "Outliers" by Malcom Gladwell.
For years I have always faithfully gotten two shaves from a Feather blade. But something changed early last year and I noticed that I was always struggling with my second shave. I noticed the blade on the second shave would consistently tug a bit and felt less sharp. It felt as though the blade had been used 6 times and not only once. It wasn't unbearable, but just not as smooth they were before. This kept happening over and over and over and I quickly became frustrated.
What's The Root Cause?

I immediately went in to my typical problem solving mode to try and figure out what was different and what has changed. My first thought was that somehow Feather reduced the quality of their blades, but that is crazy talk. Feather is a trusted brand and I'm quite certain this wasn't the case. I thought maybe it was a bad batch, but that was disproved when I opened my next 100 pack from a different lot.
I then evaluated my hardware gear. Again, I have faithfully used my Simpsons Chubby 1 in Super Badger and my trusty Rockwell 6S on plate 3. Again, nothing has changed with my gear, if anything my brush gets better and better each day.
I then considered my soaps. I began thinking that maybe they lost their slickness due to air exposure and I had just become accustomed to this degradation and it was affecting my shaves. I tried a few new soaps just to be objective. There was still no difference.
Lastly, I evaluated my drying technique. At this point I know the hard-core wet shave enthusiasts that are reading this are screaming at me…. "How do you dry your blade?" My technique is simple, I wipe down the blade until it is completely dry after each shave, stick it to a magnet to keep it up and away and then allow it to air dry. I thought, could this tiny rare earth magnet be making my blade dull? I seriously doubting that, but just to be sure, I tested another storage method for a month. I would leave it in a glass jar to dry in the open air. Guess what?  Nothing changed.
Then one day I had an "aha!" moment. I considered my facial hair.
Upon evaluation, I realized that I now have more grey whiskers than not. As I get older, nearing my 40's, I probably have about 60% grey facial hair. It is much coarser, thicker and "wirier" than my old youthful whiskers. I have determined that my grey stubble is dulling my blades at a much higher rate than normal.
The Lesson

So while I thought it was the gear, I realized my stubbornness got the best of me. The problem is twofold. Firstly, I was too stubborn and assumed it could only be the gear and nothing else. Secondly, the complete ignorance that the characteristics of my facial hair could have completely changed as I get older.
This brings me to the important lesson I've learned through this experience. That is the lesson to Learn, Unlearn and Relearn, something I picked up a few years ago in a business book. It's difficult as we get older to unlearn something whether it is a process, methodology, approach or belief about something. Had I immediately come to the conclusion that the change was within me and had not blamed the gear, I could have save myself a month or two of testing and evaluating what went wrong.
So I leave you with that lesson. If something all of a sudden changes with your shave results, look within yourself and ask… Am I the problem? Don't just assume it's the gear, because thinking you know everything when the answer is staring you right in the face is a time-consuming lesson.
As mentioned, now that I have moved to a "one and done" method with my safety razor blades, I get the perfect shave every time. I don't have to struggle through my second shave. I figured for the costs, why the heck not? Life is too short to have an uncomfortable shave.