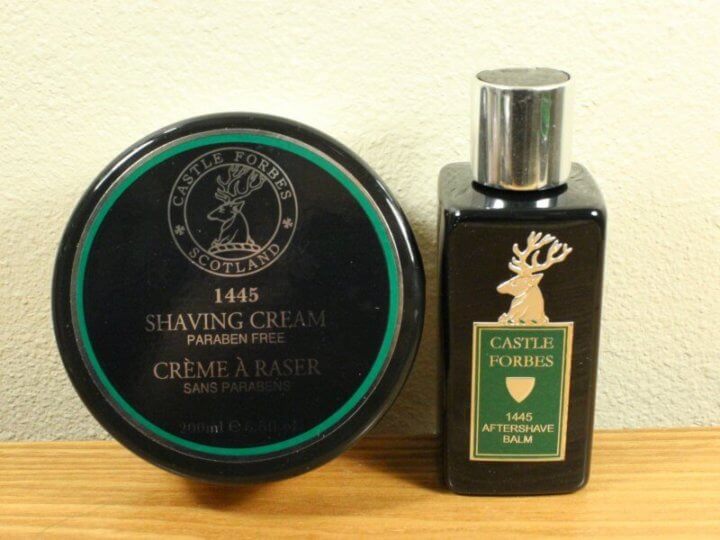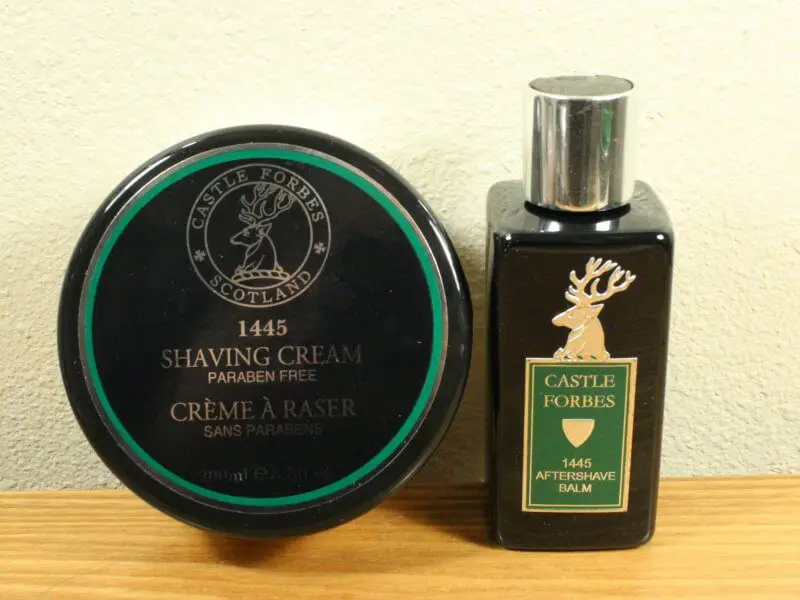 The Castle Forbes 1445 line has "jumped the pond" to North American and I was lucky enough to get one of the first samples of the shave cream and the aftershave balm off the boat.

Castle Forbes 1445 Background
Castle Forbes 1445 shave cream and aftershave have been available in the UK for a while now.  But availability in North America has been spotty (and likely sourced from the "grey market").
The 1445 line honors the year that the Forbes Clan Chief was named as the First Lord of Scotland.
The scent has been described as "top notes of Petitgrain & Lemon evolve into middle notes of Tarragon and Lavender and interwoven with base notes of Vetivert, Clove and Patchouli."
From that description you would think that 1445 is a citrus-dominated scent, but I don't get that at all.  Citrus, yes, but even my poorly-educated nose gets a more complex, cologne-like mix.  It kind of reminds me of Truefitt & Hill Trafalgar or J. Peterman 1903 but "fresher" to me.  Reviews on the fragrance discussion boards (here is Basenotes') sometimes compare it to Azzaro Pour Homme cologne.
1445 Shaving Cream
Castle Forbes has a reputation as a top-performing shave cream (Limes is a favorite of mine) and I think the 1445 shaving cream maintains that reputation well.  For me the 1445 scent in the shaving cream is not as strong as Limes when lathered on the face (I tell people using Limes is like getting smacked in the face with a key lime pie) but persists a bit longer.
The texture of the cream is pretty firm–almost a soft soap–but lathers easily and luxuriously for me, even in my hard water.  The lather itself is generally a little thicker than other shave cream lathers in my experience.
The performance for me has been outstanding!  I find it both exceptionally "cushioning" and very well lubricating.  A really nice shave experience over-all.
Ingredients: Agua (water), Stearic Acid, Aloe Barbadensis (Aloe Vera), Myristic Acid, Coconut Acid, Glycerin, Potassium Hydroxide, Dipropylene Glycol, Parfum (fragrance), Sodium Hydroxide, Citric Acid, Citronellal, Triethanolamine, Potassium Sorbate, Limonene, Linalool, Butyphenenyl, Methylpropional, Hexyl Cinnamal, Eugenol, Hydroxycitronellal, Citral, Coumarin, Geraniol, Benzyl Benzoate, Benzyl Salicylate & Benzyl Cinnamte.
1445 Aftershave
The aftershave carries on with the 1445 scent profile–moderately strong and persistent so it might initially clash with a cologne if you wear one.
But from the performance perspective I think the 1445 aftershave is a winner: it goes on easily, absorbs quickly, and is very soothing.
Ingredients: Aqua (water), Hammelis Virginiana (Witch Hazel), Aloe Barbadensis (Aloe Vera), Cyclopentasiloxane, Glycerin, PEG/PPG/20/15 Dimethicone, Tromethamine, Carbomer, Hydrolyzed Wheat Protein, Methylchlorisothiazolinone, Methylisothiazolinone, Limonene, Linalool, Butylphenyl Methppylpropional, Hexylk Cinnamal, Citronellol, Eugenol, Hydroxycitronellal, Citral, Evernia Prunastri, Geraniol, Coumarin, Benzyl Benzoate, Benzyl Cinnamate, Benzyl Sallcylate, Alpha-Isomethyl Ionone.
The Bottom Line
The traditional wet shaving niche has plenty of superior products and I think Castle Forbes belongs on the "top shelf."  Scent is always a "your mileage may vary" kind of thing but if you like fougère scents you will probably like the 1445 scent.
On the other hand, it is hard for me to imagine anyone not liking the performance of Castle Forbes' 1445 shaving cream and aftershave balm.  I'm really getting outstanding shaves with the cream and the aftershave is nice and soothing as it should be.
Look for Castle Forbes 1445  on Amazon in the US, Fendrihan in Canada.