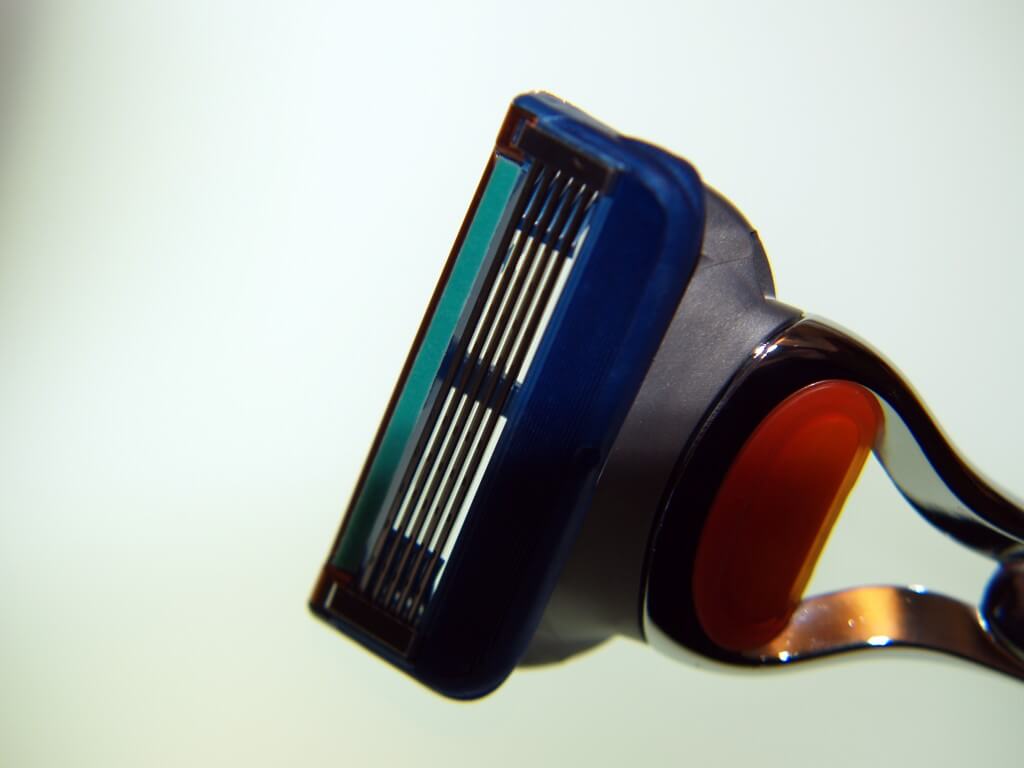 I almost resent all those shaving snobs who poo-poo those of us not manly enough to use a single-edge or double-edge razor not to mention a straight razor. Give me a break!

The straight-edge has been used since Adam started dating Eve.  Surely, we must have evolved since. I'd sooner shave with King Arthur's Excalibur. To me they are about the same.
I've tried numerous double-edge blades and razors. I tried a bundle of various DE blades that came in an assortment so I've used different brands. The DE has been around since 1901 and really hasn't changed much since.  After having tried several I've come to 2 conclusions. First, they are cheap. Some go for less than 10 cents a blade. Second, even if you master the correct angle and degree of pressure I bled more, sometimes a lot more.
As to the multi-blade cartridge. I started out with a single-blade injection razor. I graduated to twin blades, three blades, four blades and now five blades along with various ancillary "lubrication strips" adorning the cartridge itself. I admit I'm not sure why they went from three to four to five but I do know I like, no, Love, the current iteration. Especially when they added the sixth blade on the back for trimming around the nose and squaring off the sideburns.
My two conclusions here: First, they do cost more, and Second, I would say I've reduced my bleeding by 99% or so. How much more does it cost? I buy them in bulk and it comes down to about $2.25 a cartridge. I shave maybe 15 times a month so it comes out to about 15 cents a shave. I discard the cartridge every month just to be on the safe side. A DE blade, I've found, is cheaper but doesn't last as long. It comes out to about ½ of a Latte. I'm no Bill Gates but I'll go for the $2. per month or less. Anyway, I save on styptic pencils.
I have found that the five-blade cartridge is much more forgiving in terms of angle and pressure especially with the latest edition that has the cartridge on a sort of ball spring allowing me to conform the blade head to the angles of my face without twisting the razor. The cut is smooth and effective. A cross-grain swipe and my face turns into a baby's bottom.
Lather-wise, I think I've tried maybe 70-80 different soaps, creams, sticks and oils from the most expensive English, Scottish, Italian, German, Indian and American brands. I've found a few brands I like and can't really choose one over the other. Currently I'm partial to TOBS, Art of Shaving, Castle Forbes and Kiss My Face.
I always precede all my shaves with a dab of grapeseed oil.  I read somewhere once in a shaving cream review as an aside that "of course" I precede every shave with grapeseed oil. I then embarked on massive research into pre-shave soaps and preparations. I tried various products, soaps and oils and found that not only is grapeseed oil very effective in lubricating and moisturizing my skin but it is also very cheap. You can buy some very expensive grapeseed oil preparations or you can buy it cheaply by the quart in the cooking oil section of your supermarket. Even cheaper you can buy it generically under the store brand name. I pour about a quarter's size dollop into my hand then rub it all over my face and neck. It helps to lubricate the shave and moisturizes the skin afterwards.
Bottom Line: To me the latest multi-blade cartridge represents the pinnacle of evolution so far for removing visible hair from the face cleanly and painlessly. You can keep your "traditional" implements.
About the Author:
Saul Nathanson is retired and lives in Charlotte, NC.