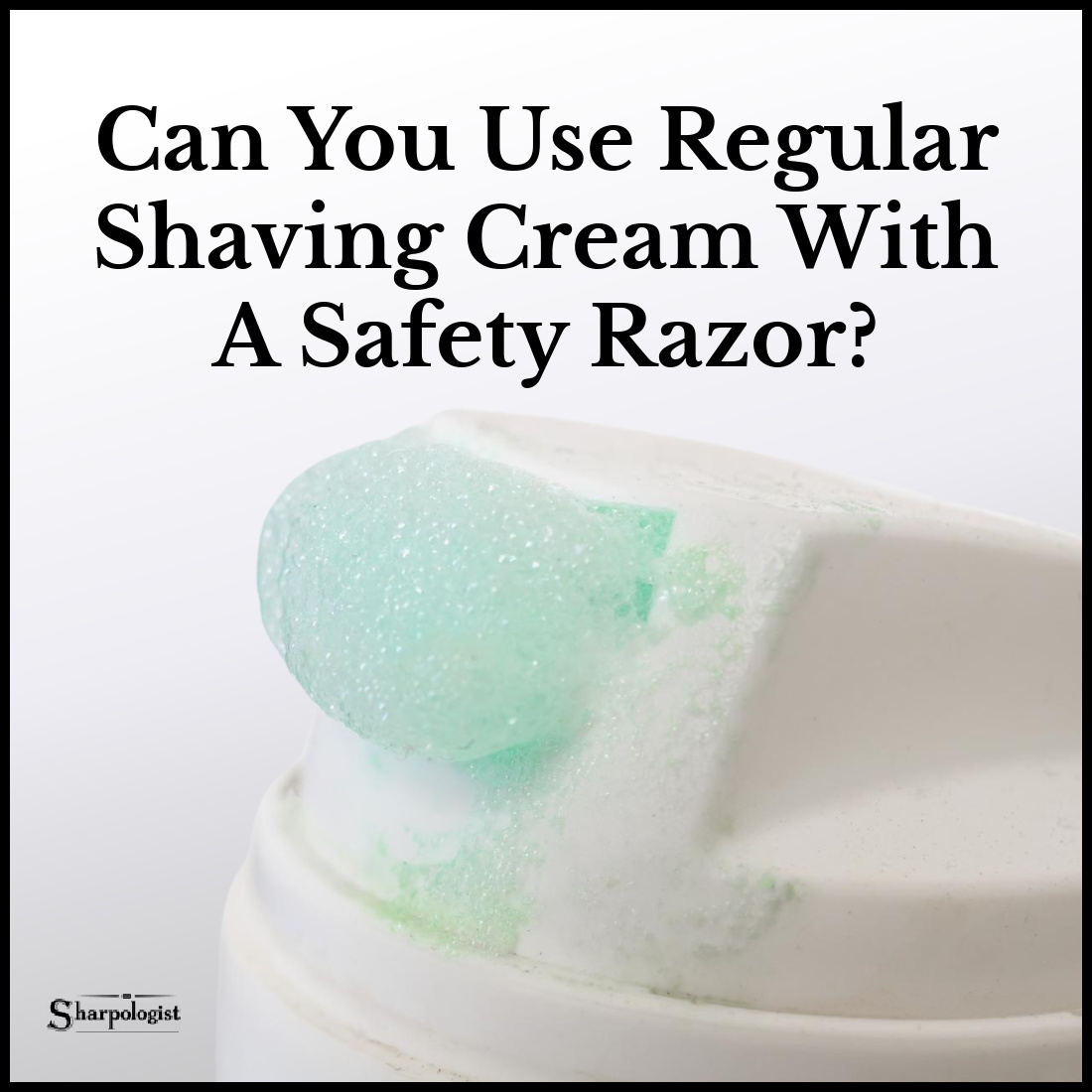 I get this question from those thinking about moving from consumer-oriented shave products to 'traditional' kit: can you use regular shaving cream with a safety razor?  The answer is…it depends.  Maybe.  Let me explain.  But first, let's get on the same page with the terminology.
What Do You Mean By "Regular Shaving Cream?"
Most people associate the term "regular shaving cream" with shave foam from a pressurized can.  There are other formats–gels, creams, oils, etc.–but let's assume shave foam from a can is what you're asking about.  I'll go over the other formats as well.
What Do You Mean By "Safety Razor?"
Wikipedia (and others) considers pretty much any non-electric razor that has a skin guard between the blade(s) and the skin as a "safety razor"–including razors that have replaceable cartridges and those that are fully disposable.
But for this article let's assume a "safety razor" is a razor that uses a single blade (with one or two edges) with some kind of skin guard on the razor's head and no lubrication feature (lube strip or reservoir).  Most safety razor heads are stationary, though some can be adjustable and a few have pivots like cartridge razors.
So…Can You Use Regular Shaving Cream With A Safety Razor Or Not?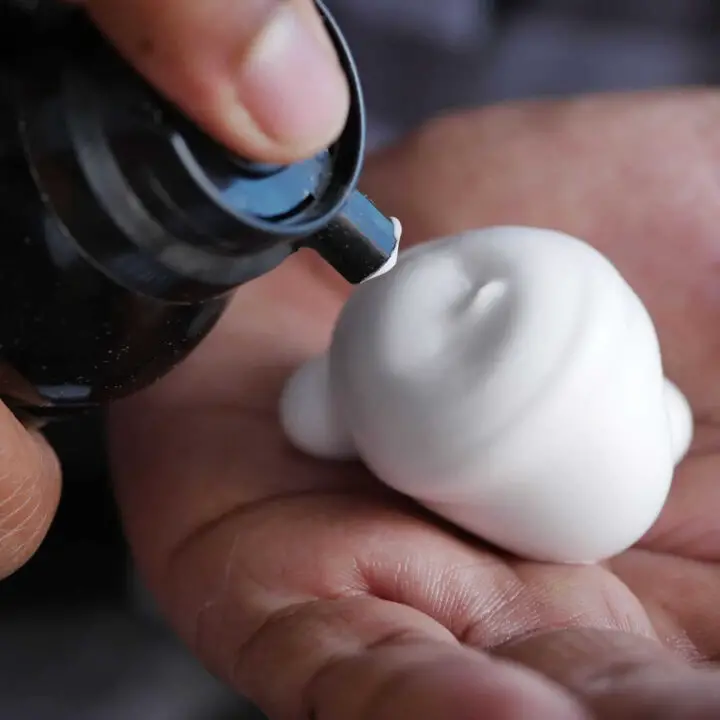 Yes, you can use regular canned shaving foam with a safety razor, but it's not ideal and I don't recommend it. Canned shaving foam is designed to be used with multi-blade cartridge razors, which have a lubrication scheme (strip or reservoir), and a different shaving angle and pressure than a safety razor. As a result, canned shaving foam may not provide the right kind of lubrication and cushioning to protect your skin during a safety razor shave, which can lead to razor burn, cuts, and nicks.  Furthermore, the ingredient mix can be problematic.
What's Wrong With Using Canned Foam With A Safety Razor?
Using a safety razor can provide a smooth, close shave, but pairing it with the wrong shaving cream can turn the experience into a messy and uncomfortable one. Canned shave products might seem like a convenient option, but they don't pair well with a double edge razor:
1. Messy And Difficult To Use
Canned foam and gels tend to create a lot of foam when applied to the skin. While this might seem like a good thing, too much foam can actually make it harder to see where you're shaving, leading to uneven results. Furthermore, the excess foam can clog your razor's blade, making it less effective and requiring constant cleaning.
2. Insufficient Lubrication
A key aspect of a comfortable shave is proper lubrication. Unfortunately, canned products do not provide enough lubrication for a safety razor to glide smoothly over your skin. This can result in a higher risk of nicks, cuts, and irritation.  Many canned products depend on the additional lubrication that a modern cartridge razor offers to provide acceptable results.
3. "Too Much" Cushion
Conversely, the consistency of many canned shave products can be too thick to offer a good "track" for the safety razor's blade edge.  This can result in a shave that is not close enough.
4. Harsh Chemicals And Fragrances
Many canned shave products contain synthetic ingredients and fragrances that can be harsh on your skin. These chemicals can cause redness, irritation, and even allergic reactions for some users. 
What's The Better Alternative?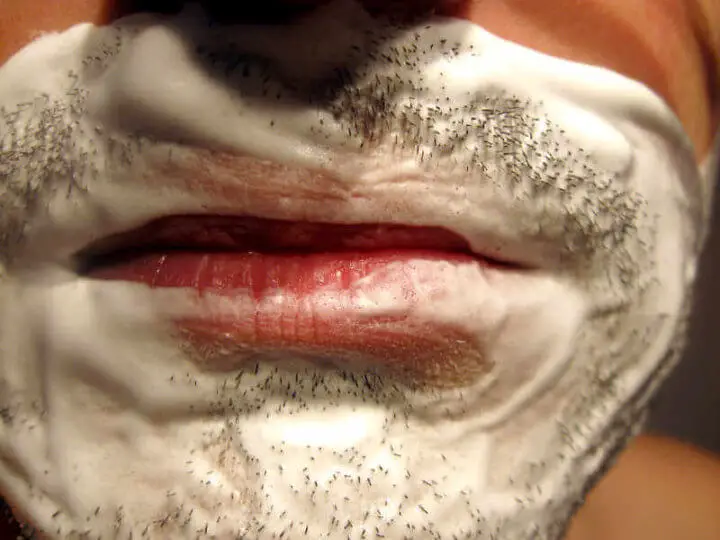 To get the best results from your safety razor, consider using a traditional lathering shaving cream or soap with a shave brush. These products typically offer better lubrication and protection, allowing the razor to glide smoothly over your skin. Additionally, many of these options contain natural ingredients that are gentler on the skin and free of harsh chemicals. By making the switch to a better-suited shaving product, you can maximize the benefits of your safety razor and enjoy a comfortable, close shave.
"Brushless" Alternatives
Traditional shave creams and soaps may work best, but some people making the switch may be ambivalent about the additional learning curve with using a shave brush.  Luckily there are some "brushless" alternatives.
First, traditional shave creams can be lathered without a brush–it just takes a little more product and building lather with the hands, fiddling with the amount of water on the skin.
And some shave creams and gels aimed more toward the mass-market can work pretty well: just make sure they come out of a squeeze tube instead of a pressurized can!  Some good "brushless" shave products include:
[Note: Amazon links for convenience and are Sharpologist affiliate but many of these products can be found at your local "megamart" and shopping malls.]
Keihl's "White Eagle" shave cream
Nivea Men Sensitive Calm Liquid Shaving Cream
Truefitt and Hill No. 10 shave cream (most of Truefitt and Hill's shave products are designed to be used with a brush but "No. 10" is specifically designed to be used with either a brush or by hand)
Summing Up
One of the main reasons for using a safety razor is the ability to achieve a close, smooth shave. However, canned foam and gels may hinder this goal due to their lack of lubrication, making it difficult for the blade to get as close to the skin as possible. As a result, you might find yourself having to go over the same area multiple times, increasing the risk of irritation.