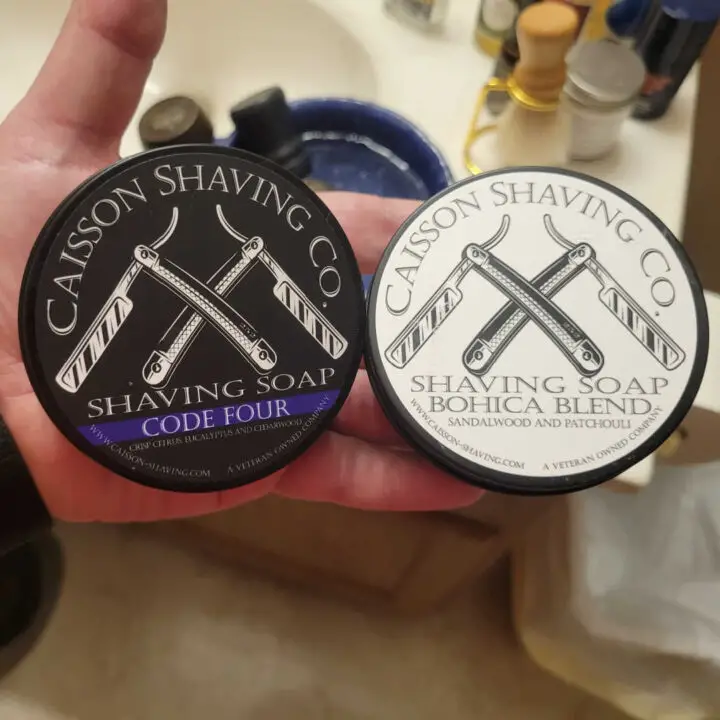 I admit, I love trying new shaving products. Do I go on a "bender" and spend waaaaayyy too much on too much product that I'll never use if I live several lifetimes? Sure. But it gives me joy. I do sometimes have self-control, but then something shiny will catch my eye…and for Caisson Shaving Company, it was the ad on social media where it touted as a veteran-owned company. Being a veteran myself, that prompted me to head over and peruse a bit. 
Caisson
I found a well-put together website with some unique offerings. I chuckled at a few of the names of the soap, like "Fire for Effect", "Sniper" and "BOHICA." The latest is an acronym that nearly everyone in the military has heard…meaning Bend Over, Here It Comes Again. That's usually when the commander has a "great idea" for the troops. 
I contacted Travis, the founder and he is a veteran who said he hated shaving from the moment he enlisted to when he finally stopped serving in uniform. When COVID hit, he says he decided to take the plunge and start his own business. He had stumbled across the world of west-shaving while in the Army and this got him thinking about how to get this type of product in the hands of troops..and Caisson Shaving Company was born. 
He started working with a soap manufacturer in California to help create a soap that wouldn't spoil if melted and could still lather in sub-zero temps, conditions troops are in frequently. You still gotta shave on deployment! 
Caisson Shaving Company offers brushes, a Futur-style adjustable razor, a package deal with enough shaving gear for a year and five kinds of shaving soap. 
I chose Code Four (meaning "Everything OK" in military jargon) and BOHICA. 
Review
Each comes in an aluminum can with a screw on lid holding four ounces of shave soap. When I opened each, I was a bit surprised by just how full each was. 
I knew that I was going to get some lather on my knuckles, but since I lather in the shower, I don't have a problem with that. 
Each soap has the same list of ingredients: Sorbitol, Propylene Glycol, Sodium Laureth Sulfate, Stearic Acid, Lauric Acid, Water, Bentonite Clay, Sodium Hydroxide, Coconut Oil, Argan Oil, Shea Butter, Silk Amino Acids, Honey, Calendula Extract, Sunflower Extract, Aloe Leaf Extract, Carrageenan Extract, Marshmallow Root Extract.
Each had the scent of the description, sandalwood and honey for BOHICA and crisp citrus, eucalyptus and cedarwood for Code Four. These are not scent-forward soaps but it is definitely detectable. 
I shaved my face and head with both several times and for this review, I'm focusing on Code Four. They are both the same when it comes to performance, 
I used my Semogue brush, Fatboy with a new Astra Platinum blade for my face and a Dollar Shave Club Executive for my head shaving.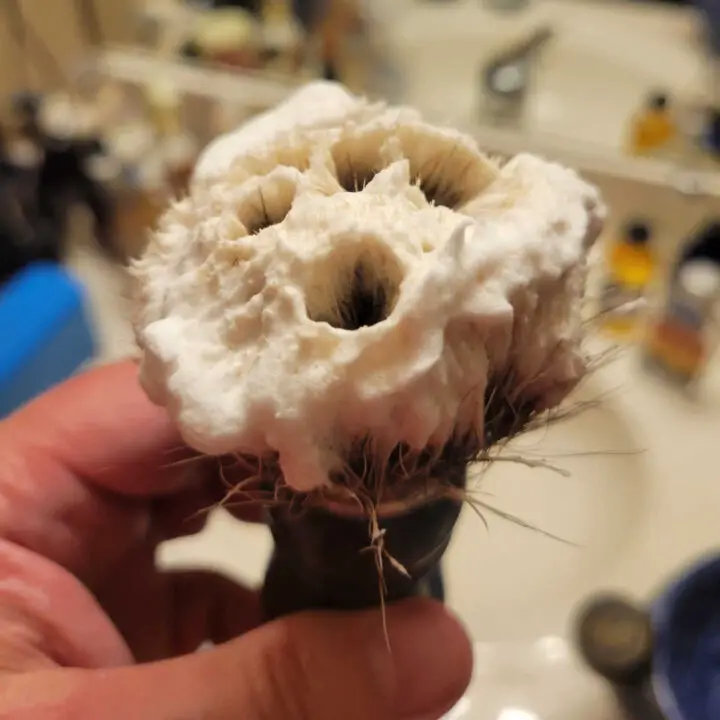 After 15 seconds of loading my brush, it was pretty saturated with soap. I used my scuttle produce the lather. While I face/head lather in the shower, I'm not going to subject you, dear readers, to those photos. 
I added a few drops of water and after less than a minute of swirling the brush, it had produced a good amount of lather.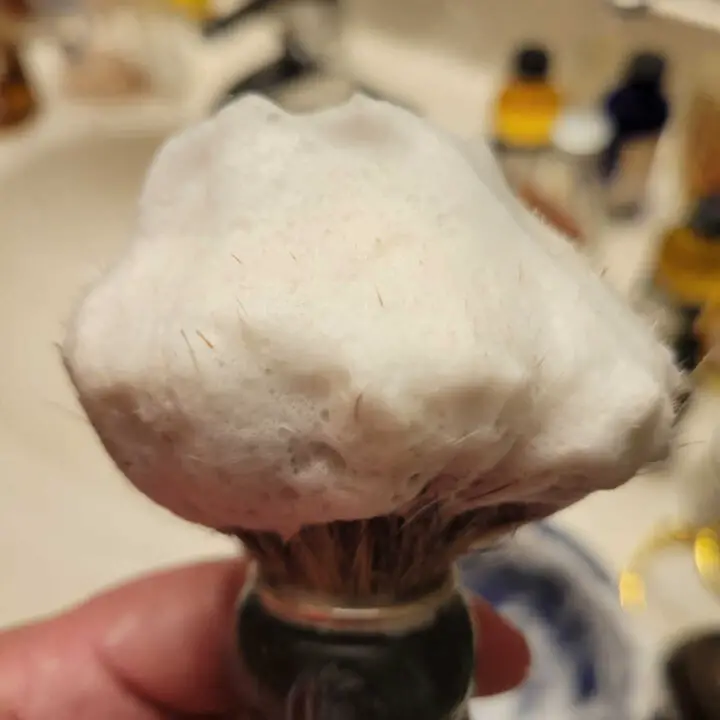 It is not the creamiest of lather and there are some decent air bubbles,
 but there is enough for a head and four-pass shave.  
The lather has good slickness and protection. Both razors slid across the skin and felt cushioned. The scent is light and definitely does not interfere with any aftershaves or balms. My face felt moisturized as did my scalp. 
Summing Up
Both of these are solid performers and at $15 a can, worth the money. In the package deal mentioned above, it comes with two cans of soap. The website claims that is enough to shave for an entire year. Having used each a couple of times, I've noticed no discernable drop in the amount of product, so it may be correct.  
Travis said he wanted to get these products to troops around the world and Caisson Shaving Company is now being sold in Army Air Force Exchange Stores around the world and online. 
I have put these two into my shave rotation and believe that Travis has a winning combination of a quality shave product that doesn't break the bank.