Some really interesting things have happened over the past few days.
Gillette "Heritage" Double Edge Razor
(Note: Amazon links are Sharpologist affiliate.)
Late last week I received a bunch of emails and messages on social media about Gillette announcing a new double edge (DE) razor for pre-order on Amazon.  When I saw it, I didn't believe it–it had to be some kind of bogus reseller posing as Gillette.  I reached out to a PR rep. I knew who had contacts at Gillette to find out more.  In the meantime I mentioned it on my Twitter feed, only to have Gillette answer that it was genuine:
It's true! We heard how many guys miss our classic double-edge razors, so we've brought them back for the holidays. Pre-order yours today!

— Gillette (@Gillette) October 17, 2019
A short time later I got a confirming email back from the PR rep:
"I can confirm that the razor you spotted is indeed a Gillette Razor dubbed the Gillette Heritage-Inspired Double Edge Safety Razor.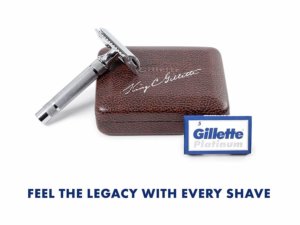 This is the first 3-piece Double Edge Safety Razor Gillette has produced in over 40 years, making it ideal for any guy who's looking for a modern twist on traditional tool for a close and clean shave. Inspired by some of our favorite heritage Gillette razors, today's razor features unique qualities that make it a one-of-a-kind holiday gift:
The stainless-steel single blade delivers a clean, close shave and resists rust
The handle is a premium chrome plated handle that includes micro engraving for improved grip, bringing a historic design to your daily shave
The unique closed comb design offers a modern take on older safety razors
This razor is available on Amazon for $34.99 and includes a 3-piece razor, 5 Gillette Platinum double-edge safety razor blades and a premium case."
The rep. promised to send me a sample and to put my in touch with a Gillette "archivist" to answer my questions.  And questions I have!
Stay tuned.  I will update this article with more information as I receive it.
[UPDATE #1: I have a phone call with the Gillette archivist scheduled for 24 October.  I've opened up the comment section, so leave your questions below and I will pass them on!]
[UDPATE #2: the Amazon link now says "Limited Quantity."  It did not say that before so it indicates to me the pre-orders are probably beyond their expectations.]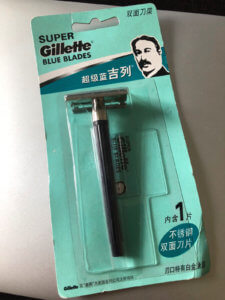 Now, to clarify, there are still "Gillette" DE razors that are manufactured in different parts of the world (no doubt under license–I seriously doubt Gillette makes DE razors themselves anymore).  But there hasn't been a Gillette DE razor for the U.S. market since the late 70's.
Crowdfunding Projects
Meanwhile, I also discovered two shaving-related crowdfunding projects.
Lather Boss
Remember Sharpologist's recent article about the Gillette Heated Razor?  Here might be a good compliment to it: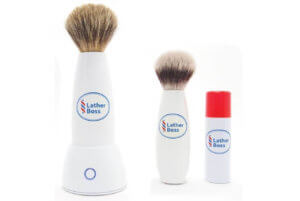 Lather Boss is a project for a heated shave brush:
"With just one click, the Lather Boss™ quickly heats our signature aloe-infused shaving cream to a safe temperature that will produce the perfect hot lather, resulting in a perfect HOT shave every time! "
Manmower
While I was browsing Kickstarter I also came across another shaving-related project, Manmower: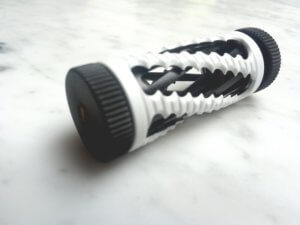 "Manmower™ is the future of your chin, CNC precision-milled in the Midlands, England, GB.  Two barrels scissor your hair progressively down to a grade '0' as you roll the mower about your face.  The more you mow the more trimmed you become.  It's really as simple as that."
Bamotra "Automatic Shaving Brush"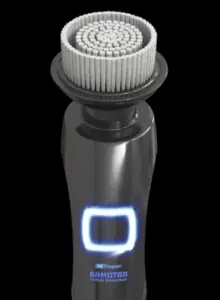 At the same time all these other products were being announced I came across another company announcing pre-ordering their product, this time a a powered shave brush:
Bamotra
Looks like they'll be starting their own crowdfunding campaign starting next month.
OneBlade Special Promotions
(Note: OneBlade links are Sharpologist affiliate.)
Finally, OneBlade has been running a special, limited-time promotion on their CORE razor.  It's being promoted on social media but they permitted me to mention it on Sharpologist's email list so I'll mention it here, too: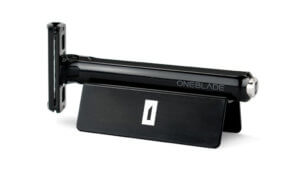 Get a OneBlade Core razor for $19.95 (regularly $49.95.  You need to use that link for the promo price–if you just go to the regular OneBlade page you will still see the full price).
So if you've wanted to:
try OneBlade technology at an introductory price;
get a razor that might make transitioning away from a multi-blade cartridge easier;
look for a shaving-related holiday gift;
have a OneBlade to travel with but were unwilling to take a chance with your expensive Genesis razor;
…here may be your chance.