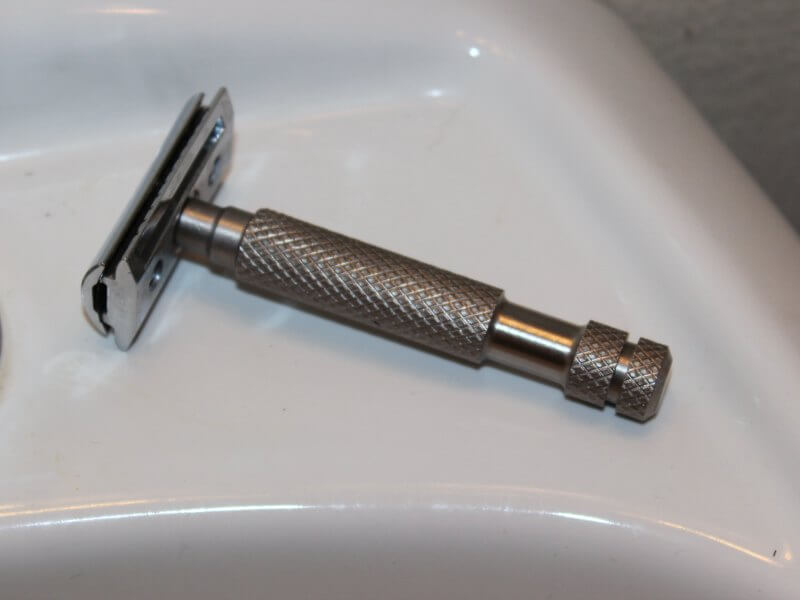 The Braveheart is the Executive Shaving Company's Safety Razor.  They call it "a double edge safety razor that gets the job done with the minimum of fuss. Expect a slightly more aggressive shave than you get from a Muhle R89, Jagger 89 and Merkur closed comb safety razors."

More On The Braveheart
The handle is heavy duty high grade stainless steel made by a craftsman in Glasgow, Scotland.   It is hefty and deeply knurled for a great grip:
Weight: 80g (100g with head)
Length: 84 mm
Diameter: 12 mm
Even though it is described as "slightly" more aggressive than the typical Muhle, EJ, or Merkur razor, I find it to be more than "slightly."  But just calling it aggressive does not quite convey it's characterization.  I like to think of it as more assertive than aggressive: it cannot be ignored but neither does it demand the careful diligence of, say, the Muhle R41.  For me it can take as much stubble down in one pass as other razors do in two, making it great for me on days I need a good shave in a short time.  I find the balance of the razor excellent and the grip a non-issue.
The Braveheart handle accepts the standard threading of many other razor heads (the "Frankenrazor" effect) so you can "tone it down" if desired.  But if you're looking something "more" from your razor and still have a margin of safety, take a good look at the Braveheart.