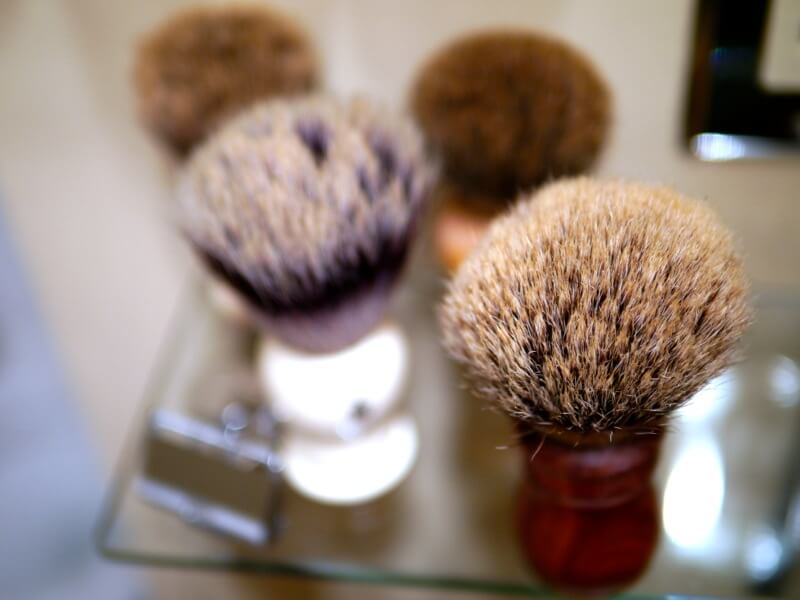 [Preface by Mantic59: The response to the "Good Deal Razors" article was so positive I decided to make one about shaving brushes too.  This time I asked brush guru Gary Carrington (GDCarrington) to help by commenting on some of the inexpensive brushes he's tried.]
There are hundreds and hundreds of shaving brushes out there–badger hair, boar hair, horse hair, synthetic hair–at price points that go from about $6 to stratospheric levels.  Beginners want to try the experience without breaking the bank. More experienced users with pricey brushes sometimes want an alternate brush to travel with. The common question then becomes "what are the good deals out there?"  Here are some "good deals" to consider. I doubt any of these will be passed down to children as fine heirlooms: we looked for brushes we thought were good values in that they were low-cost and reasonably well-built (considering the price).  These aren't the only choices of course, even at this price level, but they're reasonably easy to find.
Kent Silvertex
[GARY] This inexpensive synthetic shaving brush by Kent costs around $25, which is a very reasonable price that puts it in the range of synthetic brushes from competition that until somewhat recently was seen as bargain basement sources.The quality of the outside package is modern plastic and while functional does not burden the brush with major additional cost to produce. The quality of the brush is very good. The resin handle has clean lines and is well made. The stickers on this particular brush are very clear and legible.
Now the discussion turns to the area of critical emphasis. The knot itself. The knot uses Generation 3.5 fibers.
Although not quite as good as the fibers used in Muhle STF (Version 2) or the H.I.S. 26 mm synthetic brush, it is a very good fiber.
The Kent knot is very dense and compact.   This has the effect of concentrating the tips into a smaller area for greater backbone.   Using a bowl and some current Williams soap, I was able to easily generate a test lather that was thick and could provide 3 face passes and a head pass with one soap application that covered the tip surface area of the knot.   Better soaps improve the performance dramatically.
Now this synthetic does have one difference in comparison to other synthetic brushes.   Kent in choosing their fibers and construction of the knot, has made a synthetic that behaves more like a boar brush than a badger brush, with badger emulation being the path for most of the synthetic brushes on the market, however the tips are still soft so it is a different feel to have a very strong backboned brush in a synthetic offering.
Given the fact that this brush uses fibers that were a couple of years ago featured in top notch synthetic brushes that cost two to three times as much in cost makes this brush an excellent value. I rate it slightly higher than the standard Generation 3 brushes (TGN, FS, et al). This brush should satisfy many users as a travel brush or even as a primary brush.  For their first foray into synthetics they have a brush that they can be proud to call a Kent.
[MARK] This brush is probably the most well-constructed of the group.  The brush knot is a bit smaller than I prefer and it seems to make a better lather by bowl lathering vs. by face in my very "hard" water but my issues with the brush are minor–it works very well.  The closest "competitor" would probably be the L'OCCITANE Plisson Synthetic, which I slightly prefer over the Kent, but the price is also out of the $25 range of this article.
Shaving Factory Extra Small Brush
[GARY] The Shaving Factory is a brand name for a series of shaving products from Turkey. The brushes appear to be boar hair and range from the extra small pictured here costing around $8 USD on Amazon to a larger sized brushes in the $15 – 25 USD range on eBay sites. The brushes have a hand print and they state that they are hand made of pure bristle. The size of the handle is similar to a large bottle cap and it made simply from a quick turn piece of wood with no lacquer, paint or other protective coating. The hairs on the one I purchased are thick and have split multiple times. It feels and lathers like an standard boar brush. When you get below the $10-15 USD threshold you will begin to see compromises in construction and the construction quality in this brush is not up to the fit and finish of even the lesser price Omega and Semogue offerings. This model has a slight gap between the cap and the handle. It is slightly less expensive than equivalent models from these competitors. Upon using it, however it builds a good lather and is an easy size to use as a face lathering brush. The fact that the handle is of untreated wood will cause this brush to have the potential to split and crack, but the knot and cap seem sturdy enough to use in another handle if that happens, or it is inexpensive enough to buy a replacement if and when that time comes. This brush is often seen as a part of various beginners kits sold on Amazon, eBay, and other sites. This brush could serve as an inexpensive early gateway for a person to learn with while planning their next brush purchase.
[MARK] I have not tried this brush.
Omega Pro 49
[GARY] The Professional 10049 shaving brush by Omega, often referred to as the PRO 49, is considered one of the best value brushes on the market. I purchased one for about $12 USD excluding shipping charges. It is a large boar hair brush with approximate measurements of 128 mm in total height. Its loft is 63 mm and the knot size is 27 mm. The handle is plastic and comes in three color choices, Red, White and Black. The handle is very spartan yet easily to grip and use. With most boar brushes there is some time to break in and to remove some of the boar scent but once the break in is complete, this brush will make quick work in grabbing soap and generating lather. This brush is excellent for head shaving since the size allows the shaver to cover a lot of skin with lather quickly. Now if you have a smaller face this brush with its size might not be for you. As to the knot, it is also a knot of choice of many who choose to create a customized boar brush so the quality of the product is well established in the Traditional Shaving arena.With its price and overall quality it is no wonder that many traditional shavers have this brush in their arsenal and use it quite often.
[MARK] The PRO 49, along with its slightly larger brother the PRO 48, could be one of the most "iconic" shaving brushes on the market.  It is reasonably well built but many people are initially disappointed with its performance–the boar "funk," prickly feel, and the comparatively poor water-holding ability make a lot of people question their choice.  The funk disappears after a week or so of use though, and with regular use and care the brush softens pleasantly and can perform as well as a much more expensive brush.
Tweezerman "x 2"
[GARY] The Tweezerman Men's Shaving Brush is a well known entry level brush that happens to be a badger brush instead of boar or synthetic. This is a brush that many new users have learned with until they decided to move up in the price of brush that they used. The price for this brush ranges from $12 – $17 USD depending upon what supplier you choose to purchase it from. The brush is small in size with pure or at best mixed badger hair used to make the knot. The handle is made out of wood with the name Tweezerman in black paint. The brush is on the low end of the badger brush line that is a regular production product. The Tweezerman is effective at producing a lather but can be scratchy since the hair is of a lesser grade than more expensive hairs. The one you see in the photo is my personal brush that was my primary driver for about one full year and it held up well during that time frame of use. If you are determined to have an entry brush that is badger hair for under $20 USD remember that there will be compromises in the design and materials selected. The Tweezerman generally does a good job in generating lather and applying it in a no frills manner which may be all that many shavers want.
[MARK] As Gary notes, the Tweezerman badger hair shaving brush is the first badger brush that many people get, including myself!  At first I thought the Tweezerman brush used pure (lowest grade) badger, dyed to look like mixed badger. But after trying many other brushes, including some fully-pure badger brushes, I now believe the Tweezerman is a mixed grade.  That is not to say that it is particularly luxurious: it can feel a bit scratchy on the skin and the quality control can be spotty (though my Tweezerman has held up pretty well over the years some people have had examples that shed hair badly).
As a side-note, Tweezerman has just launched a new line of products for men, G.E.A.R. (though I can't find what the acronym stands for), including the "Tweezerman G.E.A.R. Deluxe Shaving Brush."  List price is $35 though I am seeing discounts to around the $25 mark.  Tweezerman sent me a sample to try and I have been able to use it a few times.  The knot is smaller than the original brush and the hair a bit lower grade IMO, but the handle is much better and is better constructed (I haven't seen any hairs shed, and no badger funk).  The performance has just been OK but as I said I have only been able to use it a few times. Hopefully it will improve with use. I do not know whether this new brush spells the end of production to the original brush.
Other Options
Inexpensive badger brushes from Escali and Simply Beautiful also fall within this price range.  The Escali 100% Pure Badger Shaving Brush consistently makes the  "Top 10 Best Sellers" list on Sharpologist but neither Gary nor I have had a chance to try it.  The SimplyBeautiful Basic 100% Pure Badger Shaving Brush brush gets mentions on various shaving forums but generally does not get good reviews.
If you have any of these brushes please leave a comment below with your impressions!