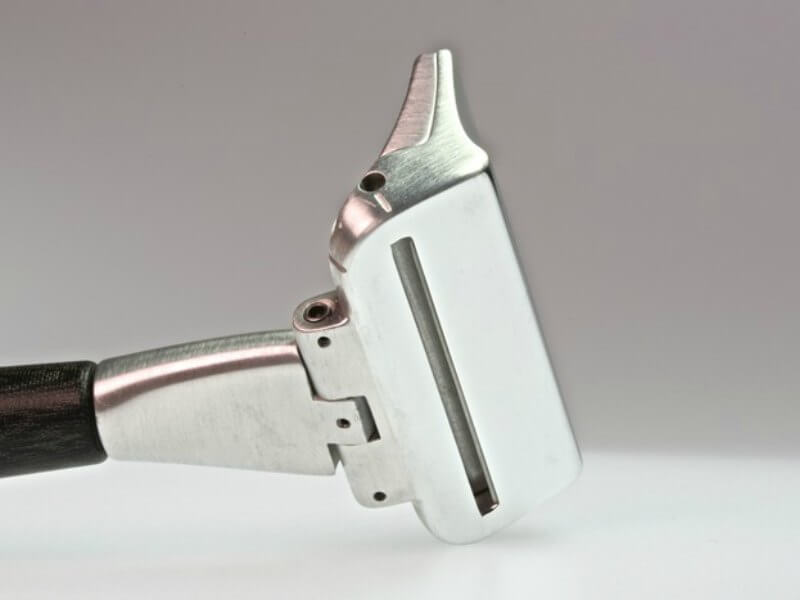 [Updated July, 2017.  This appears to be a dead project, there has been no communication about it for some time.]
 
[NOTE: A video review of this razor is coming shortly.  I will edit this post with the video when it is ready.]
Who says double edge razors are boring?  Hot on the heels of Rockwell Razor's astonishingly successful Kickstarter project–they raised over 10 times their pledge goal–comes another crowdfunding razor project, the Beluga razor.  The Beluga razor attempts to be "the best of both worlds" with a double edge razor (with a single edge exposed) that uses a pivoting head like a modern cartridge razor.  I was lucky enough to get to shave with the prototype a few times.

Beluga Beginnings
Zac Wertz is an Attorney from Cincinnati, Ohio with an MBA and a background in Finance.   He says:
"Most people don't realize the amazing experience of shaving with a single edge, mainly because of the large learning curve typically associated with them (unless they just aren't aware).  [T]he Beluga Razor virtually eliminates this learning curve, thanks to its pivoting neck, so you can shave with ease for the first time ever.  If you can use a Gillette Razor; you can use the Beluga Razor the same way.
"A pivoting neck is a simple and easy solution to make single edge shaving incredibly easy for the first time.  With the Beluga Razor we wanted your razor to have a high degree of pivot, but we recognized from the beginning that the pivot point would be the weakest feature. Accordingly, we spent a lot of time to make it one of the strongest features possible so it can help you reach those hard to reach areas and eliminate excessive pressure.
"With the Beluga Razor we designed our handle to be a little bit larger and longer than usual to provide a nice and relaxing shave, but still retain the versatility to use multiple hand positions with ease and greater comfort.  The handle material that was carefully selected is Linen Micarta. Linen Micarta is a premium plastic used by many premium knife handle makers because it is extremely durable and actually creates a better grip when wet. Known as the "Cadillac of Plastics", the feel of this handle is truly unique, and just like the razor, it must be used to truly appreciate. The feel is warm and organic, and over time it will even darken with age to represent the generations of use you will get out of it.  Each colored batch of Micarta is unique and will vary overtime, making your razor truly unique.  The handle colors available are tuxedo black, hunter green, and maroon."
Zac is seeking patent protection for this razor design.
But How Does It Shave?
The Beluga razor prototype I tried felt unlike any other razor–traditional or modern–I have ever used.  The handle really does feel "warm and organic" and the razor as a whole feels solid and hefty in the hand.  If you have used a modern cartridge razor with a pivot using the Beluga will be familiar–though I do not think I can say it is exactly the same hand-hold.  For me there was a definite "sweet spot" hand position for the pivot to do its best job.  And resting the blade side on the skin is unlike using a traditional safety razor–since you rest the entire "face" of the razor on the skin there is perhaps less tactile feedback than you might expect.  The design of the head also makes "detail work" like leveling sideburns a little different as well due to the way the blade is mounted: the razor has little guide notches on each side that show where the blade edge is.
The Beluga razor really shined for me when I had thick, multi-day stubble.  The razor just plowed through it like it wasn't even there.  A "normal" shave was excellent as well, with the pivot making consistent reduction no matter where I was shaving, thanks to the pivot.  The only challenge was under the nose, where the fairly large head made detail work a little more difficult (but certainly do-able! I just needed to adjust my technique a bit).  I suspect that the head on the production razor will be smaller.
The Beluga razor represents some genuinely innovative design elements and deserves the attention it has received.  Take a look at their crowdfunding page to see their current status.