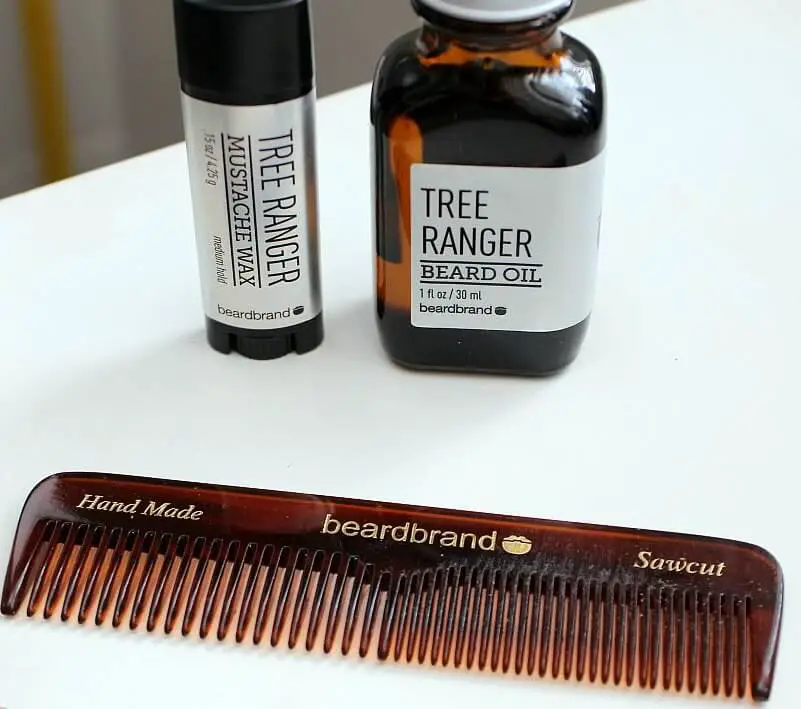 "Say, friend, what brand of product are you using on that fine beard?"
"Why, Beardbrand of course."
"No, no, not the brand of your beard (and why is your beard branded?) – your grooming products!"
"Yes, Beardbrand."
"I don't know…"
"He's on first!"
Well, that may not be quite the exchange you'll have (and my apologies to Abbott and Costello), but I have to admit – Beardbrand is one of the more clever "generic" names I've run across for a shaving-related company.  Well, maybe not so much shaving related, as they're focused on taking care of what your razor isn't removing.  Perhaps that's splitting hairs, so we'll just move along with the review.
Beardbrand Care Package
For this particular review, Beardbrand sent over a nice little care package comprised of their beard oil and mustache wax (both in their Tree Ranger scent) and one of their sawcut pocket combs.  By now, we should be relatively familiar with the benefits of a beard oil (for those of us not removing all of the facial hair, that is).  If you've not seen my prior reviews on this product segment, just think of it as a moisturizer and conditioner for both your beard and the skin under it.  And while it's called an oil, you're not left with an oily feeling, as it's absorbed in.
First up, let's have a gander at the oil.  Coming in at $24.99, is has been the most expensive oil I've had in for review to date.  Some of this may be due to the ingredients (this is the first oil I've had in that includes grapeseed and castor oils), and is partially due to the essential oils used for the fragrance (as the unscented version is $5 less).  Speaking of that, let's talk the scent.  As their product page (and my own nose) asserts, this is very much a woodsy blend.  To me, the pine and cedar scents are the most prominent, which is reminiscent of the Morral Brothers oil I reviewed previously.  Unlike that one, however, I didn't pick up any sort of Vicks secondary scent in the Tree Ranger oil.
Packaging-wise, this is a shorter, squared bottle with a narrow neck that has an additional reducer inserted.  This is rather handy for just getting a few drops at a time on your fingers for application, ensuring you're not wasting any of the product.  Readers will recall that I noticed that the beard oil did help things look a bit less scraggly, and overall smoothed out the appearance of my beard.  However, facial hair being what it is, you'll still have some stragglers that want to go their own way and stick out.
That's where the Tree Ranger mustache wax comes in to play.  Now, when you hear about a product like this, you're probably envisioning someone who's got a crazy handlebar mustache, perhaps appearing in a beer ad.  Well, I don't have one of those, and I'm guessing most of you don't either.  While you could certainly use the wax to style longer facial hair, I instead used it to tame those wily hairs.
To use the mustache wax, you use your fingernail to scrap off of a small amount from the small stick, and then warm it between your fingers to make it a bit more workable.  Once that's done, you just apply it to your beard, working it into hair a bit so you can style it.  This did work quite as advertised, and as with the beard oil, a little bit can go a long way (of course, if you're rocking a ZZ Top length mane, your mileage will vary).  In the past, I've used some hair products to achieve a similar effect.  That said, using the wax has two advantages – you've got somewhat similar ingredient bases, as well as identical scents.
Of course, if you're to the point of using a wax, you're a little more concerned with styling your beard than the average guy – which means you're probably going to want to run a comb through there.  Sure, you could use a cheap plastic comb from the drug store (and this is what I had been using), but there are some nicer options out there – one, of course, available from Beardbrand.
Coming in at a price of $9.99, their comb is 4.5″ long and offers both coarse and fine teeth.  Unlike it's drugstore counterpart (which simply has it's teeth molded), this comb (which is by Kent) is sawcut.  This means the comb starts as a blank into which the teeth are then cut, and then polished, eliminating any jagged edges.  It's also a bit more compact than your standard plastic comb, which means it would be conceivably easier to put in a pocket (or have it take up less room while you travel).  As a comb itself, it worked quite nicely in conjunction with the wax to get the whiskers put in place.  And, of course, it also worked just fine to comb the hair on top of my head.
While the review samples weren't intended to be a kit, per se, it would be easy to view it as such.  Then again, if you're got a pretty closely-cropped beard, the wax and comb may not make much sense.  However, if it's longer, then this particular combination of items can come in handy. The oil nourishes the skin and hair, and then the wax and the comb keep the whiskers looking tidy.  All told, it makes for a very nice 1-2-3 combo.  beardbrand.com
Oil (1 fl oz) – $24.99

Ingredients

Jojoba oil

Grapeseed oil

Almond oil

Castor oil

Essential oils

Scent Blend (Essential Oils)

Eucalyptus

Cedarwood

Pinewood

Wax (.15 oz) – $6.99

Ingredients

Beeswax

Lanolin

Jojoba Oil

Essential Oils

Scent Blend

Eucalyptus

Cedarwood

Pine Needle

Comb – $9.99

4.5″ Long (110mm)

Coarse/Fine Tooth

Hand Made

Sawcut & Polished