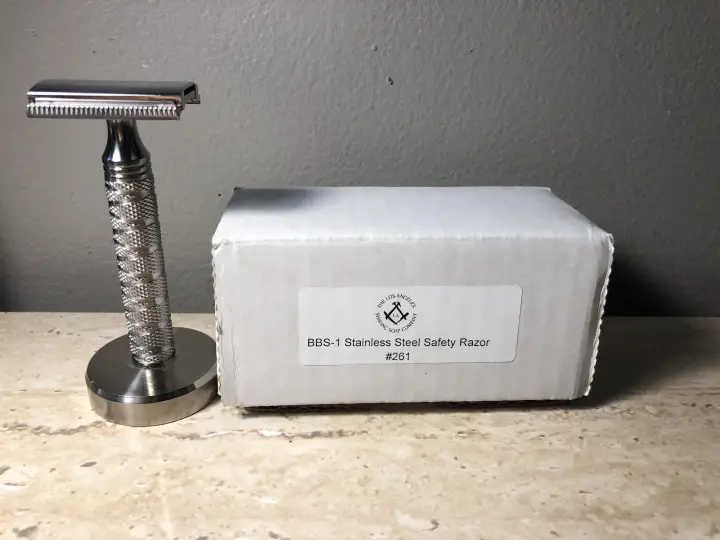 [Caution for those viewing on a mobile device, this article is image-heavy.] The purpose of this article is to preserve the story of a razor that has become highly collectable, the Los Angeles Shave Soap Company (LASSC) BBS-1, a limited edition safety razor that has become very desirable. A document to stand the test of time and provide future generations with information that we ourselves can only dream of when it comes to razors of yesteryear.

Related Post Vetiver Review Festival Part 2: LASSCO
Preserving the History Of The BBS-1 Razor
It's unique design and construction has the few people who own or have owned this razor to have very positive reviews.  In this article we'll go over how this razor became a reality, what makes it so desirable and how to determine its authenticity. In addition, we'll review the razor, discuss the razors that inspired the design and share a brief shave video showing you exactly how it works.
When it comes to writing reviews on rare and collectible razors, it's often difficult to find information first hand to truly understand the inspiration and purpose of the piece.  I often find myself searching endlessly for information: messaging archivists and even looking for collectors that may have a few answers to the many questions we the collectors might have. A lot of my findings are just theories as the history of shaving was not found to be relevant until recently. Many companies did not record any information or stories regarding the items that we find collectable today.
About the BBS-1
The LASSC BBS-1 was a razor made in collaboration with John of Los Angeles Soap Company and James of Wolfman Razors.  The razors were made from 2014 until 2017 in very limited batches. It was available for the majority of its run through a waiting list, where some people waited well over a year to get their hands on one.
Related post: 11 Incredible Razors For The Luxury Minded Shaver
There were two models of BBS-1 razors. The "SS" which was made of stainless steel and the "TI" which was made of Titanium.  All Stainless models were serial numbered (there were 421 were made) and all TI models were not (there were 20 were made)
The original price for the stainless steel model was $250 and then changed to $299 while the titanium version was $350 and then changed to $500.
The razors were produced until the end of 2017 when it was announced that the BBS-1 would be discontinued and a new razor would be created. (as of the release of this article there has been no word on the new razor)
How It Started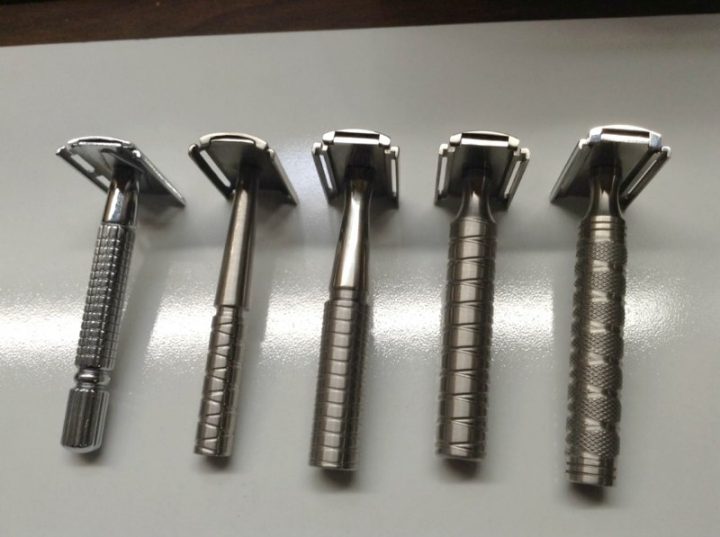 *Original progression from inspiration razor (far left ) to final model (far right)
The BBS-1 was born actually by chance. It all started when James Dufour sent out an inquiry for machine shop services on the popular forum site Reddit. He received a message from John of LASSC in regards to building a safety razor.
John introduced the world of classic wet shaving to James by sending him a brush, soap and two safety razors to try. James enjoyed using them and began the process of making a razor to be sold for John. After about two months of research and development he made a prototype for his own use. He continued to make adjustments for the next three months or so and was able to send John four units which were tested and then sold. John named the razor the BBS-1 and quickly asked James to produce more. James and John continued to collaborate and a few months later came up with the final design of the BBS-1.
For the next 3 years they made and sold 421 razors.  The BBS-1 began receiving positive reviews and were selling out as soon as they were posted for sale. This led to a waiting list where as previously mentioned some waited several months to over a year to get the chance to purchase a BBS-1.
*Note the original razor that inspired the BBS-1 (seen in image) is available here.
How It Ended
After several back and forth emails to those on the waiting list, on January 24, 2018 it was announced that the BBS-1 was no longer going to be produced.
The following is the exact email sent by LASSC to those on the waiting list.
"Hello,
After having some further thoughts on the future of razor production, rather than continuing to produce razors for The Los Angeles Shaving Soap Company, James has decided to produce a new razor based on the BBS-1, with a new name and some new design improvements, for his own company, Wolfman Razors. This new razor will replace the BBS-1, which will no longer be produced.
I apologize for any disappointment to those of you who have been waiting some time for the BBS-1, but knowing James' commitment to quality design and finish, I am sure that this new razor will not disappoint.
If you have any further questions, or would like to be notified when this razor becomes available, please email orders@wolfmanrazors.com and James will handle your questions directly.
Thank you for your support and interest in our products."
This announcement disappointed the dozens of people still on the list and quickly created a surge of secondary sales for a premium.
Although a new razor was mentioned in the final email, as of this writing the new razor has yet be unveiled.
BBS-1 Review
*Note: I did not buy this razor brand new. I purchased it for a fair price in relationship to the 2018 market. The razor will be reviewed based on the original selling price rather than what I paid for it.
For this review, I will be discussing BBS-1 #261 which is from my own collection. This particular razor took several months to acquire and if it wasn't for my friends Frank, Kevin, Eddie and the generosity of Rolando I would still be on the hunt for one.
At first glance, The BBS-1 is very intimidating. It's aggressive looking blade gap and knurled handle gives this razor the appearance of being extremely aggressive. The common conception of the larger the blade gap the the more aggressive the shave may be the norm for some razors, but with this razor it is far from the truth. It's extremely efficient and surprisingly mild.
Looking at the way the blade is mounted in between the top cap and guard you can tell it's different than most razors. The blade sits flat which actually allows for a more neutral blade exposure than standard safety razors. This along with the larger blade gap allows the user to use a greater angle when shaving thus, giving them more control of the shave.  In my opinion, this is what makes the BBS-1 perform so well.
The weight of the razor is surprisingly balanced and has a nice heft. It's solid and strong. The knurling (grip) on the handle is well defined and provides a nice grip without cutting into your fingers.  Even when wet the handle still has an adequate grip.
Packaging
The BBS-1 came in two different forms of packaging.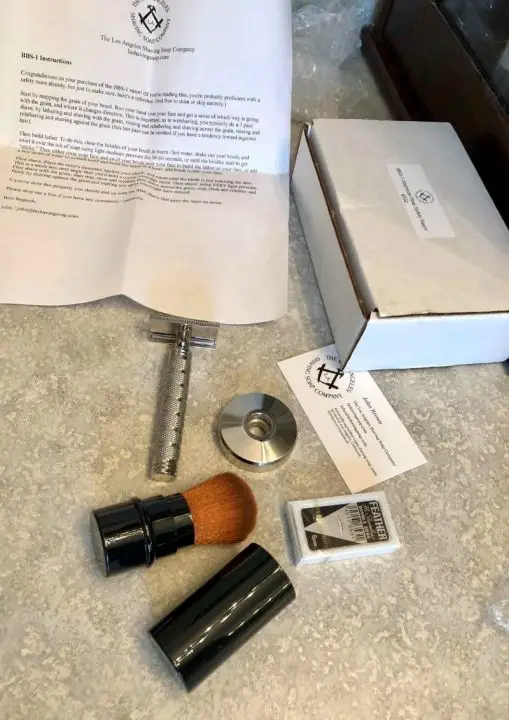 *Image of Full BBS-1 kit courtesy of Frank Testagrose.
A small, cardboard box that was used for just razor purchases and a larger box that contained a travel shave brush, some soap samples, stand and of course the razor itself.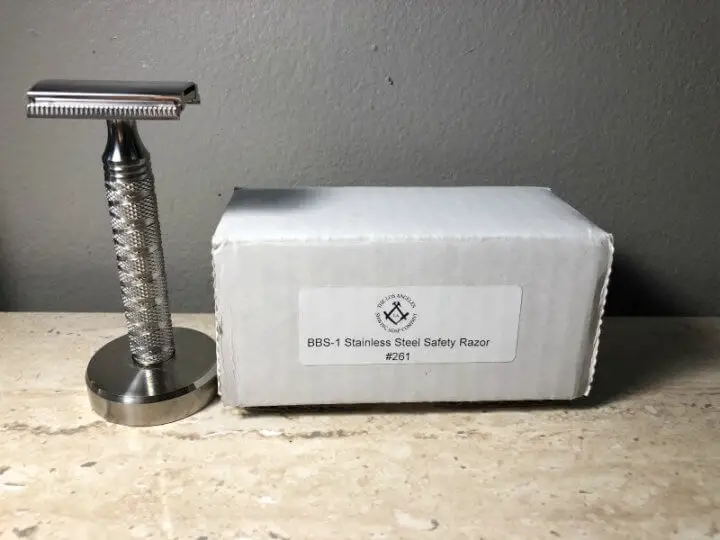 Every razor came with an instructional letter from John of LASSC (see image) and each part was neatly wrapped and numbered to reflect the serial number of the razor.
Although, the packaging was a bit dull, it does not reflect the performance of the razor.
The Shave
I typically go with a two pass shave in my daily routine as I find it to works best for me.   Shaving WTG (with the grain) is almost effortless. The first stroke and you can tell what this razor is all about. It shaves with ease and makes a noise that's common with aggressive razors.  I used short strokes with hardly any pressure and the razor did all the work.
The BBS-1 just glides with ease but has the feel of an aggressive razor. It's a little hard to describe in words. In short, this razor feels extremely aggressive but shaves surprisingly gentle (if that makes any sense).
The handle was comfortable and very balanced. The knurling (grip) on the handle did not dig into my hands and prevented slipping.
Once finished with the first pass I noticed that 80% of my stubble was gone, so I decided to go against the grain.
Shaving ATG (against the grain) was a similar experience. I allowed the razor to do all the work and used even less pressure.  As a result, my face was clean and I had zero irritation. The grip on the handle remained comfortable and made it easy to maneuver around my troubled spots.
Authentication
It's important to mention there are several clones out there. While the clones probably perform well enough it's important to know how to identify these from authentic BBS-1 razors. If  you're paying top dollar for a razor, you should get exactly what you paid for.
While authentic razors may vary from piece to piece it's safe to say it won't by much. I've personally held, weighed and measured three BBS-1 razors and found they all  have the same specs. Here they are:
Complete Razor weight (top cap, base plate, handle) in grams: 117g
Top Cap weight and measurements: 10g, L 40.1mm, W 18.9mm
Base plate weight and measurements: 15g, L 39.8mm, W 24.3mm
Handle weight and measurements: 91g, L 89.4mm, W 13.7mm
Stand weight and measurements: 115g , W 44.1mm
Blade Gap: 1mm
*Weights and measurements may vary slightly from piece to piece.
Markings and characteristics to ensure authenticity: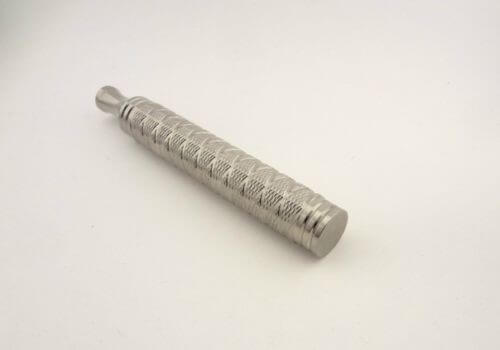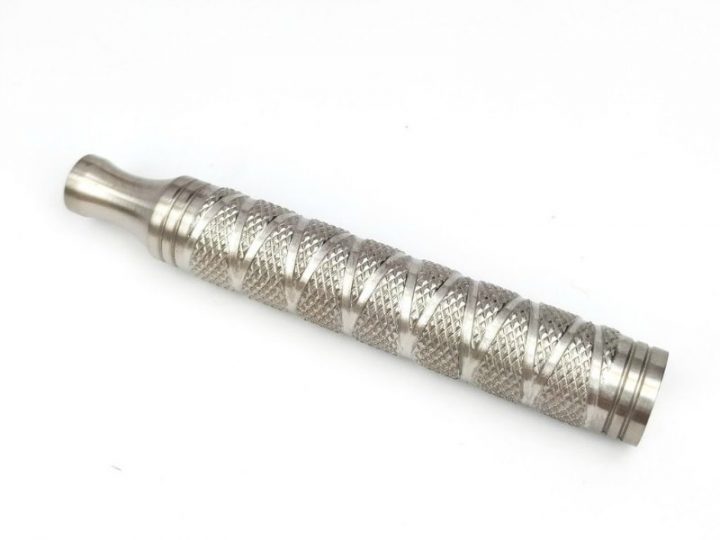 *Example of a replica BBS-1  handle from Russia (top) Real BBS-1 handle (bottom)
The Base Plate: each base plate on BBS-1 razors will have the number of the razor closest to the center in two spots. The numbers will be right by the wording "The Los Angeles Shaving Soap Company":The Logo of LASSC will be on the ends of the base plate. Everything is perfectly symmetrical and straight (See image below)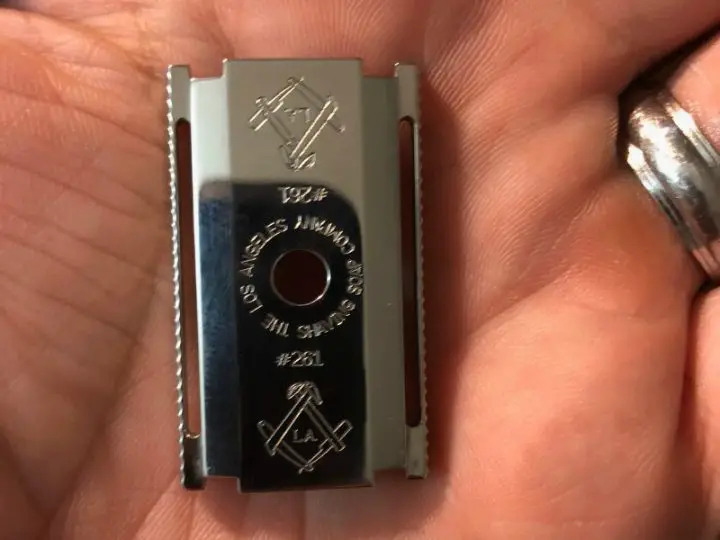 Numbering: While it's true that not all BBS-1 razors were numbered, the majority were. Here is the break down:

SS(Stainless Steel) models were numbered 1-412 with only the first prototypes lacking a number
TI(Titanium) models did not contain a number( Approximately 20 were made)

Handle: The handle is very difficult to replicate.  Check the weight and more importantly the knurling (grip). The design is 100% symmetrical and the knurling is even and very easy to hold.
Blade Gap: Blade gapes on all BBS-1 razors is 1mm.  There is no deviation from this. If it's not 1mm then its not a BBS-1.
Stand: Only true BBS-1 razor stands will fit a BBS-1 razor. If your your razor doesn't fit in the stand chances are one of the two are not authentic.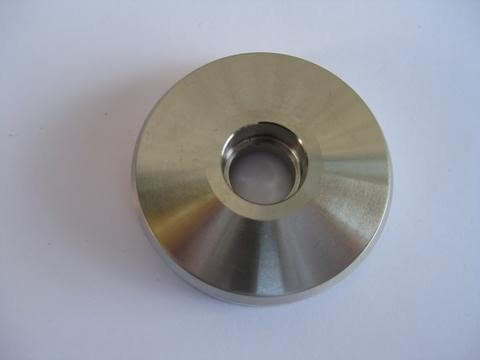 *Note: the BBS-1 stand is designed to only take the BBS-1. It will not fit another razor correctly. That being said a regular Wolfman stand will not work correctly with a BBS-1 (see picture)
If you happen to be in the market for a BBS-1 and do not know the seller, then it's really important to protect your purchase.  Always pay goods and services (when using Paypal) and ask the seller if you can have a 3-5 day return period, just in case. Take your time.It's your money and you deserve to get what you pay for.
In addition let the seller know you would like the razor sent to you requiring a signature upon delivery. This protects both the buyer and seller.  Never wait for a confirmation/tracking number. Require it as soon as you send the funds. Therefore, you can monitor the package's movement through the postal system.
Value
Since the announcement that the BBS-1 was no more the *value has steadily gone up.  In the past year I have seen these razors go for $400 to $1400 for the stainless model and $1200 to a $2000 for the titanium version.
Although some may or may not agree on value, it's safe to say you will undoubtedly pay more than the original price.
*Value is based on recent sales via social media, forums, private sales and eBay. While these sales did happen a razor is only worth how much people are willing to pay for it.
Similar Razors
If you're looking for razors that are similar in design there are several out there. Here are a few I found in my travels. These razors shave nicely, but it's important to mention they are not the same.
This is the razor that inspired the BBS-1. It's a Chinese knock-off of a 3 pcs Gillette Tech.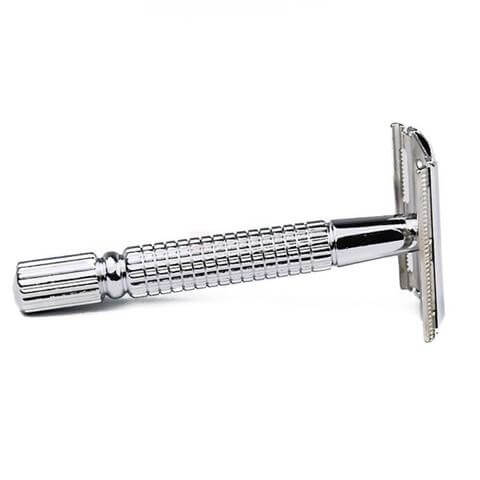 Persona Made in England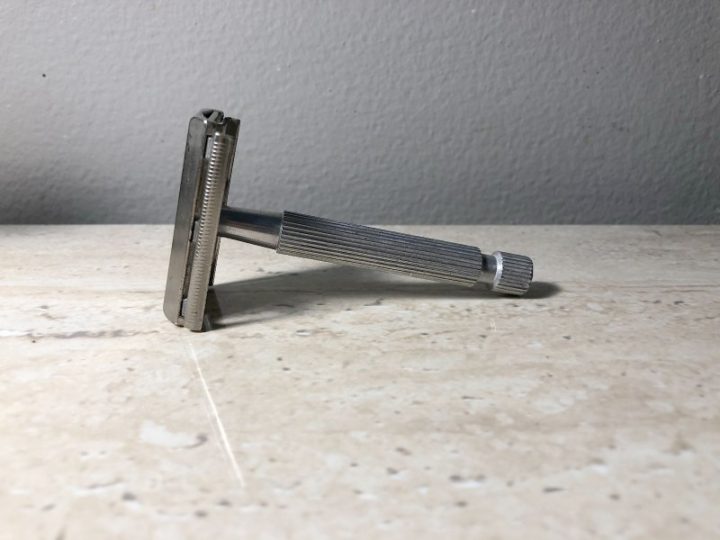 Nicknamed the BBS-0, this razor was a throw-away item given to first class passengers on certain airlines.  It consists of an aluminum handle and metal head. The dimensions are similar and the parts of this razor are interchangeable with the BBS-1. Although a nice shaver it's extremely mild and even harder to find than a BBS-1.
Check out this video of me shaving with my BBS-0!

Gillette Tech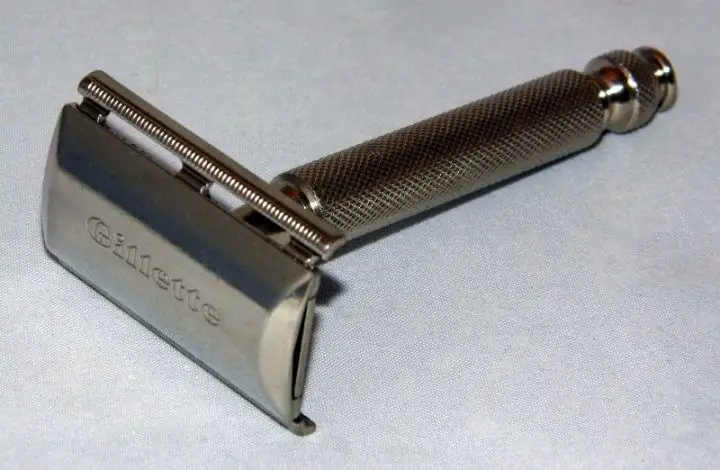 There are many different models of the Gillette Tech but it's safe to say that inspiration razor number one was a copy of this.  The razor mounts the blades from the sides and has a similar guard. These razors are fairly common and easy to find.
Conclusion
The LASSC BBS-1 has indeed made its mark in wet shaving history.  It's a quality piece that is sure to last a lifetime. Its modern styling combined with excellent performance is sure to keep this razor desirable for years to come.
While Wolfman has mentioned there may be a new model in the future at the time of this writing, no model has been released and it is uncertain if and when it will become a reality.  If you're interested in purchasing a BBS-1 but are unsure of the authenticity, there is a registry located on a popular wet shaving forum in addition to contacting LASSC directly.
I enjoy using the BBS-1 and find it to be one of the best razors I have ever used.
Special Thanks to:
James Dufour of Wolfman Razors
John Brown of LASSC
Frank Testagrose, Kevin Possey, Eddie Garcia & Rolando Camarillo
About the Author:
Joe Borrelli is a long-time wet shaving enthusiast and collector.  He hosts the Wet Shaving News/Talk Podcast , runs his own self-funded website http://shavestraightandsafe.com/  and operates a YouTube channel to help inform the community of new information involving the wet shaving world. Joe holds a BBA from Florida Atlantic University, and currently works for the nation's largest wine/spirits/beer retailer. In his spare time, he enjoys traveling with his wife Linda, reading, writing, outdoor activities and collecting wet shaving apparel. Find out more about Joe here.
Sources:
http://www.rasando.it/t/interview-with-wolfman-razors/354
https://www.reddit.com/r/Wetshaving/comments/5p9iad/james_dufour_of_wolfman_razors_ama/