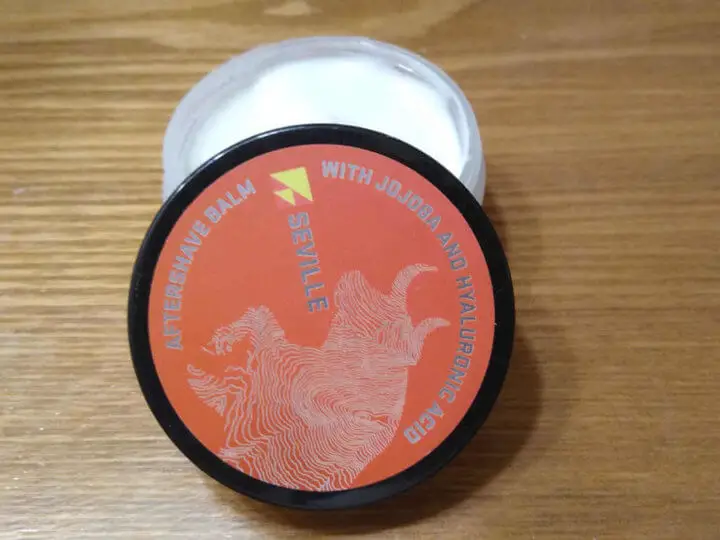 I prefer aftershave balms over aftershave splashes.  So when Barrister And Mann began offering aftershave balm in addition to their popular aftershave splash I jumped at the chance to try some!
Barrister And Mann Aftershave Balm
After receiving a sales email from Barrister And Mann announcing the availability of aftershave balms, I emailed the owner Will to congratulate him on the effort and that I was looking forward to trying some.  I did not request it but Will offered to send me a couple balms for me to try.  Who am I to turn down an offer like that?
From the Barrister And Mann website:
"People have been asking us for ages why we don't make an aftershave balm and, the truth is, we just hadn't been able to come up with something that we really liked. Over the years, we've tried bunches of different formulas, refining the design over and over to produce something truly special: a balm that's light, non-greasy, moisturizing, and very soothing.
"After an unbelievable number of trials, Barrister and Mann® is proud to present our finished aftershave balm formula! Enriched with jojoba oil, kokum butter, hyaluronic acid, radish oil, allantoin, and a suite of botanicals to leave your skin feeling great, this balm is light and nourishing and will leave your skin feeling calm, soft, and supple all day long."
Ingredients (Seville): Aqua, Capric/Caprylic Triglyceride, Squalane (Olive), Aveena sativa (Oat) Kernel Protein, Simmondsia Chinensis (Jojoba) Oil, Fragrance, Aloe Barbadensis Leaf Extract (and) Maltodextrin, Garcinia indica (Kokum) Butter, Hydroxypropyl Starch Phosphate, Polysorbate 80, Raphanus Sativus (Radish) Seed Extract, Sodium Stearoyl Glutamate, Allantoin, Gluconodeltalactone (and) Sodium Benzoate, Propanediol, Water, Enteromorpha Compressa Extract, Silybum Marianum Fruit Extract, Ocinum Sanctum Leaf Extract, Polyacrylate Crosspolymer-6, Sodium Hyaluronate
I had to ask…radish oil?  Will says:
"[I]t's definitely not a common ingredient. It consists primarily of long-chain fatty acids, which allow it to adsorb into the skin rapidly and cleanly in a manner not all that dissimilar from high-grade cosmetic silicones. The oil also contains significant levels of Vitamins A and C, which improve skin texture and appearance overall."
My Experience With Barrister And Mann Aftershave Balm
I got two of Barrister And Mann's aftershave balms, Seville and Terror.
Seville is Barrister And Mann's popular "barbershop" scent, described as "a blend of lemon, bergamot, rosemary, lavender, patchouli, and oakmoss."  The scent of the aftershave balm is moderately strong and somewhat persistent to me, which initially might interfere with other fragrances you might apply (YMMV of course).  I don't normally use additional fragrances so it's not a problem for me.
Terror aftershave balm uses a synthetic menthol that Sharpologist has previously discussed.  It is very cold on my skin, though not quite the "burning" cold of menthol.  The effect is quite persistent as well, and I can notice it for several hours after application. The scent is described as " frankincense (the smell of ship's timbers) with the very essence of cold water to bring to mind the empty wastes of the Arctic Circle…" but it is very mild to me, to the point of being essentially scentless to my dull nose.
But the real point is, how do the aftershave balms perform?
I think quite well, actually.  Perhaps not quite at the level of some other artisans who have been making aftershave balms for a longer period of time, but definitely way better-than-average.  And since it is available with many of Barrister And Mann's popular scents (and unscented) it will pair fantastically.  As long as you don't have overly-dry skin I think this aftershave will completely satisfy the needs of the majority of shavers.  I usually just apply a small amount of balm using wet hands on wet skin but I find I need to use just a bit more than usual with Barrister And Mann for the best results.
Conclusion
[Note: West Coast Shaving links are affiliate.]
Barrister And Mann's new aftershave balms are a very welcome addition to their excellent shaving product line.  They perform solidly and are available in Barrister And Mann's popular scents (and unscented).  Barrister And Mann Aftershave Balm is available at their website, Maggard Razors, Top Of The Chain (CA), and West Coast Shaving.
Have you tried a Barrister And Mann aftershave balm?  What do you think of it?  Leave a comment below!