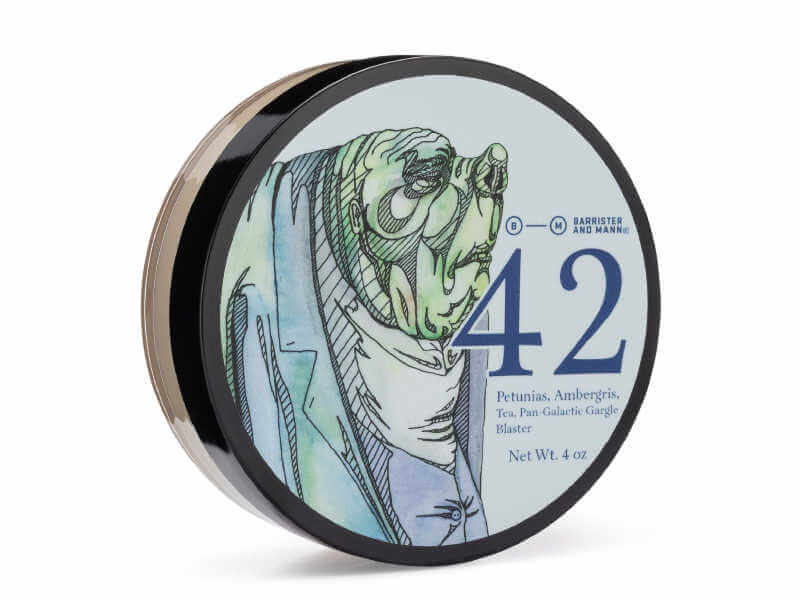 Barrister and Mann has re-released their 42 shave soap for the month of June!
Barrister And Mann's Description:
"For Towel Day, the commemoration of Douglas Adams' authorship of The Hitchhiker's Guide to the Galaxy, Barrister and Mann presents our tribute to his brilliant work: 42, a soap that smells of petunias, ambergris, tea, and Pan-Galactic Gargle Blaster (lemon sugar). Grab a copy of the Guide, a cup of tea, and your shaving brush; it's going to be a hell of a ride."
Ingredients: Aqua, Glycerin, Potassium Stearate, Potassium Tallowate, Sodium Stearate, Sodium Tallowate, Cocos Nucifera (Coconut) Milk, Potassium Kokum Butterate, Methyl Gluceth-10, Xanthan Gum, Sucrose Cocoate, Potassium Ricinoleate, Sodium Kokum Butterate, Allantoin, Butyrospermum Parkii (Shea) Butter, Lanolin, Simmondsia Chinensis (Jojoba) Oil, Sodium Lauroyl Oat Amino Acids, Fragrance, Sodium Ricinoleate, Tetrasodium EDTA, Tocopheryl Acetate
"Please note that 42 is a limited edition scent and will be made until the end of June 2019. 42 is offered in our new Excelsior soap base."
My Experiences With 42
I have used both the original version of this soap and this new version with the "Excelsior" base.
I find the scent of both versions to be quite similar: powdery-floral, citrus, and very sweet.  To me it kinda-sorta smells like…bubblegum?  Necco Wafer? Pan-Galactic Gargle Blaster?  The scent is moderately strong out of the tub but softens considerably on my face (or maybe it's just my insensitive nose).
The original 42 base (no longer available) is quite easy for me to lather in my "hard" water and it performs very well.  I find the new version, in the Excelsior base with Lanolin, to be a bit more difficult for me to "dial in" with the right amount of water: I have to drain more of the "slurry"from the bowl.  I don't seem to have the same problem with another Excelsior-based Barrister and Mann shave soap, Behold The Whatsis (no longer available).  I can't explain why there is a difference for me.
In any case, after I got the water ratio right the lather is remarkable.  Another reviewer described it as the consistency of Elmer's Glue.  I think it looks a bit softer than that.  And I think the lather is somewhat less voluminous than a lot of my other shave soaps.  But it is still very slick and protective.  Barrister and Mann continues to easily hold a spot on Sharpologist's Best Shave Soap list because of products like 42.
Barrister and Mann 42 is available from their website, West Coast Shaving (affiliate link), Maggard Razors, and others.
Have you tried Barrister and Mann 42 shave soap?  Leave your comments below!