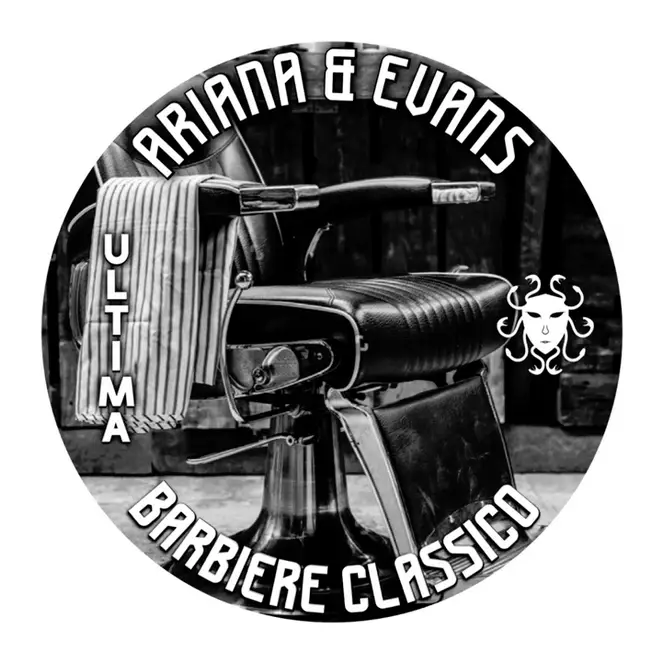 At the recent Maggard meetup Peter with Ariana And Evans presented me with a sample of his new shave soap and aftershave splash using his new Ultima base.  Here is my review of the Barbiere Classico scent in the new base.
Shave Soap
From the Ariana And Evans website:
Our newest barbershop and we saved the best for last. This is a traditional barbershop with hints of rosemary, Spanish Cypress and more….
Scent notes: Calabrian Bergamot, Orange blossom, Rosemary, Spanish Cypress, Geranium, Iris, Talc Powder, Coumarin, Tonka, Pink Pepper, Bay Leaf, Lavender, White Musk, Oakmoss, Sandalwood and Haitian Vetiver
Ingredients: Stearic Acid, Beef Tallow, (Vegetable) Glycerin, Butyrospermum Parkii (Shea) Butter, Potassium Hydroxide, Garcinia Indica Seed (Kokum) Butter, Theobroma Cacao Seed (Cocoa) Butter, Aqua (Water), Beer, Sodium Hydroxide, Shorea Robusta Seed Butter, Persea Gratissima (avocado) Oil, Theobroma Grandiflorum (Cupuacu) Seed Butter, Emu Oil, Mangifera Indica seed (Mango) Butter, Elaeis Guinneensis (Palm Fruit) Oil, Sorbitol, Simmondsia Chinensis (Jojoba) Oil, Parfum (Fragrance), Caprae Lac (Goat Milk) Powder, Olea Europea (Olive) Oil, Sodium Lactate, Xanthan Gum, Agave Americana Leaf Extract, Hyaluronic Acid, Silk Amino Acid
Aftershave Splash
…This is a traditional barbershop with hints of rosemary, Spanish Cypress and more. This new scent is gorgeous and presented in our Ultima aftershave Splash with the addition of emu oil and Hyaluronic Acid. 
The splash comes in a heavy glass 5oz bottle. 
Ingredients: Aloe Vera Juice,  SD 40B Alcohol, Rose Hydrosol, Vegetable Glycerin, Emu Oil, Calendula Extract , Red Clover Extract, Chamomile, Plantain Leaves, White Willow Bark, Vitamin E, Hyaluronic Acid,  Caprylic Triglycerides ( combination of plant sugars and fatty acids derived from palm and coconut oils for silkier feel and as a natural preservative).
My Experience With Ariana And Evans Barbiere Classico Shave Soap In The Ultima Base
[Note: I received a sample of Ultima Barbiere Classico at no cost but without obligation.  The views expressed here are mine and have not been reviewed or approved by Ariana And Evans.]
While I got both the new shave soap and the matching aftershave splash, I'll concentrate on the shave soap.  The aftershave splash is a high alcohol content product (see above) which is not my personal preference.  While it seems to work fine and does not have much of an alcohol "sting," I don't have much in my shave den to compare it to.  I'll be trying it over the hot Texas summer though, so stay tuned for an update to this article later….
Presentation
Barbiere Classico in Ultima comes in the standard 4oz, 2.5 inch diameter plastic jar.  It is labeled both on top and on the side (a benefit to those who stack their jars one atop another).  The shave soap has a fairly soft consistency and I believe most shavers would consider this a "croap."
Scent
Frankly the Barbiere Classico scent is too complex for my notoriously insensitive nose.  That is not a criticism of Ariana And Evans at all–it's just that I can't appreciate its complexity. I get mainly orange blossom and talc, with a bunch of other things mixed in that I can't pick out. Personally I would call this a riff on the classic US barbershop scent versus a more traditional version but of course YMMV. Still, it's pleasant enough to me. 
The strength is moderate in the jar but softens quite a bit on my face.  
Lather
Lather-building and consistency is noteworthy and at an elite level for me, even in my "hard" water.  The lather is thick (yogurt-like), voluminous, well-hydrated, and water ratio tolerant.  My experience with Ariana And Evans' previous base, "K2," is that K2 is easy to use.  But whipping up lather with the Ultima base is just stupid-simple for me.  I consider this to be one of the quickest, easiest lather from a shave soap I have observed–and I've tried a lot of shave soaps.
Performance
A great-looking lather is one thing, but how does Ultima perform, particularly after my positive experience with the previous soap base, K2?
Really damned well, that's how.
My expectation was that Ultima would be a minor incremental improvement over previous Ariana And Evans formulations. In practice I think the improvement is more than "minor."  While I would still call it evolutionary (vs. "revolutionary") compared to K2, there is a noticeable improvement both in cushion/protection and–especially–in lubrication/glide.  Post-shave skin moisturization is also excellent. Amazing stuff.
Summing Up
Ariana And Evans shave soaps have been listed as some of the best available and the new Ultima ingredient base continues that tradition.  For me the scent of Barbiere Classico is nice but secondary to the outstanding performance of the shave soap itself.
As I write this, shave scents in the Ultima base are only available on the Ariana And Evans website but keep an eye out for updated stocklists where Ariana And Evans is sold.