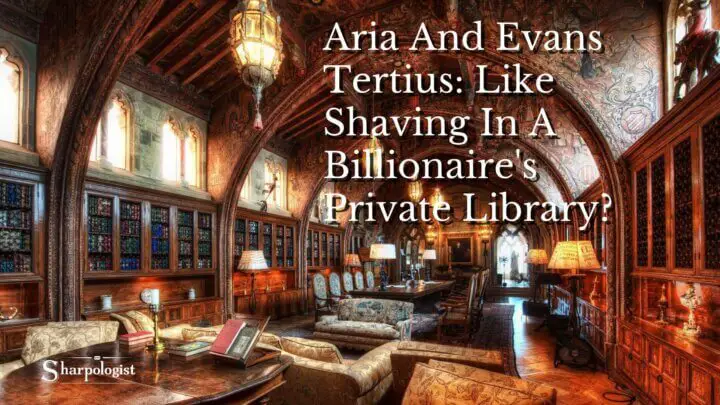 Ariana And Evans is a popular shave product artisan and one of the most-clicked-on brands here on Sharpologist.  I recently picked up a jar of their Tertius Shaving Soap to try.
Ariana And Evans Tertius Shave Soap
From the Ariana And Evans website:
"Quite possibly the finest, most sophisticated leather forward scent created. The primary notes are Leather, Tobacco & Oud, supported by a hint of Rose & Patchouli. Tertius has been made in our brand new soap base (all soaps are now in the new base), which has been recognized by many as one of the top bases in the industry. We have added Strangisto Giaourti (yogurt), Camellia Oil and Argan Oil to our previous base, along with changes in ratios to improve lather, creaminess of lather, slickness and post shave. If you liked our previous base, you will love our new base."
Ingredients: Stearic Acid, Beef Tallow, Aqua, Goats Milk, Potassium Hydroxide, Kokum Butter, Shea Butter, Castor Oil, Cocoa Butter, Sodium Hydroxide, Glycerin, Manteca, Aloe Juice, Avocado Oil, Hemp Seed Oil, Apricot Kernal Seed Oil, Lanolin, Agave, Slippery Elm, Sodium Lactate, Xanthan Gum, Silk Amino Acid, Tussah Silk, Marshmallow Root
My Experience With Ariana And Evans Tertius Shave Soap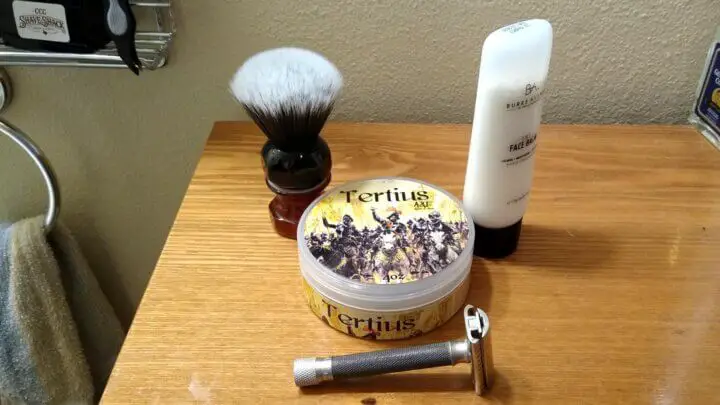 I find the scent of Ariana And Evans (A&E) Tertius striking: I get the leather and tobacco but my insensitive nose doesn't detect the Oud, Rose, or Patchouli (that's not a knock on A&E, it's my nose).  I usually don't care for tobacco scents at all but this combination "works" for me.  It gives me the vibe of sitting in a big over-stuffed leather chair in some billionaire's library.
And the scent is strong.  Shave den-filling, smack-you-in-da-face strong (for the record, I like strong shave scents.  Castle Forbe's Limes for example is another smack-you-in-da-face I enjoy.  Amazon affiliate link).  And persistent.  This scent will linger as long as I have the cover off the jar, whether I've "bloomed" it or not.
Building lather with Tertius is stupid-easy for me: a few spins with a reasonably damp brush, a dip in the basin water if necessary, and a yogurt-like lather just explodes on my face, even with my "hard" water.  The scent moderates just a bit on the face but it's still strong and persistent for me.  In fact the persistence might be a problem if you use an after-the-shave fragrance that's not a leather or tobacco scent.  I'm not a frag-head so it's not a issue for me.
Ariana And Evans is on Sharpologist's best shave soap list for a reason.  Performance is at an elite level for me in both the lubrication/glide and the cushion/protection aspects.  A&E's latest tweak to their Kaizen soap base continues to impress.  There's really not that much more I can elaborate on in that respect.
The over-all experience for me with Ariana And Evans Tertius shave soap is…well…astonishing.
Conclusion
(Amazon, Smallflower, and West Coast Shaving links are affiliate.)
Ariana And Evans Tertius shave soap is one of the few that "tick all the boxes" for me:
Strong, persistent, pleasant (for me) scent;
Easy, luxurious lather-building and application, even in my "hard" water;
Performance at the top end of the crowded, highly-competitive artisan shave soap artisan constellation.
A&E products are reasonably widely available from a number of established wet shaving sources (and will soon be expanding "across the pond" from what I gather) in addition to their website.
Have you tried Ariana And Evans Tertius shave soap?  What do you think of it?  Leave a comment below.