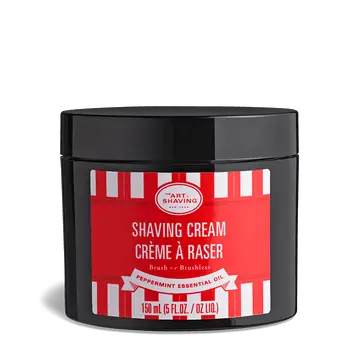 Around this time for the past few years The Art Of Shaving* has done a "seasonal" release of a peppermint shaving cream for the holidays.  I admit I've been intrigued with it so when the holidays rolled around again this year I decided to crack open my wallet and try a jar.

Art Of Shaving Peppermint
Think "candy cane."  🙂
That's certainly the "vibe" they're going for I think.  From the vertical stripe design of the packaging to the sweet, strong-but-refreshing peppermint scent, it almost feels like you have a jar of holiday candy in your hand.  Speaking of scent, I don't think it's "artificial" or "plastic" smelling at all–it really smells like a true peppermint scent to me.  Taylor of Old Bond Street has a Peppermint shave cream* too but I think it's more of an "herbal" note than a "sweet" note.
The cream's consistency is noticeably "wetter" looking and feeling compared to other AOS shave creams I have.  No doubt this is because of the short-duration manufacturing run.
On the face this cream really lathers up luxuriously for me, even in my "hard" water–the lather just explodes on my shaving brush.  The scent's strength softens up agreeably after lathering: on the face it's still there but it's not a "knock you over" scent like, say, Castle Forbes Limes.*  I seem to get a very mild cooling sensation on the skin from it, but that might be because the bathroom is cold in the morning when I shave. 🙂  There's no menthol in this cream so no dramatic skin cooling effect which may not be desirable in the Winter anyway.
And the performance has really been outstanding for me!  No kidding, the glide and cushioning has really been exceptional.  Better than the other AOS creams I have (which I think are actually pretty good on their own).
So if you're looking for something to get you into the holiday mood try shaving with AOS's Peppermint shaving cream.  You may feel like a kid walking down the holiday candy isle.
Ingredients: Water, Palmitic Acid, Myristic Acid, Stearic Acid, Potassium Hydroxide, Coconut Acid, Glycerin, Triethanolamine, Phenoxyethanol, Mentha Piperita (peppermint oil), Sodium Hydroxide, Lauric Acid, Propylene Glycol, Tetrasodium Edta, Disodium Edta, Methylisothiazolinone
*affiliate link