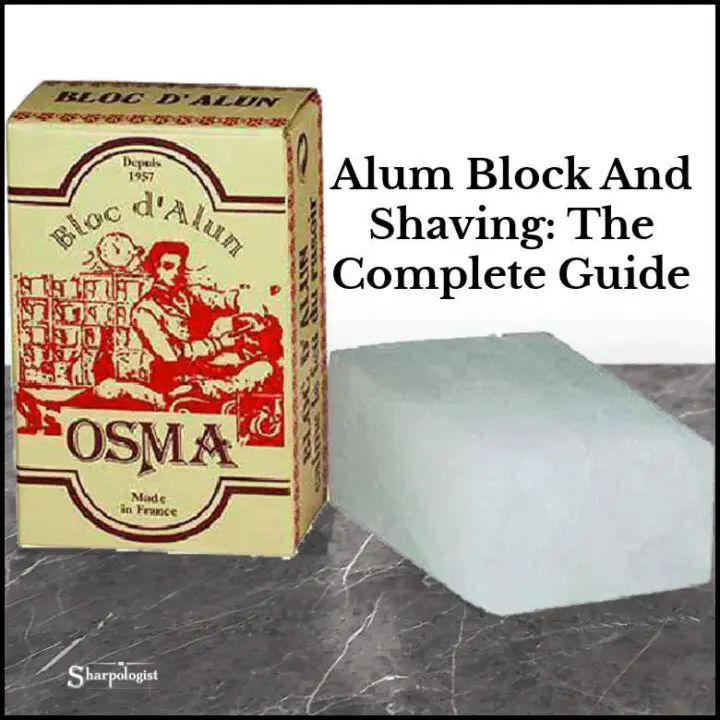 Image courtesy of New England Shaving Co.
An alum block is a natural mineral that is used as a post-shave treatment. It helps to close small cuts, reduce inflammation, and soothe the skin.
What Is Alum Block?
An alum block is a naturally occurring mineral stone composed of potassium alum, also known as alum. The main component of alum is calcium aluminates. It is a composite of calcium, aluminum, and oxygen. The mineral is found in many places around the world.
Potassium alum can also be produced industrially by adding potassium sulfate to a concentrated solution of aluminium sulfate. The aluminium sulfate is usually obtained by treating minerals like alum schist, bauxite, or cryolite with sulfuric acid.
Alum Block History
Potassium alum Alum also has a long history of use as a mineral and composite. It was first known as a useful mineral more than 3500 years ago and understood for "medicinal" purposes (for its antiseptic and healing properties) more than 2000 years ago.
Medicinally it was understood to cool and revitalize the skin, reduce the appearance of skin imperfections, and to treat dermatological concerns such as acne, blackheads, clogged pores, and oily skin. Alum is also used to help reduce the appearance of scars.
Potassium alum has been used in the treatment of eye problems, burns, and cuts. It has also been used in the production of toothpaste and mouthwashes.
The Benefits Of Alum Block In Shaving
Alum blocks have been around for centuries and are still one of the best ways to finish your shave by helping to stop minor bleeding, inflammation, and redness
Potassium alum can also prevent bacteria from infecting your pores which can cause razor bumps.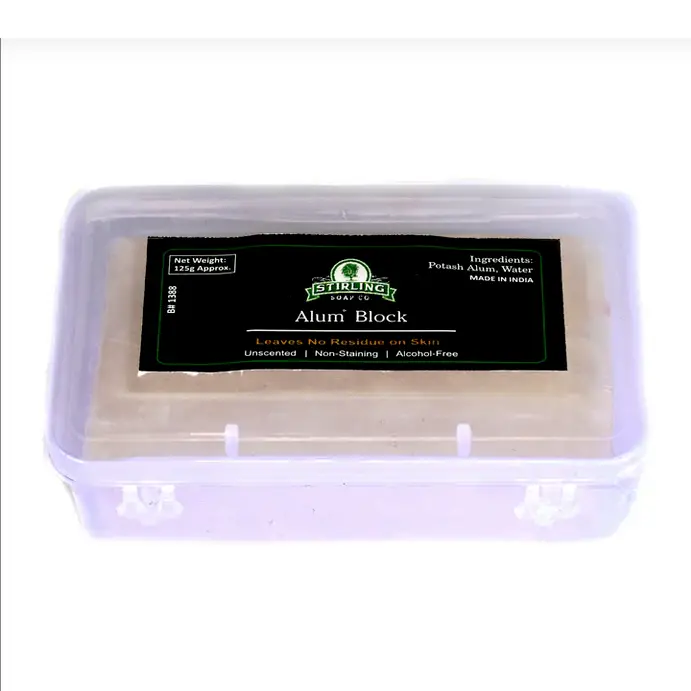 Image courtesy of Stirling Soap Co.
Alum Block Information: Health Risks And Precautions
Alum blocks contain aluminum sulfate, which can cause skin irritation and rashes in some people. In addition, alum can also dry out your skin, so it's important to use a moisturizer after shaving if you're going to use an alum block.
Alum block is effective for all skin types
If you are suffering from an allergic reaction, you may want to avoid applying an Alum block.
If you have any concerns about using an alum block, consult your doctor before using one.
How To Use An Alum Block On The Skin
An alum block is a natural deodorant and antiseptic that can be used to cleanse and close the skin after shaving. It can also be used to treat razor burn and minor nicks and cuts.
Before use, soak the block in cool water for a cooling sensation that could reduce nicks and cuts from shaving or razor burn.
The alum block is to be massaged gently across the areas of your neck and face that you shaved. If you have shaved "properly," with no nicks or cuts, you will probably feel a refreshing, cooling sensation. If you have 'overshaved' or have a nick the astringent qualities an alum block may cause some mild tightness and tingling or burning sensations–but this is expected because it's just the alum block working its magic.
After massaging on, let the crystals dry on your skin for about 15 to 20 seconds. After rinsing off the residue, moisturize your skin and apply an aftershave product as needed such as a high-quality moisturizer or aftershave balm.
Other Uses For Alum Block Products
An alum block is not just for finishing your shave- it has many other uses, as well. For example, alum blocks are great for people with oily skin, as they help reduce shine and protect the skin from bacteria. In addition, they can be used to treat spots and blackheads.
Alum Block And Acne
Alum block can help treat acne by tightening the skin and killing bacteria. When used regularly, alum block can help keep your pores clear and free from acne-causing bacteria.
Alum Stone As A Natural Deodorant
It is available in crystal form and can be found at many drugstores. To use, wet the alum block, rub it on your armpits, and allow it to dry. The alum will kill the bacteria that causes odor and leave your pits feeling refreshed and clean. Alum blocks can help reduce razor bumps and ingrown hairs after shaving the underarms.
If you're looking for an all-natural alternative to commercial deodorants, alum is definitely worth a try!
How To Store An Alum Block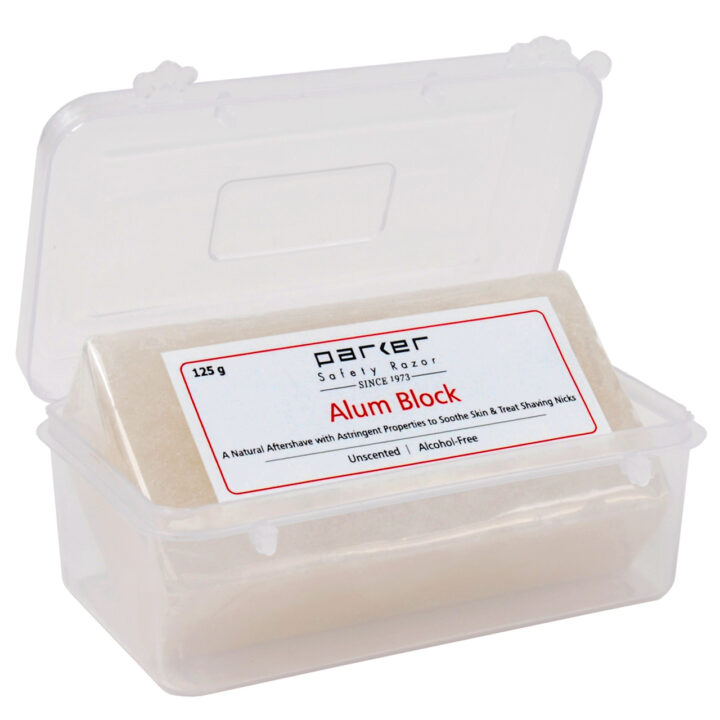 Image courtesy of Super Safety Razors
Alum blocks can be stored in a cool, dry place, such as a medicine cabinet.
When you're not using it, it's best to store your alum block in a cool, dry place. Some people like to keep them in the fridge. Others recommend wrapping them in clingfilm (Saran Wrap) or storing them in a zip-lock bag. Personally, I just put mine on the windowsill where it gets good light but isn't too hot or cold.
How you store your alum block is really up to you – there is no one "correct" way to do it!
Alum Block vs. Styptic Pencil
Both alum blocks and styptic pencils are made from the same compound. However a styptic pencil is more concentrated. The astringent properties of alum blocks and styptic pencils help to close minor nicks and cuts.
However, while both products can be useful in your shaving routine, there are some differences in what they can do and how they do it:
Alum blocks are usually better for minor nicks that may happen during shaving. They can also be used as a natural deodorant, or as a part of a skin care routine to reduce acne. The mineral in block form has a longer shelf life.
Styptic pencils are usually reserved for more serious cuts. Styptic pencils aren't just used for shaving–they are also useful against most types of minor bleeding. The powder pencil form may be used up more quickly than an alum block.
Related post: click/tap here for Shaving 101: Styptic Pencils–What They Are, What They Do, How To Use Them, And How To Shop For One
Summing Up
Using an alum block after shaving is a great way to temporarily tighten the skin, reduce inflammation, and help prevent razor burn. It's a natural and affordable way to take care of your skin after shaving.
Alum block is available from many sources (click/tap here for a short list for example).