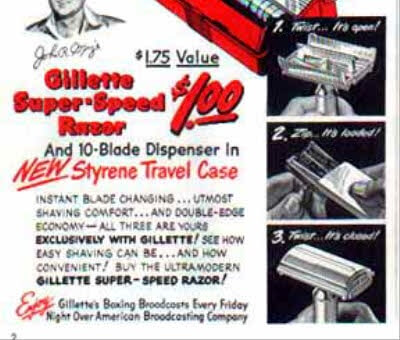 A Youtube viewer asks:
People have mentioned the Gillette Super Speed a LOT…You mentioned 40's and 50's maybe? I think you also said "that's another video" Have you made that video? I *need* that video.
I have no idea what the difference between a 40's and 50's super speed is, why I should care, or what the price difference between various used products should be.
Any tips or links you can point me to?
No, I haven't made a video about vintage DE's yet. But I can say that the general agreement is that Gillette Superspeeds of the late 40s and early 50s are the most sought-after because they are considered the peak of razor engineering: the design was pretty much perfected and anything after that is considered either marketing or cost-savings changes (plastic parts for example). That's not to say there are not perfectly fine examples of razors before or after though! I can't give you good advice about costs because I don't keep track of the market. Speaking strictly for myself though, I would not pay more than about $20 for a vintage razor of any type (even though I've seen them go for MUCH more).