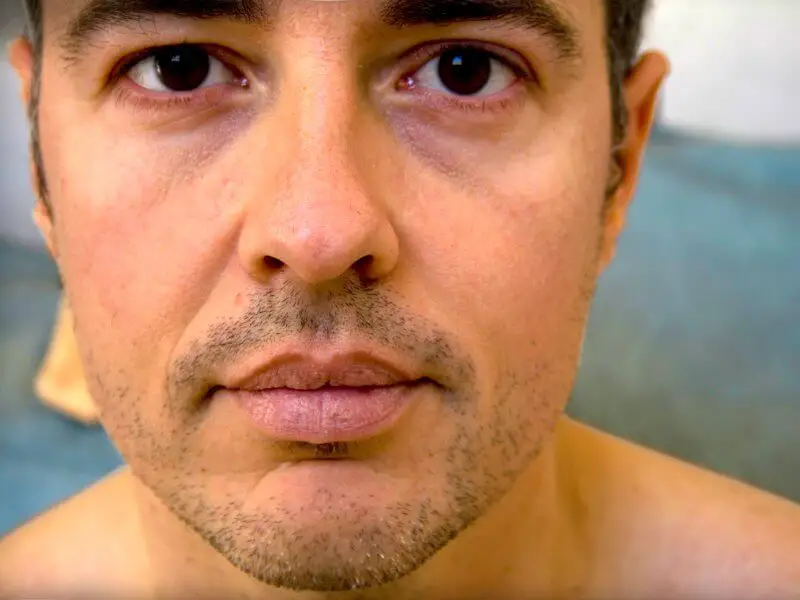 Despite much mythology in the beauty and cosmetic business, good science and evidence-based conclusions suggest that the general guidelines for healthy skin and healthy shaving are the same as those for general health:

Guidelines
Drink adequate fluids
Eat a wholesome, varied, balanced diet
Get adequate rest and sleep
Get at least 150 minutes of physical activity per week
One moderate alcoholic beverage per day is probably beneficial
Avoid excesses of food, sunshine, alcohol intake
Don't smoke
Let's briefly look at those recommendations in more detail to better understand them.
Hydration
Adequate hydration is important for skin health as well as general health. There is a common myth that one should drink 64 ounces of water a day, but this isn't necessarily so. All water-based beverages contain water (duh!), and even many foods contain water. For example, beef is roughly 60% water. It's true, though, that some beverages are more hydrating than others. For example, alcohol causes the body to lose water, so alcoholic drinks aren't a great source of hydration. Caffeinated drinks are reputed to cause a body to lose more water than they provide, but that isn't generally true. Coffee, for example, hydrates, but not as much as pure water. A fully hydrated person produces urine the color of lemon juice, which is a very pale yellow, almost clear.
Diet
A wholesome, varied, balanced diet has the following key characteristics:
An abundance of fruits, nuts, and vegetables in all colors of the rainbow. Fruits and veggies are not only our main source of key vitamins and minerals. They are also the unique source of phytochemicals, which are compounds present in small amounts that play a key role in maintaining health even though there are no specific daily requirements established by the nutrition community. Phytochemicals are generally acknowledged to perform this function.  For example, olive oil in one's diet has the reputation for promoting health. But in fact, pure olive oil is known for being health neutral. Virgin and extra-virgin olive oil are actually healthy, not because of their oil, but because of the phytochemicals that are present along with the pure olive oil.  Different colored foods contain different beneficial phytochemicals, which is why the recommendation is to eat varied plant foods in literally every color of the rainbow!  Adequate and varied fruit and vegetable intake will provide the necessary vitamins, minerals, phytochemicals, essential fatty acids, and fiber.
Antioxidants such as selenium, vitamins C and E, and others are best gotten from food. Supplements are not as well absorbed and also bring the risk of excessive intake. Keep in mind that antioxidants taken in large quantity become prooxidants, which is not a good thing. (Virtually every nutrient is dose dependent – even water! Though essential for life and health, if you drink four or five gallons of water in a day, you will die!) If you don't eat enough fruits and vegetables every day, one multi-vitamin-multi-mineral supplement every other day or so is probably a reasonable idea, although remember that you can't get phytochemicals from a pill.
Another reason for a nutritious diet is vitamin K, a needed factor for blood clotting, which can on occasion be of interest to someone who shaves. A balanced and varied diet will tend to encourage adequate vitamin K reserves in the body.
An appropriate balance of protein, carbohydrates, and fat. Fat has gotten a bad rap in the popular press. A little fat in your meals slows the digestion and absorption of carbohydrates, which can actually lower your overall daily calorie consumption. The best fats to consume are polyunsaturated. Nuts – especially walnuts and canola oil are two examples of foods with healthy fats that can be consumed in moderation. Most Americans eat too much protein – more than necessary, anyway – and would be well advised to substitute plant-based foods including whole-grain foods.
Sleep
Sleep is important too. Most of us need more rest, which would improve our overall health as well as our skin health. If you can't sleep for eight hours at night, try to cultivate the habit of a nap break in your day.
Physical Activity
Physical activity helps keep us minimally fit to perform the activities of daily living. It also helps our circulatory system function well so the necessary nutrients can find their way to our tissues (including our skin), and so waste products can be removed before they do harm. Physical activity doesn't have to be exercise. Yardwork, household chores, or fun activities such as hiking, biking, tennis, walking, skating, etc. – these all qualify as beneficial physical activity.
Alcohol
Very light alcohol consumption can also be healthy. Alcohol dilates blood vessels, promoting better circulation. If you take your alcohol in the form of red wine, you also get a chemical called resveritrol, which seems to help reverse to some extent the effects of unhealthy lifestyle choices. Bear in mind, however, that like everything else, more isn't better. Women who have more than one moderate alcoholic beverage per day are doing more harm to themselves than good. Likewise, men, depending on their size, are advised to limit alcoholic beverages to one or two per day.
Avoid Excess
Too much sunshine will damage your skin; that is a fact. Wrinkles and skin cancer are two of the common risks. Yet a little sunshine, say 15 minutes, several days each week provides valuable vitamin D, which is beneficial in many ways including reducing some cancer risks and promoting healthier bones. A vitamin D supplement is the general exception to the food-only rule because we get very little vitamin D from food. However, milk is an example of food supplemented with vitamin D. Like all things, however, more isn't always better; so don't go crazy with D supplementation either.
Smoking
Finally, smoking tobacco can be very hard on your skin. Smoke tends to be a vasoconstrictor, which limits blood circulation and thereby promotes poor tissue nutrition, hydration, and waste elimination – the net result being unhealthy, wrinkled skin.

Moderation, healthy variety, and balance are the key concepts for a lifestyle to take care of your skin as well as the rest of you.

Doug Hansford is a registered dietitian-nutritionist, who writes a blog on shaving at shavelikegrandad.blogspot.com.
Copyright 2014 by Douglas N. Hansford