If you're into traditional wet shaving, chances are some razors have caught your eye in various forums and groups. These razors might be on your mind every time you enter an antique store or when you login to your favorite auction site.  There's something epic about using razors with historical significance. It's an experience that may only happen several times in a lifetime, but can be replicated in your daily routine. That's right! You can shave with history every day!  This list contains razors that are rare, but available to purchase through auction sites and/or in the Buy-Sell-Trade areas of popular forums and wet shaving websites.  Here is a list of 5 razors you should try before you die.

Disclaimer: This article is the opinion of the author who has years of wet shaving experience and does not reflect the views of Sharpologist. The intention of this article is to showcase razors that can be found readily and not to showcase razors that are locked in museums or so far out of reach that readers will never be able to try.
5. Apollo Mikron Adjustable: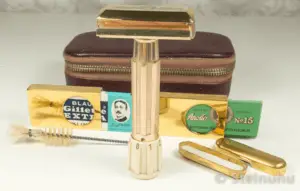 The extremely rare yet innovative Apollo Mikron was released in limited quantity around the 1950's and consisted of a similar design as Gillette's Fatboy.  The adjustment knob on the bottom can actually be removed and the inner mechanism can be adjusted further to the user's preference.  Earlier Apollo models were designed to use only Apollo blades but later models accept all double edge blades.
There is not much information on these hefty razors from Germany. The lack of date codes makes it almost impossible to accurately find production times. Some will argue that the Apollo was created before Gillette even produced their first adjustable.  One thing's for sure, this is one cool razor!
Apollo still produces a multitude of products and even makes safety razor blades.  Check this out for more information.
Apollo razors may be the rarest razor on our list, but are not out of reach. There was a gentleman in one of the popular wet shaving groups that purchased an NOS ("New Old Stock") piece earlier this year from a source in Germany so there is hope. Used models are easier to come by.  Expect to pay $$-$$$ for "user" grade to NOS razors.
4. Rolls Razor: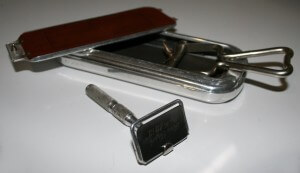 Born in Sheffield England, the Rolls Razor provided both innovation and practicality.  Complete with its own hone and strop, the Rolls Razor is often referred to as "a straight razor on a stick" because of its hollow-ground straight razor like non-disposable blade which can be honed and stropped in its carry case.
There were several models that were produced by Rolls (not to be confused with Rolls Royce) all with the same concept.  These razors are easy to find and have a lot of information regarding use and restoration on the internet. Prices vary but expect to pay $$ for one in good condition.
3. Gillette Double Ring: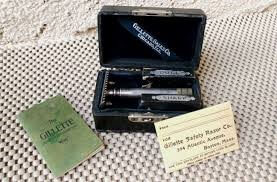 A historic landmark for wet shaving indeed, the Gillette Double Ring put disposable blade safety razors on the map. Nicknamed by collectors from the "double ring" design on the neck, it was first introduced in 1901 and for sale in 1903. By 1904, thousands of "double rings" hit the market.  The design of this model still holds true today with many double edge safety razors still using similar variables. Gillette revamped it's razor in 1906 to the more common "single ring" design.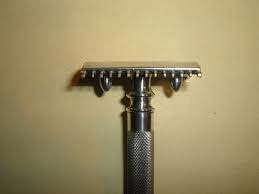 Although innovative, the $5 price tag made this razor extremely expensive for the time, and was only reserved for those with the means to afford it. Today, the Gillette double ring gains lots of attention in auction sites for collectors and users alike. Prices range $$$-$$$$.
If you find one, don't hesitate to pick it up and remember your shaving with a piece of Gillette history.  There is a registry on one of the popular forums that showcases all of the registered double rings to help with identification. Check it out.
1880-1900 Kampfe Bros (Star Shaving) Single Edge Safety Razor: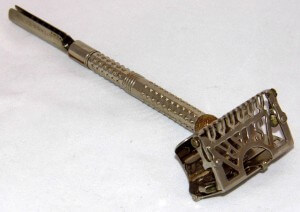 Twenty years before Gillette sold their first razor, Kampfe Bros. was selling their version of the safety razor.  Designed to be used wedge style blades that could be honed and stropped, these razors were readily available and could be purchased at a whopping $3.50.  You could even purchase them in a 7 day set complete with 7 blades, and the unique stropping mechanism to be used with a conventional strop.
While earlier models are designed only to be used with wedge blades there is a way to modify a modern single edge blade to fit.  Check this out for more information. Later models can accept modern blades without modification.
Although rare these razors are still available to purchase from time to time on auction sites. Prices range from $$ for basic uncased models to $$$ for complete sets.
Gillette Toggle: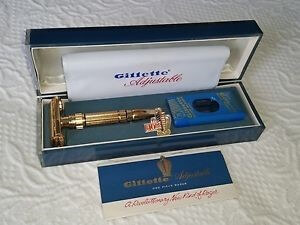 Probably the most sought after vintage razor today, the Gillette Toggle needs no introduction. Produced only in 1957, 58 and 1960, the Toggle remains one of the most innovative safety razors to date. One of the first adjustable razors of its kind the "toggle" adjustment handle makes it easy to open the top doors and change the blade with one movement.
Earlier models had 5 adjustment settings, while the newer model had the typical 9 settings that became the standard for future adjustable Gillette razors.
Finding these razors can be tricky but not impossible. Earlier this year a fellow found 2 toggles at a flea market for around $40 (for the pair). Prices vary but expect to pay $$$ for uncased user friendly pieces and $$$$ for mint condition NOS models.
About The Author:
Joe Borrelli is a long-time wet shaving enthusiast and collector.  He hosts the Wet Shaving News Podcast and runs his own self-funded website http://shavestraightandsafe.com/  to help inform the community of new information involving the wet shaving world. Joe holds a BBA from Florida Atlantic University, and currently works for the nation's largest wine/spirits/beer retailer. In his spare time, he enjoys traveling with his wife Linda, outdoor activities and collecting wet shaving apparel. Find out more about Joe here.