(Image Courtesy @ericrnycstyle)
If you're "over the hill" but aren't yet ready to start dressing like your grandpa, this guide is for you!
Given that we all have different jobs, lifestyles, body types and aesthetic preferences, there's no one "correct" way for guys in their 40s, 50s and 60s to dress.
After all, you have to wear what makes you happy. For some older gents, that might be jeans, t-shirts and sneakers, and that's totally fine!
For the sake of this article, I'm going to assume that the following about your personal style goals:
You want to look sharp and handsome
You want to be physically comfortable in your clothes
You want your clothes to flatter and enhance your physique
You don't want to look like you're trying too hard
You don't want to look like a teenager
You're okay with "looking your age"
We've all seen the older guy who looks like he's trying too hard to be cool. But we've also seen the guy who has clearly just given up on style.
You're probably aiming to be somewhere in the middle (i.e., effortlessly stylish).
Follow these five general principles, and you'll be one of the best dressed guys in most rooms.
#1: Wear Gently Fitted Clothing
Fit is subject to trend. This means that the cool kids (you know, the ones who won't get off your lawn) will usually wear super skinny or super baggy clothes.
At the time of writing, looser fit clothing is all the rage. Without a doubt, skinny jeans will make a huge comeback at some point.
To avoid looking overly trendy or hopelessly outdated, stick with a middle-of-the-road fit.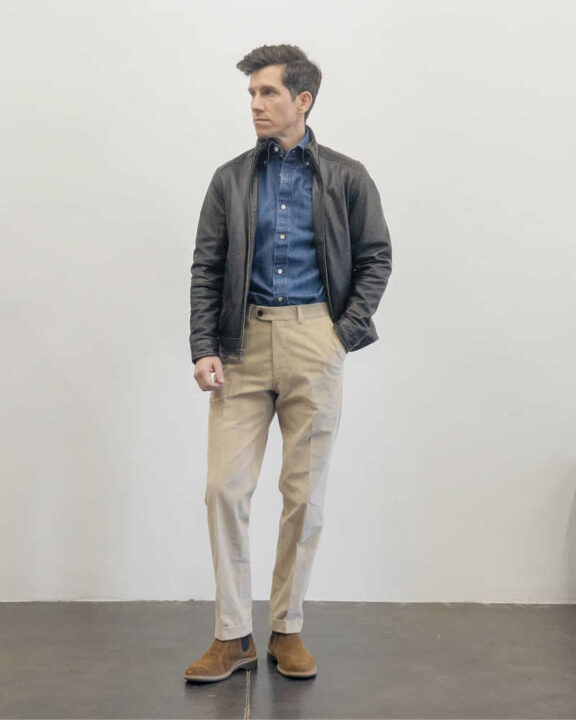 This means gently fitted slim-but-not-skinny shirts and pants.
Look for clothes labeled slim, slim-straight, tailored, modern fit, and tapered.
Avoid skinny, relaxed, oversized or loose fit clothing.
If the clothes you already own don't fit, take them to the tailor. Tailoring is every well-dressed man's secret weapon. It's easy and cheaper than buying new clothes.
#2: Wear Neutral, Solid Colors
Aside from fit, color is the most confusing aspect of fashion. It's hard to know which colors look good together, and the combinations are literally endless.
Here's a pro tip: make sure 80% of your wardrobe consists of neutral, solid colors.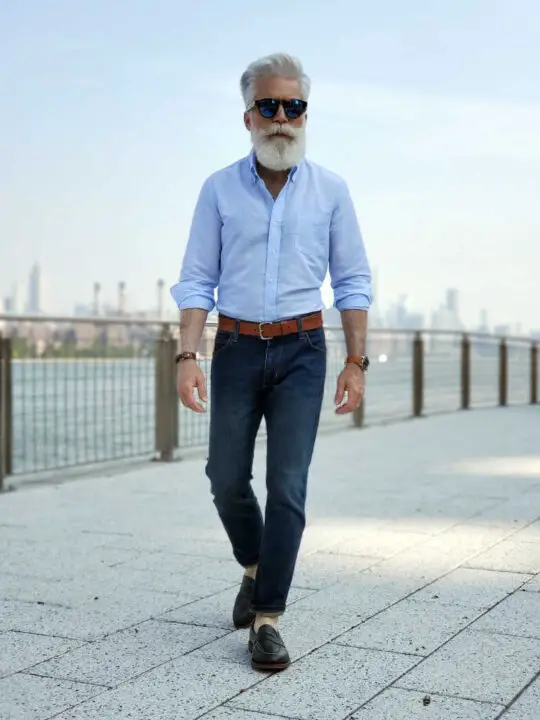 These work on any body type or skin tone, and they're incredibly easy to combine because they all look good together.
Plus, if you want more color in your outfits, it's very easy to add bolder pieces or "pops" of color with accessories.
For example, light wash jeans will always look great with a white Oxford cotton button down shirt.
But, if you want to make a statement, wear a more colorful floral print shirt instead.
But, when in doubt, you can never go wrong with neutral colored solids.
And if you want to look a bit taller and leaner, stick with darker colors vs. lighter ones.
#3: Upgrade Your Shoes
Nothing screams "old guy here" louder than a pair of squishy running shoes worn with non-athletic pants like jeans or chinos.
I'm not saying you can't wear comfy shoes, but you don't have to go full Steve Jobs with it.
I wear sneakers pretty much every day, but I only wear running shoes when I'm, you know, running.
Instead, I recommend investing in a pair of minimalist leather sneakers in white, off white, grey, brown or black.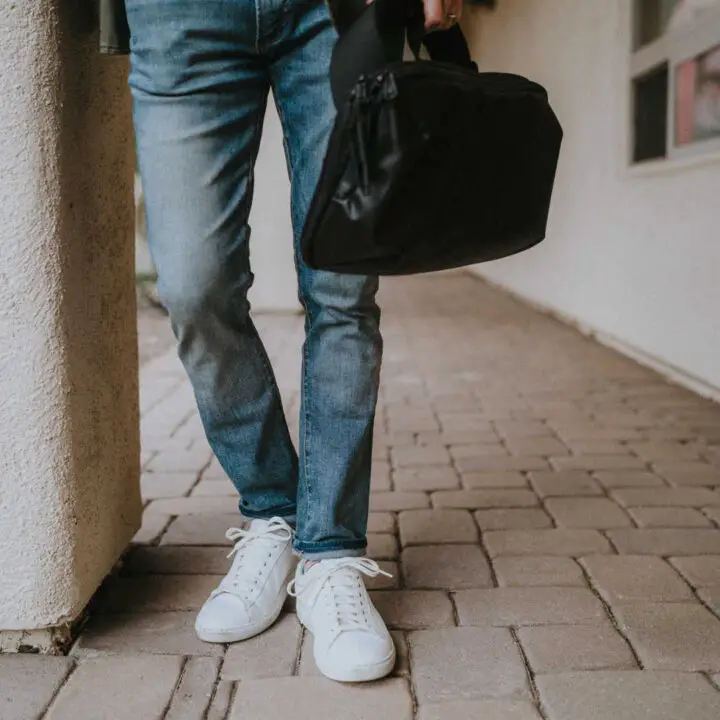 These will last for many years of wear, and they'll become even more comfortable as they break in over time.
They look great with shorts, jeans, chinos, corduroys and joggers, so you'll get plenty of wear out of them.
If sneakers aren't your thing, consider a pair of boots. I like chukka and Chelsea boots for their versatility (it's easy to dress them up or down).
Most guys would do well to stick with medium or dark brown leather or suede. But if you wear a lot of black, grey and white, go with dark grey boots instead.
#4: Accessorize (But Not Too Much)
Accessories are an excellent way to spruce up basic outfits. When you see a guy wearing 2-3 tasteful accessories, you can tell he put a little effort into his look.
He cares, in a good way.
My favorite accessories are rings (usually wedding bands), watches, eyewear and bracelets. Necklaces and hats are also cool and easy to pull off.
Here's the key thing to remember when it comes to accessorizing: less is more.
1-2 is great. 2-3 is perfect. More than 3? Tread carefully, my friend.
It's easy to go overboard with accessories. We've all seen those guys with like 5-6 bracelets stacked up on one wrist, an oversized watch on the other wrist, a gold chain around their neck, and a pair of sunglasses even though it's not that bright outside.
This man has entered Johnny Depp territory. It's not a great place, even for Johnny Depp.
So, when in doubt, take one thing off.
#5: Switch Up Your Grooming
Got a beard? Shave it off!
Clean shaven? Grown some stubble!
Had the same hairstyle for the past 10 years? Get a new cut!
Older guys who still have a thick head of hair should take advantage of it.
If you don't know what haircut to get, go to a higher end salon (at least once!) and get a consultation. Ask them what style they'd recommend based on your head and face shape, and let them do their thing.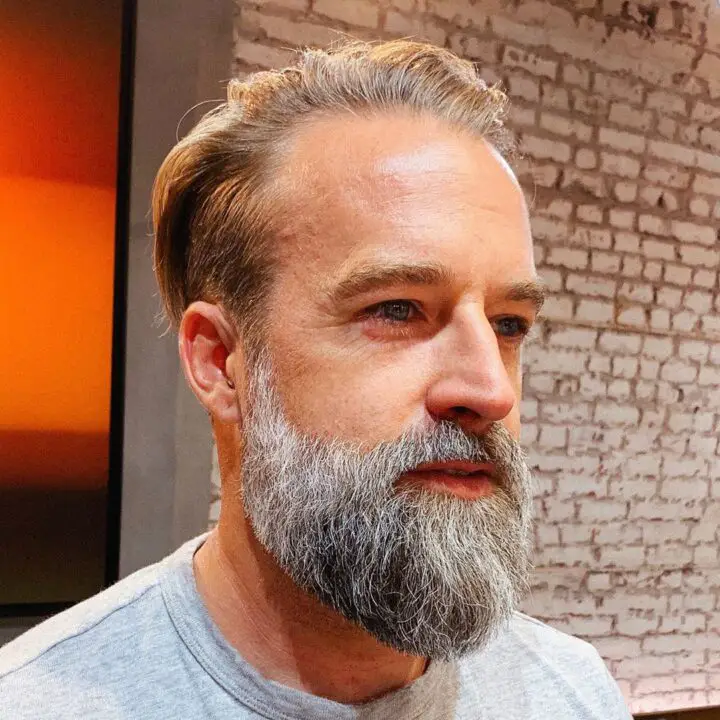 (Image Courtesy @martialvivot)
Or just grow it out a bit. Let that salt and pepper shine.
If your hair has migrated south, embrace it. Shave your head and join the ranks of Bruce Willis and Jason Statham and Shaq.
A shaved head with a bit of stubble looks really good, especially when you have some silver in your beard.
Or, go totally clean. Some guys can literally shave a few years off of their appearance!
Conclusion
I hope this article gives you some fresh ideas for upgrading your appearance in an age-appropriate-but-not-boring way.
Again, you don't have to follow any fashion "rules" just because you're over 40.
And you do have to prioritize comfort. If you're uncomfortable in your clothes, you won't feel good, no matter what you look like.
That said, when you try new things, like a new pair of boots or sunglasses, or your first pair of slimmer fit pants, it might take some getting used to.
Give it a few days and see how it feels. It might become the new normal.
Thanks for reading this guide, and here's to aging like top shelf bourbon!
Author Bio
Brock McGoff runs The Modest Man and The Slender Wrist. He thinks every guy should own a pair of white leather sneakers and a 36mm wrist watch. When he's not writing about men's style, he enjoys Brazilian jiu-jitsu and hanging out with his wife and daughter.